Here's a follow up to a post I published a few years back, where I took a look at historical financial charts and various investment markets. Since it's been a while, I've decided to do an update on the performance of different markets. Note that the charts illustrated below reflect a snapshot in time, primarily up to the end of 2009.
What can we learn from the historical behavior of asset classes and global financial markets? Being a good investor requires regular monitoring of our high interest savings accounts and online brokerage accounts to gauge just how our investments are doing over time. One thing you may want to do is to make sure that at the very least, your investments are matching market returns. For example, if you've got Japanese stocks in your portfolio, you'll want them to perform at least as well as their underlying asset class, represented by the Nikkei index.
When you create your asset allocation model, it's wise to start with getting the big picture on the various asset classes that will be represented in your diversified portfolio. So I did some research to take a snapshot of the various historical charts that measure these various asset categories. How have these categories and markets been faring over time? How well have they contributed to the returns you've been experiencing of late, and can you spot which ones could possibly be overvalued or undervalued?
A Look At Global Financial Markets, Historical Charts & Investment Performance
Following are some long term historical charts: For each of these images, you can click on each picture for a larger version. I also specify how each chart has been sourced.
Historical U.S. Stock Market Charts
Let's take a look at how the U.S. stock market has been doing by checking out the Dow Jones Industrial Average chart. Here's how it has performed over the last 110 years (1900 – 2009, Monthly):

Here's another DJIA chart that I found interesting. It maps out both bull and bear markets as seen through history (again, from 1900 through 2009). The red sections are marked as bear markets.
For other long term charts of U.S. indexes, check out the S & P Weekly Chart (1960 to Present) and the Nasdaq Weekly Chart (1978 to Present).
~~ooOoo~~
Historical Charts For U.S. Bonds
When reviewing U.S. bond charts, you'll notice how bond prices are inversely proportional to bond yields, which means that they move in opposite directions. When bond prices go up, bond yields and interest rates go down, which you'll notice in chart patterns.
Bond Yields Chart, Yearly (1938-2008)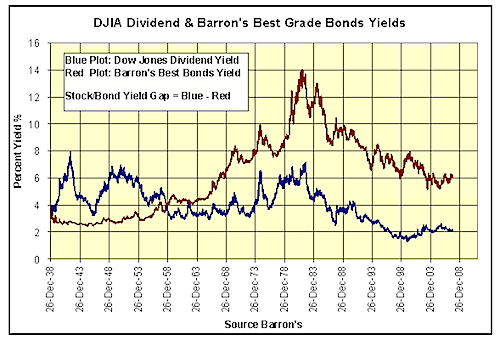 Source: Gold Speculator

30 Year Treasury Bond Prices (1978 – 2009, Monthly)
~~ooOoo~~
Historical Chart For Gold Prices, Yearly (1975 – 2009)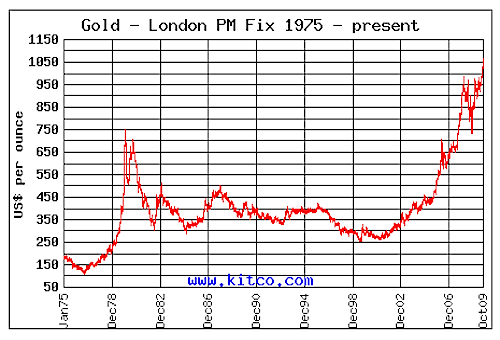 Source: Kitco.com
Gold prices were flat for quite a long time after peaking in the early 80's. But it appears that this asset class is seeing some better times, with current rallies taking it over $1,000 an ounce. Historically, gold does well when there is economic uncertainty and widespread worry in the financial markets, so it's no surprise it's doing so well right now as a "safe haven" for nervous investors. It's always a good idea to diversify your investment portfolio with precious metals such as gold, in order to neutralize the effects of lower equity prices during an economic downtrend.
~~ooOoo~~
Historical Chart For U.S. Real Estate, Yearly (1970 – 2009)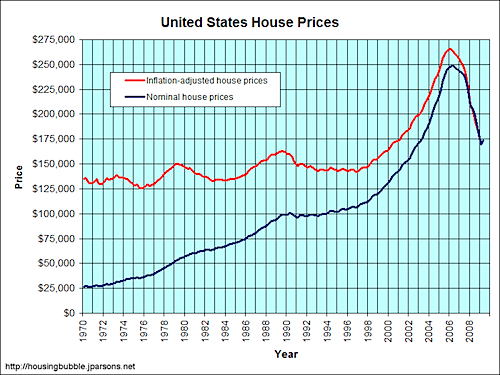 Source: Housing Bubble
The huge runup in real estate from the late 90's to the mid 00's has since been reversed to some degree. Housing prices today are more in line with what they were in the early 00's. While foreclosures still abound around the nation, it seems that in many places, real estate prices have stabilized. But it remains to be seen what kind of returns this market will be yielding in the future. I doubt we'll see again, the kind of unprecedented price increases in real estate that we experienced over the last decade. Will we learn anything from having gone through this housing bubble?
~~ooOoo~~
Historical Chart For The Nikkei Index, Yearly (1970 – 2009)
If you want to see the most frightening market chart of all, then look no further than the historical chart for the Japanese Nikkei index. The performance of the Japanese market should serve as a lesson to all investors that not all markets reward us with a long term upward trend. The serious excesses in the late 80's have done a lot of damage to the Japanese economic system and to this day, their stock prices have never returned to the heights experienced two decades ago.
~~ooOoo~~
Historical Chart For The China Shanghai Composite Index, Yearly (1991 – 2009)
It wasn't just the U.S. stock market that deflated late last year — so did the Chinese stock market, as represented by the Shanghai Composite Index. But as you can see, its tremendous, meteoric rise in 2007 just did not seem sustainable. At this time, I see equity prices meandering at more reasonable levels, albeit having recovered along with the U.S. market indexes.
Here are additional observations I've made on the recent behavior of various investment markets such as the U.S. housing, U.S. stock and international equity markets: there appears to be a noticeable correlation between them as far as how prices have trended over the past few years. This goes to show us that certain markets may be much more in lock step than we may think. It's important, therefore, to keep our portfolios well diversified in order to accommodate many asset classes, particularly less correlated ones (such as equity vs gold vs commodities). This will actually help us manage our investment risks better.
Copyright © 2010 The Digerati Life. All Rights Reserved.