I read a report from Forbes the other day that offered the premise that there are currently four investment categories that are experiencing asset bubbles. Two asset classes in the commodities arena: oil and gold, while two more familiar classes: government bonds and stocks, are deemed overvalued (according to the report). Supposedly, these asset classes have already seen huge run-ups over time, with gains great enough to discount any recent dips seen in some investment markets (in particular, the stock market!).
Here's a summary of the changes in some investment markets, as of late:
Oil prices have increased by 63% since 2009, to $75 a barrel.
Gold has gone up by 20%, surpassing $1,100 an ounce.
S & P 500 stocks have a collective P/E ratio of almost 20 at this time.
10 year treasuries have lower yields these days (down to 3.6% from 5.5%, which was the average rate from 1993-2007), given their higher prices.
There's debate about these investment categories being overvalued. For instance, while stock prices have jumped up recently, it's certainly not as expensive as it was during the dot com peak periods (1999 and later), and I'd argue that P/E ratios are on the average to lower end of the historical scale, when you consider only the most recent 20 year period. Still, stocks are considered expensive according to some economic formulas.

Whether or not you care about P/E ratios and stock valuations in this way, the following chart offers an interesting glimpse into the valuation levels of the general stock market, as seen through history.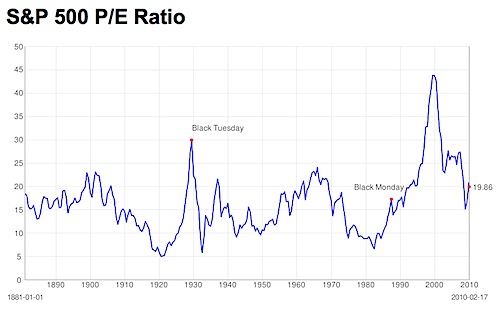 Current P/E: 19.93 +0.08 (0.42%)
Mean: 16.35
Median: 12.87
Min: 4.78 (Dec 1920)
Max: 44.20 (Dec 1999)
P/Es are based on average inflation-adjusted earnings from the previous 10 years (P/E10). Data courtesy of Robert Shiller, Yale Department of Economics. Source:Multpl.com
So if you believe investments are overvalued, where are you putting your long term money today? How about real estate? With home loan rates still low and the home buyer tax credit dangling an $8,000 carrot, why not buy a foreclosure or get into short sale real estate?
Copyright © 2010 The Digerati Life. All Rights Reserved.