Thoughts on the Dow Jones over the 9,000 mark.
Stock Market Performance: Any Cause To Rejoice?
At the beginning of this month, I wrote an article inquiring whether the economic downturn was over. I wrote about the use of an interesting economic indicator that could herald the end of the slump if you take stock of what some economic analysts are saying. That indicator is the jobless claims number — once it peaks, then falls, it's supposed to signal the bottom of the recession — and as they say, there's nowhere to go but up!
But that article attracted a lot of cautious responses. People told me to "listen to my spouse" who continues to be skeptical about all this talk of recovery, and who still believes that we've got a ways to go with this recession. His view? Got to wring out all the negativity that's still weighing upon the fundamentals: massive deficit, foreclosures and bad loans, loan defaults, tottering banks, unemployment.
Reviewing The Economic Fundamentals
These last few days though, there appears to be (at least, on the surface) some kind of turning point in the U.S. market psychology, since we're suddenly seeing the Dow Jones sitting above 9,000 for the first time in 9 months.
The mainstream media is now reporting that the indexes are at their highest levels in 9 months, and what can we attribute this action to? Supposedly, there are three factors:
A drop in jobless claims (hey, wasn't that the indicator I was just talking about?),
Improved profit reports from companies,
More confidence in the status of the world economy, particularly that of Asia.
So what do you think? As they say, stock market behavior and performance can be harbingers of things to come, particularly with the economy. When the market turns up after a significant weak spell, it may be the sign of an economic turnaround in the near future since stock market trends are said to track the economy some 6 to 9 months in advance. The question here is whether we believe that the fundamentals are improving enough to merit a 9,200 in the Dow Jones, or a 986 in the S & P. My guess is that there are still a lot of you out there who aren't quite convinced that we're out of the woods just yet. Here's why: just take a look at how the U.S. debt has ballooned over time (source: check out this article for more on this sordid matter).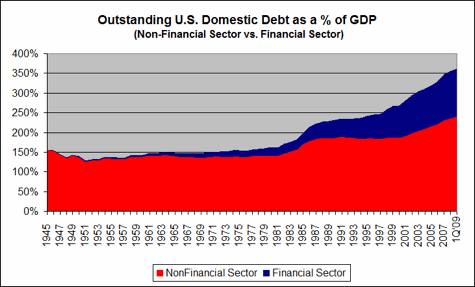 We're still facing the issues of debt and defaults, and their serious, lingering after effects. Our nation's financial woes don't seem like they're going away anytime soon. So if you acknowledge the underlying fundamentals from this vantage point, then you're likely to believe that this rise in the market is going to turn out to be one more meaningless bounce in the big scheme of things.
How High Can The S & P Go? Technical Analysis Predictions
But how about we take a peek at what technical analysts are saying on the other hand: since they provide short term reads of the stock market through charts and indicators; their calls are meant more for active investors and traders (those who market time). For the short term, stock traders are seeing a continued bias to the upside based on a potential chart pattern formation called a "head and shoulders" bottoming in the markets that has developed over the past 9 months. For more insight into this, check out the video below to get the perspective of one experienced analyst.
Click this link or the image below to watch the video:
The premise of this video is that there is an opportunity here for the S & P index to hit the 1,200 level (with a minimum target of 1,000) from the current 980+ level. Again, to appreciate this information, you'd have to buy into the teachings of technical analysts, stock traders and chartists. For more on this type of investment focus, check out our posts on how to trade stocks using stock charting tools and stock trading software.
I quake under the enormity of our nation's situation as I try to grasp the significance of our massive debt problems. So while I'm happy that some of my investments look like they're recovering quite nicely as they ride the latest market surge, a part of me is bracing for more volatility ahead. And if this market looks any better soon, I may be strongly tempted to lighten my U.S. investment holdings at higher levels (yes, I may just acquiesce to the forces of market timing) as we readjust our portfolio towards a more conservative bent: after all, we're not getting any younger!
What's your take on this upward trend?
Copyright © 2009 The Digerati Life. All Rights Reserved.