So is the buy and hold strategy dead? I've been reading a lot of articles about this lately. But do you believe it?
SVB: Well, I have someone here with a guest post that I found highly interesting. David from AllAboutTrends argues that we're in for a long, grueling bear market akin to what happened in 1929. I thought I'd share his views here, and I welcome your arguments for or against his premise. While I concur that we're in the midst of a deep recession and a hideous stock market environment the likes we haven't seen in a while, I don't entirely agree with David's stance. After all, I wrote a post stating why I thought that long term investing is better than short term trading.
Personally, I'm not keen on abandoning a long term investment strategy and find that a lot of technical analysts love to engage in a few scare tactics to justify their trading positions. So I'm all for sparking a discussion about this.
And talk about timing! Let us know what you think, now that Wall Street has just closed up with its best numbers for 2009. Or is this a "dead cat bounce"?
The following guest post is by David Grandey from AllAboutTrends.net. Thank you David, for this contribution.
~~ooOoo~~
What Technical Indicators and Historical Stock Trends Are Telling Us
With the Dow Jones sinking well below 7,000 not too long ago, not only did it break some key support levels, but it has reached lows not seen since 1997. So how should these events affect how we make our investment decisions going forward? Should we make changes in the way we invest?
Allow me to try to analyze what's happened to the stock market so far. As we consider these levels on the Dow in a greater sense, let's look at the peak to trough analysis. If we chart stock market trends, the current peak to trough from Oct 2007 to date is down over 50%. Not only is this a recessionary decline of historical proportions, but if we put it in context, it has some unhappy effects in drawing conclusions on recovery.
Analysis of Stock Market Cycles: Comparing 2000 – Present Bear to 1929 – 1937
We are now in the 4th worst decline from peak to trough (and by the way there is no certainty that the latest stock market bottom is the final down leg). The worst declines in percentage terms were in 1929, 1937, 2000 and 2007. Let's take a look at what this means for us today:
1. Our current decline has just passed the 1974 decline of 47%, pushing 1974's recession into a dubious 5th place.
2. As in 1929 and 1937, these 2000 and 2007 declines were part of the same economic cycle resulting from a bursting asset bubble. In other words the detrimental effect of two related recessions took years to create. The eventual recovery out of the 1930's was the chain effect of years of adjustments and policies that worked though the system to finally create a foundation for growth and confidence. Unfortunately, in 1929 it took 25 years for the market to recoup its losses which included the aftermath of World War II.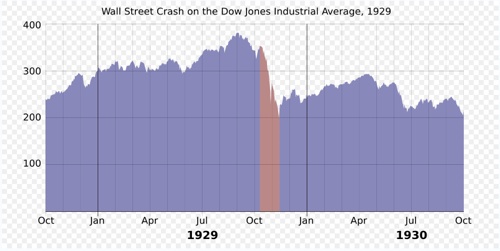 Image from
Wikipedia
: The 1929 Stock Market Crash
3. What emerged from the post-WWII era were measures that have impacted our economic policies and recent investment thinking. Many of today's conventional portfolio models began their measurements once WWII ended. By design, we've come to expect that stock market movements, volatility and uncertainty like we've seen in earlier eras were now things of the past. Clearly, this is not the case! Even Alan Greenspan admitted defeat to Congress when he said that his assumptions about how the world works and operates, have been wrong.
4. Finally in conclusion, given the magnitude and relationship among the periods of 1929, 1937, 2000 and 2007, I am inclined to assume that today's recovery will be similar to the 1930's. Now if I'm correct, we can officially declare buy and hold as dead for any investor who is in the market at these previous price levels and waiting for a quick recovery.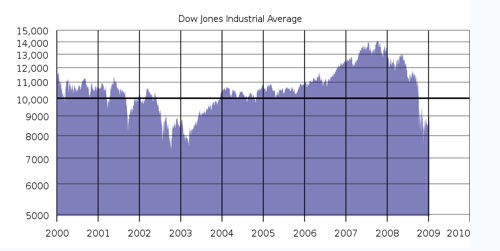 Image from
Wikipedia
: The 2000 to 2009 Market Cycle
Buy and Holders Hold Out Hope For V-Shaped Recovery
If you do not agree with this, then you may believe in the V-shaped recovery. We have had those recoveries, most recently in 1987 and 1989. Those declines were quick and were immediate shocks that lacked any real threats to the foundation of our economy. However, in contrast, the single recession of 1974 which did have fundamental economic threats, took 7.5 years to recover, and that decline did not have a related 1-2 punch like we had in 2007 relative to 2000. In other words, the post-2000 policies created to offset the 2000 recession are a big part of the bubble economy we are feeling now. Our case today feels similar to what we saw in 1929 and 1937.
The current decline we are in is a result of the slow drip of asset reductions caused by an asset price bubble of cheap money and loose credit. The pain of de-leveraging and deflation hurts, and the more this process is fought unproductively and without reforming our domestic economy, the more slowly the economic recovery will take shape. This lack of reform is what hurt Japan, and has put their "lost decade" into its 25th year spanning 13 stimulus packages.
As for the U.S., from the 1929 decline, it took 25 years for us to get back to those stock market levels. Could we be in store for something similar? At least what we have going for us is that the initial decline that began in 2000 is now 9 years in the rear view mirror. My assumption here is that we are in store for a 16 to 20 year stock market recovery. So if we are already 9 years into it, we have at least 7 more years to go, with a stock market bottom hopefully in sight. So what do you think, does this mean that we should consider the "buy and hold" investment strategy dead?
For those of you who are fans of stock market charts, you can check out these links — they may just put things in perspective:
Copyright © 2009 The Digerati Life. All Rights Reserved.