Nobody can blame you if your views of the stock market have changed lately. Buy and hold investing is no longer as rewarding an approach as it used to be in decades past. With most decisions in life, no question has an easy answer and this is no exception. If there is an easy answer, it would go something like this: for the investor with a long term strategy of slow consistent growth over the course of a lifetime, there should be very few changes made to one's investment portfolio. But these days, people have been more open to stock market timing and may mix their long term investing strategies with some technical analysis. If you're open to this kind of approach to dealing with the stock market, then do read along.

A trader has a short or medium term outlook. They only invest money after careful research (a lot of free information can be obtained from your friendly neighborhood brokerage), and not only do they analyze stocks, but they also study the underlying market because they know that a lot of a stock's movement is tied to the broader market. If you're one of those traders, you know that your investment portfolio is constantly changing based on market sentiment. Every day you are called on to make a judgment about what's coming next: A drop, a pop, or sideways action. How should your portfolio change when the bulls or bears take over?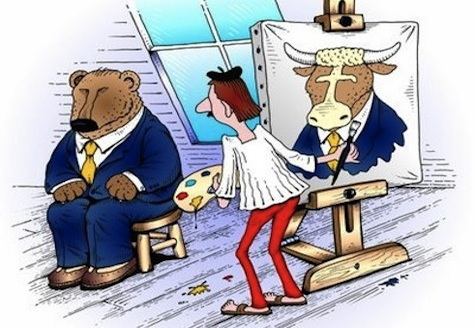 Stock Market Strategies: Trading In A Bull vs Bear Market
Let's be honest. Knowing the next market move isn't easy but there are some technical indicators that may help. First, look at the moving average. Technicians differ on the time periods they choose to analyze but as a simple exercise, let's take a look at the chart below which portrays the 20 day moving average of the S&P 500 during a particular point in time (and which may not at all be reflective of the index today).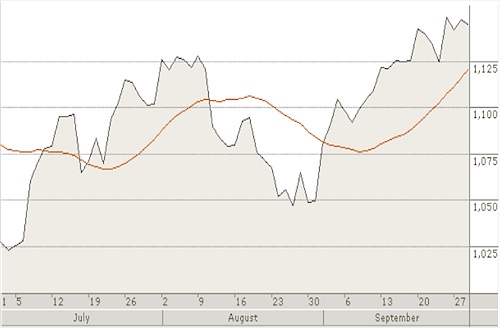 A technician may say that because the S&P is trading above its 20 day moving average, this is a bullish sign. If the S&P 500 were trading below its moving average, this may be considered a bearish sign.
Looking at the same above chart, this particular example shows that a continued bullish signal is present. Not only is the S&P trading above its moving average in this chart but it has also broken out of its early August high of around 1130 and has continued upward since September 13th. Again, please note that we are using this chart as a point of illustration, such that the S&P is at historical price points.
There are many other indicators to study but before diving deep into technical analysis, these few indications are a good way to start.
Hedge!
One major difference between the amateur and the professional investor is that the pro knows that trying to score big is much more difficult than making a series of small wins. They also realize that it's impossible to know exactly when the market will reverse its direction, so having trades in place that win regardless of where the market decides to go is pretty important. You'll need to hold either "long" or "short" positions during the appropriate times. You want to be in a position where, regardless of how the stock market moves, you can make some money. With this in mind, remember that multiple small wins are better than one big win. Here are a few ways to hedge:
| | |
| --- | --- |
| Shorting Stock | This is the easiest way to hedge but it's also the riskiest. Losses can be unlimited. |
| Buying Put Options | Known as an insurance policy in the investing world, the loss is limited to the strike price. |
| Inverse ETF | These ETFs rise in value when the underlying asset falls in value. Unlimited loss potential. |
Not Your Typical Diversification Strategy
If you're an investor, then you know all about diversification and are probably tired of hearing about it quite a bit. But here's something not talked about as often: not only do you diversify your portfolio by investing in various sectors and asset classes, but you should also consider diversifying in terms of volatility. Volatility is simply the amount of movement in a stock relative to a broader index. Some stocks have a high degree of volatility and others have a very low degree. So it's a good idea if you can develop a portfolio that contains a mix of high volatility and low volatility stocks.
Volatility is measured by looking at the beta. Beta measures the amount of movement in relation to the S&P 500. A beta of 1.0 means that the stock will move the same amount (percentage) as the S&P 500. The higher the beta, the more volatile is the expected behavior of the stock. A beta lower than 1 means that a stock moves less than the S&P on a given day.
Tips on Investing and Trading In Any Kind of Market
I've been trading for a little while and have picked up a few pointers here and there that I'd like to share with you. We welcome your ideas on this matter so feel free to add to or debate these points at anytime.
So, how do I do it? Following are some tips on how to adjust your portfolio as the market changes.
When you believe a bull market will continue, you may want to do the following:
Increase your percentage of high beta stocks.
Lower your amount of "short" hedges.
Look more for sell opportunities than buy opportunities.
Watch for sectors that may not be participating in the bull market. These may be buy opportunities.
Historically, good bull market stocks (in my opinion) have included Apple, Deere, Nike, Prudential (but make sure you do your due diligence before taking any action!)
Don't let your guard down. The bull market will end sometime and you must be ready.
When you believe a bear market is imminent or you believe it will continue, here's what to consider:
Get or stay defensive. Increase your percentage of low beta stocks.
Consider increasing your percentage of short positions, but do this very carefully and only if you've got experience. Short positions are highly risky.
Good stocks that are victims of a down market will become great buys. Watch for those and buy at a great price. Consider bottom fishing.
Be careful about buying sectors that don't drop in value as much as the rest of the market. They may not offer the same value plays.
Examples of good bear market stocks: Johnson & Johnson, Proctor & Gamble, 3M.
In a bear market, hold stocks with high dividends.
Be patient. Things will eventually turn around.
Take a look at your portfolio and have a contingency plan for when things turn the other way. Try to remain a step ahead of the market as much as possible. Now if you're a passive investor, make sure you pick the right fund managers who will successfully perform this work for you.
Created October 10, 2010. Updated July 22, 2012. Copyright © 2012 The Digerati Life. All Rights Reserved.