The prospects for many retirees aren't very optimistic these days, no thanks to the bearish stock market we've been experiencing. Many are close to retirement and wondering if what they have in their high interest savings accounts will be enough for them to retire on. They may be facing some unattractive options and possible lifestyle changes in the near future. To be in their shoes could mean contemplating about coming out of retirement and getting a job in this poor economy, or maybe executing a reverse mortgage if there's enough equity in one's home to draw from. But if this is your situation, why not do something even more radical, like moving to a place where the cost of living is much lower than where you are right now?
In my case, relocating for retirement is definitely a great option (if I can convince my spouse to do it). I was born and raised in the tropics, and I have no qualms returning to my native land one day. Unfortunately, the spouse thinks it's way too hot to live where I'd like to live, close to family. But I'm "working" on him. I'm hoping that gradual brainwashing will work. Okay, that was facetious, but the truth is, by moving from Silicon Valley (with very high cost of living) to my place of birth (potentially lower cost of living), I can imagine living well on so much less. Even with a halved nest egg, we'd still be comfortable.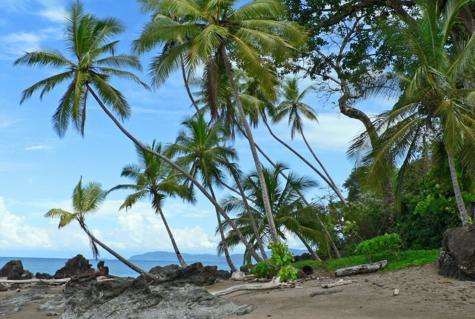 Costa Rica rocks.
With such thoughts, I'd like to share with you some suggestions from our contributing writer, Jacques Sprenger, about where to head, in case you're open to living elsewhere cheaply, for the rest of your life (or at least, a good part of your future). Are you open to new cultural experiences? Willing to immerse yourself in a new environment? Then try this:
Best Places To Retire For Less
If you are retired and have a fixed income, things can get a little difficult in a slumping economy especially if you live in a neighborhood that still requires a lot of money for you to live comfortably. I'm not surprised that many older Americans are looking abroad to stretch their dollars.
1. Stretch the Not So Mighty Dollar in Panama
Mario Vilar says: Many people who are planning to move to Panama, they are ready to do it but they cannot do it or are just waiting to sell their houses. That is the biggest delay, selling their houses. Mario Vilar knows a thing or two about retiring in Panama, which, by the way also uses American dollars as a currency, but offers much cheaper accommodations and excellent benefits. Here I am. I love it too. Wow. Oh man. This place is wonderful. The people, the people make the country, says Carl Haskins, a retired parole officer. Who wouldn't like to pay $300 a month rent for a fully furnished two-bedroom apartment, as Carl is doing?
2. Why Not Move To Nicaragua?
For the record, Nicaragua is not in the midst of a civil war, and it's not a communist state. There's this notion that Nicaragua and its checkered past may not be what we'd consider as an ideal haven for American retirees and yet, if your money comes from the States, you don't pay any income tax to the local government. A household helper will cost you less than $130 a month; you can bring your own car and sell it after 5 years tax-free. Up to $10,000 of household goods can be brought in without paying tariffs and a doctor trained in the U.S. will charge only $35.00 per consultation. For the more adventurous among you, it may be the place to stay, given that it's considered one of the safer countries in Central America.
3. There Is Another Switzerland: Costa Rica
Costa Rica, the Switzerland of America, as it is known, is probably the most expensive Latin American country; but it is still far cheaper than the U.S. It offers pristine jungles and enticing beaches. Baby Boomers have found that Costa Rica's high standard of living offers a lower cost of living, and we can add what is widely known: that Costa Rica loves democracy, doesn't have an Army and its crime rate is very low compared to neighboring countries. One important caveat: if you like snow, blizzards and freezing cold, Latin America is not for you.
4. There Is Also Mexico
OK, now we come to my favorite country to retire in: Mexico (swine flu notwithstanding). Why? Maybe because I lived there for more than 20 years where I met a few American retirees who lived happily in perfect climate and in very affordable and comfortable homes. Cheap housing takes on a whole new meaning here. Again, if you decide to live here, your lifestyle will determine how much you'll want to disburse monthly. An annual physical check up by a well-qualified, bilingual, often U.S. educated physician is about US $50 plus tests. Helpers and gardeners work for US $2 per hour or a little more depending upon their length of service with you. I checked out an American colony near Lake Chapala, about half an hour south of Guadalajara where I found the weather to be mild all year round (a few ceiling fans will suffice most days).
If you are convinced you want to stay permanently, a house will not set you back more than $100,000 for a 2,000 square foot residence, or a lot less in this depressed economy if you buy a used home. As buildings are made of masonry, fire insurance is not necessary. And with the peso around 14/1, your dollars will stretch quite nicely.
Want To Learn Spanish?
Habla Ud. Español? Don't worry about the language. English is used more than you think in foreign countries, and many people abroad do speak and understand English, such as those in the medical, business, law and tourism industries. But what isn't fun about learning a new language? One thing though — you'll have to adapt to the eternal mañana. Things are done at a different pace than in the U.S., so arm yourself with a ton of patience and you'll do fine. And don't forget to immediately register with the American consulate, just in case.
I'm certainly open to making such a move in my golden years. Are you?
Copyright © 2009 The Digerati Life. All Rights Reserved.