As a WAHM, it's essential to find a way to network since there's typically nobody else to talk or exchange ideas with when you're working at home. I discovered several online forums and social networks dedicated to WAHMs and SAHMs (work at home and stay at home moms). Through these forums, I met several talented new friends whom I've been communicating with about our work, families and finances. We all share our tips and talk about ways to save money and earn income in our "virtual" office break rooms.
Renita Perrone is one of these treasured friends. Recently, she compiled many years' worth of money-saving tips into a book, "Wow! You Saved How Much?" Her book outlines how she literally saves hundreds off dollars off on her weekly grocery bill. Saving money often means the difference between staying home with your children or working outside the home, so frugal activities become a family affair for me. When you get your family involved, they truly understand the significance of saving.
Work At Home Mom Shares Tips On Saving Money!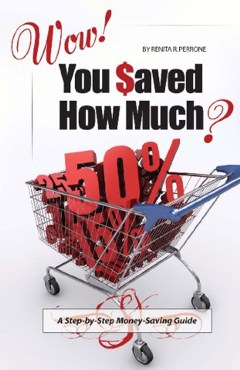 Renita was kind enough to take time out of her busy schedule for an interview to share tips with other WAHMs. Here's what we discussed:
Q. How did you get started with freebies, coupons and money-saving offers?
A. About 8 years ago, after the birth of my first child, I knew that I would be staying home. Losing over half of our income was a huge blow to us financially. I began to look for any way I could save or make money while still being home with my daughter. A friend in my local mom's group told me about a Yahoo coupon group she was in. I joined the group and started learning what others did to get the best deals.
Q. When did you realize this information was valuable to others?
A. Immediately! When I started seeing some of the good deals people were posting about in the coupon group, I was amazed.
Q. What inspired you to write "Wow! You Saved How Much?"
A. I had written a series of short "bullet-point" articles to help some of the ladies in my local mom's group. Many of them wanted to stay home with their babies but didn't see how it was possible. My husband convinced me that I needed to put it all in book form so that I could help more people, because it's not just about moms wanting to stay home. It is really about people just wanting and needing to be able to pay their bills.
Q. What type of information do you share in your weekly blog?
A. Currently my blog is geared toward local residents so I highlight a few of the good deals in my area. However, I also try to add some helpful bits of information that can be used everywhere.
Q. What are your three biggest tips for saving money off everyday expenses?
A. Sure! Here are my ideas:
1. Stock up on nonperishables when they are on sale (and preferably with coupons).
2. Plan your meals based around sales that week.
3. Share/trade coupons with others to have more of what you need.
You can check out these additional coupon tips and tricks to cut down on your grocery bill.
Q. How does your family feel about your deal-finding activities?
A. At first, my husband assumed that I would only be able to save a couple of bucks, and didn't believe that the savings would justify the time I spent going through coupons. Doing the work does take a bit longer at first, as you are learning how to deal with a new system. But, when I'd come home with receipts on a regular basis showing that I'd saved 50% or more, my husband became much more supportive. It also helps that my children never ask for anything in the store. Instead they say "Next time ___ is on sale and you have a coupon, can we get it?" They've learned the value of coupons and sales as well, even at their young ages (5 & 8)!
Q. Do you think we'll ever see grocery prices go down?
A. Probably not. The prices of some items may go down for certain periods of time, but overall I doubt it. Do we ever see any prices going down permanently? Not very often!
Q. About how long does it take you to cut coupons and search for deals each week?
A. I probably spend about an hour per week. I used to spend more time, but after refining my techniques and getting more organized, I can now do it in about an hour.
Q. How much do you typically save during a weekly trip to the grocery store?
A. It depends on what I need that week. If I have to buy meat, then I won't be able to save as much, but otherwise I usually save at least 50%, and this is in an area where none of the stores offer double coupons.
Q. What advice would you give to other budding entrepreneurs now that you have your own successful book and blog?
A. Don't give up. Keep pressing forward toward your goals. Don't let the fear of being told "no" keep you from asking someone to help you. Do your research and learn what steps you need to take to accomplish your goals and then work on them one by one.
If you're looking to work from home, start doing what you love and get paid for it, while reigning in your spending. By doing so, you'll be able to make an entrepreneurial lifestyle work out for you. Remember that there are countless ways to earn a living without needing to step out of the house and having to pay for daycare in the process: from cutting coupons to babysitting to writing a book. And if you're able to control your budget, you'll be able to manage the resources needed to build a profitable home business.
For more on the topic of coupons, deals and free stuff, check out our articles:
Copyright © 2009 The Digerati Life. All Rights Reserved.