One of the cheapest ways to vacation is to be a houseguest.
We get a lot of visitors to our home throughout the year on a regular basis. And we're always happy to host guests, especially those friends of ours whom we haven't seen in ages. In return, we get free lodging whenever we visit friends wherever they reside, many of whom are conveniently located by kids' amusement parks. It's nice when someone is able to welcome you into their homes when you're traveling: it saves quite a good chunk of change, as even budget motels these days can cost between $30 to $100 a night.
But the role of a hospitable host is not for everyone, given that I know a few who really *dislike* having to put up guests, even though it means having to offer space, company, room and board for less affluent relations who would so appreciate the opportunity to visit.
I never quite understood this lack of generosity, but after hearing a few personal stories from friends, I realized why not everyone wants to open their doors and oblige. Unfortunately, not everyone is cut out to be a warm and welcoming host just as it is the case that not everyone is cut out to be a pleasant and gracious houseguest.
Houseguest Visits Gone Wrong

THE SOUSED HOUSE-SITTER
It started as just a couple of weeks until "Carl" could find a place of his own. Sure, no problem, "Carl" could stay with us until he saved up first, last and deposit. While we were on vacation, "Carl" could even have the place to himself as long as he watered the plants and fed the pets. Well, the only thing "Carl" watered while we were in Hawaii was himself — with every drop of alcohol in the house, even the bottles in storage. Although the plants were dead, at least the pets were still alive.

THE UNINVITED EXTRA
Our friend flew in from Australia for a solo, one-month trip, so we were surprised when he got off the plane with his new girlfriend, whom we did not know. They broke up within five days, barely spoke to each other, and occupied two bedrooms in our home for the next SIX MONTHS! Then he married someone else, and she stayed at our house alone for ONE MORE month! She probably would have stayed forever if her visa hadn't expired.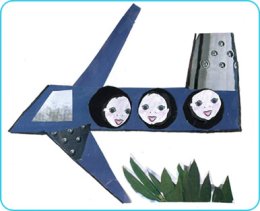 Realistically though, it may actually be in everyone's best interest to have certain visiting guests in professionally maintained accommodations elsewhere. In fact, you may even go as far as arranging to pay for your guests' room and board elsewhere (especially if your visitors are close relations) just to keep the peace and escape the "adventure" of staying under the same roof with them.
In order not to get to that point, hosts and houseguests can get along in a more symbiotic fashion by following a few house rules. It's all about expectations — how a host expects his houseguests to behave and how a houseguest expects to be treated in someone else's home. Here are some tips to ponder on this topic:
Have A Pleasant Visit By Following A Few House Rules
#1 Visit with people you like.
Sounds easy enough, until those family reunions come around and bite us in the rear. For some families, such visits can be tricky. If you'd like to make it a go no matter where you go, then shelling out the bucks for a peaceful stay at a hotel is definitely a good investment.
#2 Be courteous and share your schedules.
Hosts and guests would be well-served if they maintained open lines of communication and kept abreast of each other's plans.
#3 Take time out from others in the home.
Don't feel obliged to spend every single moment with your guests or hosts as the case may be. That way, you have time to restore your energies, de-stress and just enjoy your moments in privacy and solace.
#4 Offer a gift to the host.
Any host would appreciate a nice token of gratitude. Here are some great ideas for saying "thank you" to your host.
#5 Honor the host with a dinner or other show of appreciation.
This is another way to extend courtesy towards the host.
#6 Leave the host a thank you note.
If you're not treating the host to a bash or a simple gift, a note may suffice.
#7 Discuss any need for extra accommodations (such as for children or pets).
If your host is a pet lover, then by all means discuss the possibility of bringing over your pets on your visit. Generally though, it's probably not a good idea to take pets to someone else's home. [But that budget motel will be happy to accommodate your 4-legged (or other) friends!] Discuss in advance if any children will be coming along in order to properly prepare for their stay.
#8 Be prepared in advance as a host.
By doing all you can to get ready for the visit, you can avoid having to spend money unnecessarily. These tips by The Simple Dollar and My Two Dollars can help you cut down costs as a host.
#9 Tit-for-tat: trade roles on a later date.
If you're a houseguest who can afford this, you can think about offering your place up for visits from your hosts in the future. If this is not possible, then even some time as a "day host" for future visitors is a nice gesture. Are you open to temporarily swapping houses with other people? With the existence of home swapping services, I would think that this is a feasible idea for vacationers.
It's wonderful to be invited into someone else's home and have the chance to cut costs during a visit, but it takes a little more to keep the reality of the experience just as wonderful as it sounds.
Image Credit: TheFamilyGroove.com
Copyright © 2007 The Digerati Life. All Rights Reserved.