A few weeks ago, I had the pleasure of hosting Mr Credit Card from askmrcreditcard.com. I found out that he was not only a fanatic about credit cards but that he was also interesting and knowledgeable in so many other areas (especially on the topic of advanced investing). Since I put him up for a few days, he paid me in his own ways (which he will discuss here). He recently updated his credit card recommendations for 2011 so please check out his site if you are looking for a new card. Or you can also compare credit cards here and see my own recommendations if you so wish! Following is Mr. Credit Card's account of his visit to the SF Bay Area.
I flew to San Francisco a few weeks ago for a business meeting and decided to meet up with the Silicon Valley Blogger (along with other online publishers and bloggers). SVB kindly offered me lodging for that weekend. Well, I guess it's hard to turn down this opportunity given that we've talked over a radio show and have shot emails back and forth for ages!
Time flew and before I knew it, I was at the PHL airport on Friday. I was scratching my head and figuring out what to buy for her and perhaps her family as a token of thanks. I frantically looked at all the shops around the airport terminal after I passed security check. Then I decided that I would get something for her kids instead. But I wasn't sure how old they were, so I called her to find out her sons' ages. Not long after, a cool T-shirt shop caught my eye. And since I had no time to decide, I simply bought a pair of T-shirts. 🙂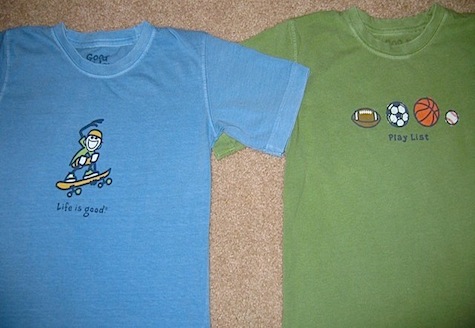 Nicely ironed!

Thankfully, her kids liked my presents, and so did SVB (which I found most important!). But I felt that simply buying 2 shirts for her boys was not enough. So on Sunday night, I decided to buy her family dinner. We decided to go get sushi. Dinner was a delight!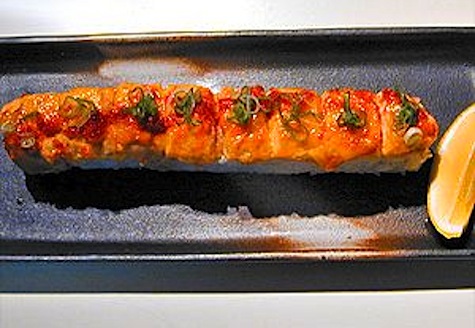 My favorite dish: Salmon with special spicy sweet sauce, green onions, and tobiko baked on top.
So that is my way of thanking SVB for letting me stay at her place. My visit proved to be quite a great opportunity to meet up with people in the same business circle. Plus I got to know her and her family so much better. Question to all of you is: did I thank her enough? What would you have given your host if you stayed at their place for a few days? You can also find some other tips on this subject in SVB's article on how to cut down on travel costs as a gracious houseguest.
From SVB: I had a splendid time getting to know one of the smartest bloggers around. It was an absolute pleasure to host Mr. Credit Card and I was glad I had a chance to pick his brains on some topics. I think my business and investing IQ ratcheted up more than a few notches after I finally got to meet him in person! 🙂 If you're a PF blogger visiting the West Coast, don't hesitate to drop me a line.
Copyright © 2011 The Digerati Life. All Rights Reserved.