How would you feel if a company or the government approached you and said that they need the land that your house is built on? I found an image below that tells the story of how some residents felt about giving up their home for the sake of "new development". When approached by big business or big developers or the government, they make a stance and refuse to give up where they live. This may be called a matter of "eminent domain".
It all started when they refused to accept compensation to move and, while the row rumbled on, the bulldozers excavated the site around them.
What this story boils down to is the question of how much you actually value your house. You can be offered that market (or appraised) value for your house at any time, but if you're not ready to sell and move, that amount may not be enough.
Now I can see how you'd refuse to trade away your property if you were offered a lame exchange or unfair compensation. But crazily enough, some have even passed on some incredible offers that would have traded their tiny trailers and shacks for a cool million dollars. In this case, NO amount is enough.
Taking A Stand & Not Selling Our House
Here's the image I was referring to. Though this photo is one from the busiest urban centers in China — in Chongqing to be exact — there are similar scenarios unfolding in our own backyard.
This is what you call: "really loving where you live."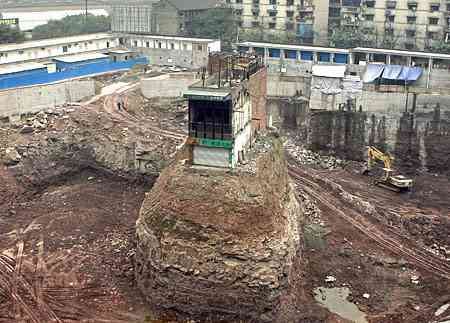 Meanwhile, In Florida…
Now let's move on from China to somewhere local. There's a situation in a "down-market relic of old Florida" called Briny Breezes. It's a self-governed mobile home community smack dab in the midst of a glorious setting of luxury homes and condominiums. A mere couple of years ago, these oceanfront properties basking in subtropical weather were going for $150,000 a pop. Today, developers are asking these trailer residents to sell off their homes for millions of dollars.
I find the residents here both lucky and absolutely insane. Insane if they don't take the offer. And I'll tell you why, since every story has a context.
When you're faced with delusional developers with dollars in their eyes (e.g. Oceanland.com) who are willing to fork out $1.5 million for something you bought for $150,000 — well that's pretty much a lightning strike or a lottery jackpot. Take it.
When you bought your house for $37,500 nine years ago and you're now 47 years old with empty pockets, a million dollars is sweet. Take it.
When you're part of the hurricane belt and are in some kind of designated hurricane evacuation zone with limited access into or out of your community, and when some experts say "Briny Breezes, being on a barrier island, can eventually be wiped out by a hurricane", and someone offers to take away this problem from you for a million? No brainer.
But people can be crazy. Some of these residents have stalled.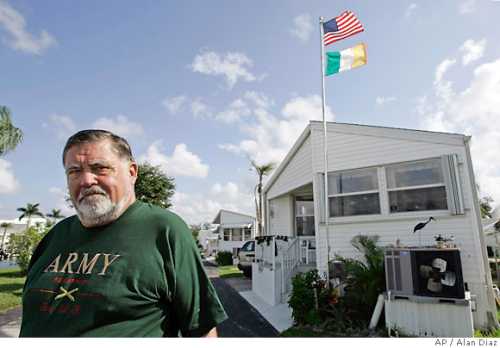 "You just can't buy a way of life," said Tom Byrne, a 68-year-old retired sales executive from New York who doesn't want to sell even though he would make a little over $1 million on the trailer and site he bought two years ago for $150,000. "This is my home."

John and Gay Sideris, retired teachers from New York who bought their home in 2001, are conflicted.

"It will be good for us because we'll be able to help our family, but this is an amazing place to live. You know all your neighbors. You can walk your dog in your pajamas," said Gay Sideris, 70.

"If you sneeze, a neighbor hands you a napkin," added John Sideris, 71.

The couple paid just $155,000 for their home and now stand to make close to $1.5 million.
I can't blame them. If you've turned your house into a beloved home, there may not be any price for it. Even while a hurricane starts bearing down on you.

Other Resources: Interview with China's most incredible holdout
Copyright © 2007 The Digerati Life. All Rights Reserved.