When I visit my relatives over in New Jersey and Virginia, I often marvel at the acreage they've got over there. When you say you live in suburbia, you're talking about these houses that are sitting smack on huge parcels of land that are green as far as the eye can see. There's so much running room and play space in those yards, you wouldn't need to visit the parks around there.
For those of us out who live in denser areas where we have more house than we do land, we need to make do with our public parks and other facilities to host our barbecues, weddings, birthday parties, picnics and all other get togethers. It's a choice we make by living in more urban neighborhoods and highly developed areas. But till now, I thought that the only choice we got for increasing our property space was to move: upgrading to a more expensive home or to a lower cost of living area, more typically in those states that have higher property affordability and bigger land parcels.
But I've picked up on a novel idea. It may sound like a radical approach especially in this day and age when neighborhoods are built on privacy and securing one's own personal space. But for those who keep an open mind, there are benefits to trying this idea out.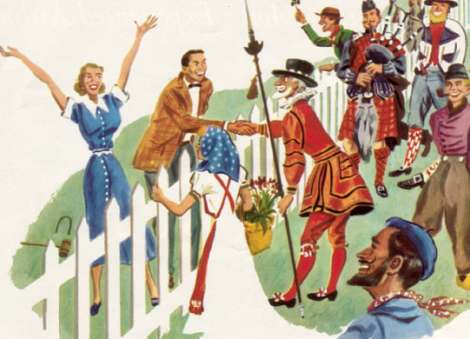 So how can you enjoy more land with the real estate you already have?
What you get: you get more land, more space, more real estate.
The catch: you'll have to like your neighbors.
Some residents have decided to drop their borders: some have actually taken down the fences that separate them from their next door neighbor. What I had observed in other parts of the nation is that in certain suburban communities, there are NO fences. I've found it to be refreshingly and oddly different from where I live. Why is it that some parts of the country have it this way but over here in the Bay Area, we've got fences, walls and gates all the way up to our heads? Is it something about having smaller lots and living closer together that make people more comfortable with visible property lines?
Taking down a fence is generally a tough sell. If only we were simply more comfortable with the neighbors to pull something like this. Obviously, it would take a lot of cooperation and planning because by dropping conjugal fences, backyard appearances coalesce and you may need to work on a more communal landscape that flows through more aesthetically.
For all the work this involves, there are these great pluses:
The Advantages Of Tearing Down Our Fences
We build a community.
You'll be living without borders and you'll build a community in the process.
We develop tighter relationships with neighbors.
If you like your neighbors, this could be something to consider. Hopefully you'll like them better even after such a project. To be realistic though, I don't see this to be an easy change for most people; after all, it's hard enough to get along within a small family unit that it may be very unwise to enter into a permanent situation like this with others. Then again, if you live next door to your family or best friends, this becomes a very natural idea.
We enjoy more yard space.
Just like when you tear down the walls in the interior of your home, you redefine a space, and everything just seems so much bigger, grander, more spacious.
We can host more parties at home without impacting our house.
When you've got a sliver of a lot, your party hosting becomes confined to a tight deck or the interior of your home. When it's nice and warm, it's just no fun to hold things indoors.
-ooOoo-
Doing something like this may be a refreshing thought but can actually be tougher to execute. It would depend on how much you like your neighbors, whether you can agree on the use of your mutual space and if you have similar goals as they do about your surroundings. Yes it's a wild idea, but some have done it. And if you're the neighborly type, you may just be able to make it work.

Image Credit: Ovi.ch
Copyright © 2007 The Digerati Life. All Rights Reserved.