Thinking of doing a home improvement project? Read on before getting that home equity loan.
I'm sure a lot of us has heard of home project horror stories. I have a colleague who lost his family in a divorce when he ran out of a $800,000 inheritance funding his "custom smart home". And what about those folks who've been residing in trailers in their yard while they await more cash flow or the resolution of permit issues as their half finished house lies exposed to the elements for the last 3 or 4 years?
But for every such terrible story, there are many more with warm and fuzzy endings. I'd love to build my own house someday, but is it worth it?
If you're going to embark on a huge home project, particularly of the "build it from scratch" kind, you may want to mull over some points beforehand.
What To Expect From Building Your Own House (or Doing Larger Home Projects)
#1 Employ some savings strategies.
Time to raid your savings accounts? Save money with these tactics:
Do it in phases. Get the basic features in and build to accommodate future phases.
Do some of the work yourself (or with friends), if you're handy.
Compromise and prioritize, as I mentioned earlier, by including the stuff you most value or care about. We all need to learn to say "no" to ourselves sometimes.
#2 Your initial budget will not be enough. Tag on 10% – 15% to the original bid.
One of the first things you must accept when getting into a home improvement project is that it'll probably cost more than you first thought. If you accept this fact early on, then if you actually avoid cost overruns, you'll be pleasantly surprised. When a home contractor gives you a quote, it's usually based on initial assumptions that will shift as your plans become more concrete. The budget therefore shifts in lockstep.

#3 Know what contributes to your home's building costs.
Check out these tips from About.com:
Size: larger homes end up costing less per square foot as overall cost gets distributed over more ground
Shape: rectangular and dome shaped houses cost less
Site location and condition: doing prep work to ready your land for the project will add to your budget
Inflation and the market for materials and services: prices increase around 3% to 6% for every year you wait
Here's a sobering fact: any home that is custom-built will cost more than a tract-built house of the same size or even one that is much larger.
#4 It will take what seems like forever.
Think in terms of years here. In some cases, even to remodel your bathroom can take some effort. Revamping even small rooms can take months to do, while encompassing changes can take years! Not every minute is used efficiently so it's not surprising. Plus the permit gathering and architecture/design process can make things seem like they're stalling. Here are thoughts from a guy who's gone through this experience:
Building a house is often compared with running your own business. It's likely to take you at least a few years no matter how you do it, and if you're not careful, a decade. The stories of children growing up in tin sheds on owner builder sites are numerous and true. I've met some of them myself.
#5 Everybody needs to communicate.
If you don't, watch out for dashed expectations. You'll need to talk to your contractor and builders often. Results will depend on how well you dialogue with your development team and your spouse.
#6 Be ready for conflict.
I'll be shocked if you don't get into arguments with your family and your contractors on stuff. Hopefully it's an occasional thing, but let me say that such a project can suck the life out of any partnership. It's a huge cause of stress and expectedly, stress levels will be in proportion to the size of the project. Here's a story: I've been involved in arbitration disputes over the cost of project mistakes due to silly misunderstandings with a home designer. No matter how good these guys claim they are, nobody's perfect.
#7 Sorry, your house won't be perfect.
Perfect segue. If you're a perfectionist, you'll have a hard time with this process. You'll find that it's rare to find someone who can do the job perfectly and the more work and detail there is, the more imperfections you'll encounter. If you find a perfect craftsman somewhere, send them to me!
#8 Organization is key.
Personally, I wouldn't try to take on the job as a general contractor. It takes a lot of experience and knowledge to do this job. Instead of risking failure, I'd hire a general contractor instead. All this will take paperwork, tracking and organizing so get those folders, calendars and project management/tracking tools ready. More words of wisdom:
So you need to adopt a realistic, businesslike approach to planning, budgeting and running your project, otherwise you can end up with an expensive and messy headache. Insurance is a particular issue these days, post September 11 and HIH. No-one will touch a half-finished project, and if your construction insurance runs out you can find yourself in financial and risk management no man's land.
#9 Prepare to sacrifice a part of your life.
The sacrifice here involves your living conditions, family time, work time and so on. That's why it's worth having a good team of people help you out.
Saving money on materials takes a lot of time and effort. For most people time is money. That sounds very economic rationalist for an owner builder, but it's a simple fact. If you are embarking on an owner building project you need to factor in (if not cost in dollars) the thousands of unpaid hours you and your partner will put in, the strain this could potentially put on you and your kids, or at least the lost time you could have spent lying on a beach with them all. I say this so you can think it through up front and plan a project which strikes a balance between self-sufficiency, saving money, sanity and practicalities like staying married.
A Home Renovation Story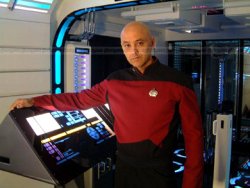 I have an update on that Star Trek fan who custom built his house into a Star Trek ship. He hoped to eventually be hired as a builder specializing in Trekkie houses for other ardent fans. Earlier, he was rumored to have gone bankrupt, maxing out 14 of his credit cards in the process of pursuing this project.
But guess what, the news now is that he successfully sold his masterpiece for £425,000 (that's a cool $857,055), five times what other homes in the area are going for. On top of that, he's thinking of taking his profits to reinvest in yet another Trekkie house!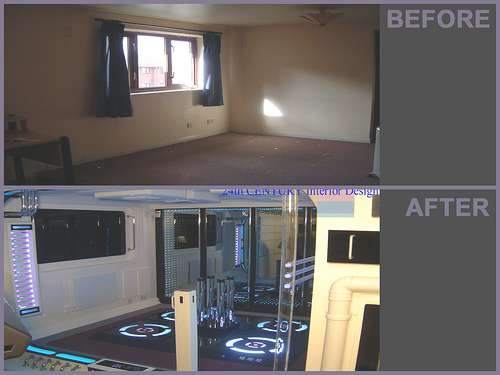 I'm not here to rail about what I think about his business plan, though there's something to be said about the passion he has for his ideas. Despite his "interesting" goals, he sounds like a pretty handy guy who's got a knack for home building.
I've been a veteran of a few home projects. I'd describe them as moderate in size and which, happily for me, turned out beyond expectations in some aspects, but dreadful in some others. I could've been more prepared prior to launch but you know how it goes, like many other things in life, it's one of those things where you learn the most after being through the wringer.
Image Credit: TechEBlog and I.Z. Reloaded
Copyright © 2007 The Digerati Life. All Rights Reserved.