Real estate agents claim that the valuation of a property can be boosted if it contains any one of these amenities, also known as extras or optional niceties for your home:
Swimming Pool
View
Landscaped Grounds
Sunroom
Porch, fancy driveway, patio
Fireplace (in California, this is an extra, not a necessity)
and so on.

That's fine, but everybody has their preferences and beyond the standard set of rooms and the desire for a decent amount of space, our taste in the extras can vary widely. In my case, unless I was living in a very hot climate (e.g. in a desert area or the middle of the tropics), I'd be a home buyer who'd pass on a listed house that had something on their premises that can be a source of great fun that comes with a price. What I mean to say is that I'd skip on a house with a swimming pool on it.
If you ask me, these are the types of pools I prefer, because they are innocuous, flexible… and so affordable!
I'd prefer the pool that someone else owns.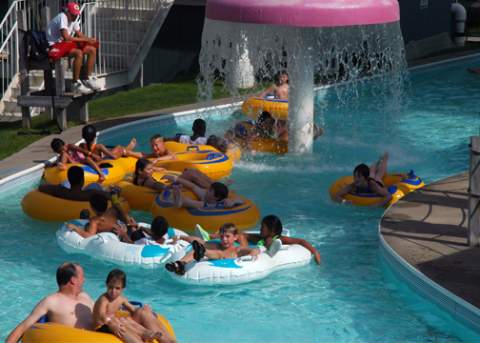 Or the inflatable kind that you could put away after use.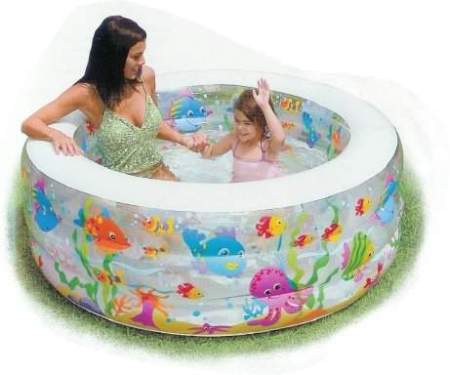 Or how about having the illusion of one instead.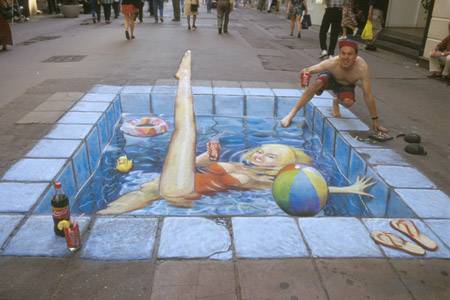 Okay that was lame.
Not that I am totally against swimming pools. It's just that as a homeowner, I look upon them more as liabilities rather than as assets, and a drain on the budget.
And here's why I say that. These are just my opinions of course.
7 Disadvantages Of Having A Swimming Pool At Home
#1 They use up limited outdoor space.
How many times have I attended home parties held in someone's yard where a large-sized pool took over most of the real estate? Too often. And not all of us are fond of swimming either. I'm a decent swimmer but haven't been up to donning a swimsuit of late. When you have young kids like we do, I'd prefer a lawn where we can run around freely or hold children's parties with ease. Not only that, as our residential communities grow denser, there is less property to actually live in. Would you sacrifice your limited usable space for a pool? While many in my family will say "yes", I personally wouldn't.
#2 They cost a lot of effort and money to maintain.
If you're interested in installing a pool, it could run you around $40,000. If you already have one in place, you'll need to maintain it either by hiring a pool guy or doing it yourself. If you don't do a good job, you'll have a very murky, icky pool that breeds unwanted critters like mosquitoes and tadpoles. In the Bay Area, hiring someone else to do the work costs $400 – $500 a month on average — that's $6,000 a year you could've invested towards your kids' tuition instead!
#3 They are an *almost* permanent fixture on your property.
It takes a LOT to change your landscape in case you ever desire to fill in an existing pool. As I've mentioned, a pool's upkeep is expensive, requiring fuel, energy, chemicals, cleaners, time and effort to do, and those costs can only go higher with time. It's hard to put a price on your house being the popular magnet for kids in the neighborhood, but eventually these kids move out and you'll have to share your empty nest with a potentially empty, dry hole in your yard. What next? You'll either sell the home, fill in that pool, keep maintaining it at a cost or live with the makeshift pond it turns into.
#4 They are a liability.
It can happen to anyone. Even fenced pools can be outmanned by a clever toddler, much to their misfortune. I'd prefer not to own a liability. Of course, you could always install a pool cover AND put up a fence, but unless you have a lot of yard to work with, having a big tarp for a yard doesn't exactly sound appealing.
#5 If you have little kids you have to be extra careful.
I know lots of people who began giving their kids swimming lessons at an early age, to heck with ear infections and all that. The kids have become splendid swimmers by the age of 10. Still, I believe this is an exception. If you have talented swimmers in your family, owning a pool may have some benefits but make sure it's worth the expense to maintain.
#6 They can lower your property value.
Aha, this can be a controversial point. I just said earlier how amenities — including pools — have helped raise the value of homes. But in reality, it all depends on the property market. I've read some articles stating that people are beginning to dislike the idea of owning a pool, for the same precise reasons that I do. When there's enough of us who think the same way, VOILA! Prices of such homes may decrease accordingly. Note however, that in certain parts of the nation, pools are a must. Homes in desert states often have pools as a necessity, but this wouldn't be the situation in colder regions. So it could be locale driven. Here's an interesting fact from my local paper's realty pages:
A realtor with Alain Pinel Realtors advises his home-buying clients to look for properties with pools because they offer such a big discount. "If you're selling your house, consider filling in your pool. It costs between $10,000 to $15,000, but doing so would add a minimum of $100,000 in value to your home (upon sale). That is because 90% of all buyers strongly do not want a pool."
With all things equal, home shoppers will eliminate that house with a pool from their shortened buy list. The interesting note here is that the opposite is true with high-end mansions. The richer folk tend to *want* big pools since they don't have the space limitation that everyone else has. But that's a special market altogether.
#7 They can be pretty redundant – other places can be alternatives to the pool!
Instead of owning the pool yourself, you could always find alternatives to having one sitting permanently on your lot, which is a lot more practical. How about visiting a friend or relative who already owns one? Community pools are accessible in many places such as apartment complexes, clubs, health centers or gym settings. If I really need to get soaked on a regular basis, I'd get a temporary membership to an athletic club or the YMCA. On a personal note, we just stick to our trusty inflatables when the hot summer months hit — those cheap backyard water toys do the job for my kids and their buddies!
It's All Subjective, Of Course
Granted, I know just as many people who have or desire a swimming pool on their premises as those who don't. And so there will always be someone who will turn green with envy if they realize you've got your very own built in pool. However, the point here is that when a house is bought or sold, it would depend on how marketable it is and on its general mass appeal. It's value will depend on just how wide a range of buyers it will attract.
As for me, I prefer to save money by sidestepping a house with a pool, like the time when we put an offer on a house that had a huge fenced water pit that took over the entire yard. Fortunately enough, we failed to snag the house. I look upon that day as fortuitous. Now with all that money I save from NOT having a pool, I think I'll just apply it to some other cool home feature. Like more plants for the yard.
Copyright © 2007 The Digerati Life. All Rights Reserved.