We're please to offer a free trial for those looking to try out the "You Need A Budget" personal finance tool. If you wanted to take this great desktop budgeting tool for a spin, you can take up YNAB's 30 day trial offer and download the software by using this link. You can also read more about this software in our YNAB review.
And speaking of budgeting tools, I'd like to present a new one that I got a chance to take a look at only recently (given my cramped schedule). The difference though, is that it's an online tool with a different approach and solutions to the same financial questions. Another way to make it easier to manage your bill paying tasks is to try out an online budget planner or tool that you can customize to your financial calendar, which is exactly what PocketSmith does. It's yet another online tool that aims to help you automatically pay your mortgage and your utility bills, while helping you keep track of how it affects your budget and money accounts.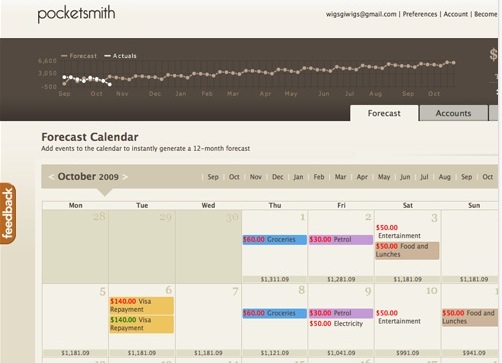 Online Budget Planner: PocketSmith Review
In contrast to your typical money management software, budgeting spreadsheets and plain check registers, PocketSmith is a web-based calendar built to help you oversee your money and forecast your budget. You can enter events like a mortgage payment or utility bill and put them on a recurring schedule. Add your income amounts and dates, too. Do you have bills that don't show up very often like property taxes or car registration fees? Enter them in and you'll be able to anticipate them better.

Once you're done entering your events, PocketSmith can make you a six or twelve month cash forecast. You can change your events and tinker with amounts so you'll stay on track with your budget too. For instance, if you need to set aside funds for holiday shopping, you can schedule such an event now so you'll be prepared for extra spending in November or December.
If you want to, you can also upload your electronic bank statements. Supported formats are CSV, OFX, and QIF. This will allow you to see if you overspent for a certain item or if you came under budget. Also, this can be useful for utility bills that fluctuate, for tracking school spending and tracking entertainment costs, among other categories. For those who are reluctant to hand their bank log-ins to a third party, you can always upload your information manually; in this case, PocketSmith won't need to know your bank passwords.
PocketSmith's Pricing
PocketSmith has three account levels. The Free account gives you 8 budget events, 2 forecast calendars, 6 months of forecast, and a few other benefits. The Premium account has a subscription rate of $5 per month and includes unlimited budget events, 5 forecast calendars, 12 months of forecast, and more.
The Super account, at $12 per month, offers unlimited budget events, 12 forecast calendars, 12 months of forecast, and more. All three account levels have CSV and PDF cashflow export features.
Your Calendar is Your Guide
Thanks to the calendar format, you can set your financial reminders so that later on, you can be alerted on any given date to items that are due or to items that need to be paid. If my water bill's due on the 15th, then PocketSmith can remind me that I need to set aside $60. If I'm scheduled to go grocery shopping on Saturday, then PocketSmith can show me that I need to plan on taking $100 out of the bank.
Here's a little tutorial on how to set up a calendar. This and other video walkthroughs are available at PocketSmith's YouTube channel.
It's also possible to set goals. Set a target amount and how much you want to set aside for a specific goal and PocketSmith will calculate when you can expect to achieve your goal. When I set up one goal with a buffer for my account, it told me that it would take at least 1 year to reach it.
Of course, a budget that languishes from neglect can't help anyone, so you should check in with PocketSmith on a regular basis. If you keep using PocketSmith, you can compare one month to another and build up a good idea of where your budget might fluctuate over the course of a year.
Since PocketSmith is web-based, you can just sign into it from any web browser on any system, whether you use a Windows PC with Firefox or Internet Explorer, a Mac with Safari, or a Linux system. You only need to give PocketSmith an email address and it won't require you to hand over any sensitive information. Need help understanding features? There are videos and an illustrated help section that includes a glossary.
See Your PocketSmith Calendar While You're on the Go
Even if you're away from your computer, you can access your PocketSmith calendar. You can connect your calendar with Google Calendar, Outlook, to an iPhone, or to iCal. If your mobile phone supports Opera Mini, you can use it to visit the PocketSmith website. It also looks fine on my iPod Touch. What if I want to log the $5 I just spent at the convenience store? Then I can send it to my calendar with a text message and Twitter.
What more, you can use PocketSmith in several different countries, which is an advantage it has over many other online personal financial tools.
Another feature I find interesting about PocketSmith is the company's commitment to donating 5% of their subscription revenue to Kiva. Kiva is a peer to peer lending network that connects people who wish to make micro-loans to borrowers from various parts of the world.
Overall, PocketSmith's calendar format for personal finance is a welcome alternative to the somewhat linear format of programs like Quicken and the defunct MS Money. If you find the budgeting process intimidating, then you'll be happy to know that PocketSmith makes it easy to enter transactions and track your money. It's a service you may want to check out if you'd like assistance with budgeting or you're looking for more information than a spreadsheet can provide alone.
Copyright © 2010 The Digerati Life. All Rights Reserved.