A sneak peek at YNAB 3.
There are a lot of great budgeting software products in the market, many of them free. But a lot of the free financial tools are browser based, and while there are certainly a lot of people who are mighty fine with having their information stored and transacted via the web, there are still those folks who are more comfortable with desktop tools, especially when it comes to managing their budget or net worth. If you prefer to do your money management transactions in your own personal "space", then a desktop tool may suit you better.
The dominant product in the market right now is Quicken software, now that Microsoft Money has been retired. However, I'd like to bring up a lesser known desktop budgeting product that I've actually written about before called YNAB or You Need A Budget, which is a great alternative to Quicken. If you check Amazon ratings, you'll find that YNAB smokes Quicken in the rankings and positive feedback.
Money Management Software For The Desktop: YNAB 3 Review
YNAB 3 is the newest reincarnation of You Need A Budget, and it's much anticipated. It's finally available and if you happen to have YNAB Pro (the previous version), you can get a discount if you upgrade to the latest version.
To see how YNAB 3 looks like, check out the following screenshot: click on this link or the image below for a sneak peek.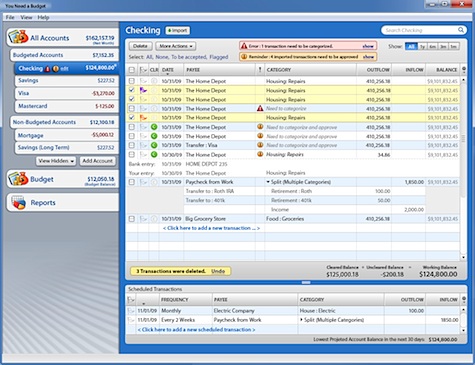 If you want to see YNAB 3 in action, you can view these demos: here's a video walkthrough that covers Categories and Notes. Here's another video that shows how the "Spending Tool Tip" feature works.
You Need A Budget! YNAB 3 Features
YNAB 3 promises some great improvements, as its new features attest. Let's have a quick run through of the changes you'll see in this version:
1. Runs on the Mac. YNAB 3 running on the Mac should make a few budget-minded folks happy. A good number of us have been eager to try out YNAB but haven't been able to, in the past, due to software platform restrictions.
2. Reports. It's my opinion that all software tools (particularly financial ones) should have reporting capabilities. For those who need additional reporting beyond what YNAB 3 offers, the tool will allow you to export the data elsewhere, to work with as you wish.
3. Improved Search and Usability. The ability to undo our work or to customize fields are things we take for granted in many tools; glad to know these are now part and parcel of this version of YNAB.
4. Cash Flow Management and Asset Management. The software allows you to track both budgeted accounts vs other types of accounts (such as your mortgage, retirement accounts and car expenses), while adhering to YNAB's core cash flow management methodology.
5. Flexibility With Accounting. There's flexibility here with how you can account for aspects of your budget.
6. Proactive and "Smart" Budgeting. You can move your budgeted numbers seamlessly across budget categories if you prefer to do this rather than deal with negative numbers. YNAB is also "smart" enough to inform you if you've got errors or things out of sync between your budget and your bank account(s).
7. Better Look and Feel. Just by checking the videos above, you can see the cosmetic improvements that this version has over its predecessors.
If you're not familiar with the tool, do check out our comprehensive review of
YNAB or You Need A Budget
to get an idea of the philosophy behind the software and what you'll get out of working with it. Or you can download a free trial
through this link
and see how it can work out for you!
Copyright © 2009 The Digerati Life. All Rights Reserved.