I've been a follower of Dave Ramsey's baby steps methodology for a while now. And whenever I can, I try to catch one of the weekday radio shows of this financial guru and popular talk show host with Fox Business News. Here, Dave Ramsey gives advice on how to make a budget full of win — the kind of successful budget that allowed him to pay off debt and become a millionaire.
I thought I'd share some of the pointers I've picked up from Dave and add my personal thoughts to each point:
The Dave Ramsey Budget: 6 Budgeting Tips For Successful Savers
1. Start with what you have.
Don't budget for "the perfect month" and don't use your monthly average over the past year. A budget should reflect what is happening currently.
On the first day of each month, sit down and write out exactly what will be coming in that particular month. Will this be a two-paycheck, three-paycheck, or even a five-paycheck month? Perhaps you're expecting a bonus payout, stimulus check, tax credit or refund. Is there anything special happening this month? Then make sure it's on your list.
Check out an effective budgeting tool. There are a couple of ways you can go about this if you'd like to use software. There are both desktop tools (which you'll need to purchase) or browser tools (which can be available for free). Let's look at a couple:
YNAB Desktop Budgeting Tool: One awesome budgeting tool made for the desktop is "You Need A Budget" or YNAB. It has excellent ratings and is built on a savings paradigm that is designed to get you out of debt quickly. It's actually built on a unique premise, making it different and more effective than most standard budgeting tools today. It helps you develop a "forward-thinking" budget so that you're always aware of your saving and spending activities in advance (a month ahead). For more details, you can read our review of YNAB personal budget software products, as well as our discussion of YNAB's budgeting paradigm.
Mint Budgeting Tool: This is a free browser based tool you can use to track your expenses easily. It's now part of the Quicken line and serves as the online counterpart to their desktop products. It's available at no cost to you, but you'll have to sign up and provide your personal information. Part of it's success and popularity is due to the fact that it is pretty convenient and is able to pull all your account information under one account. Check out our review of Mint.com here.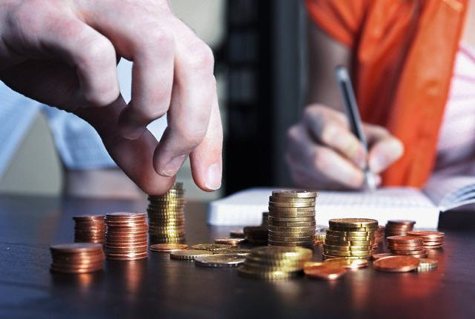 2. Evaluate your financial priorities.
A good budget doesn't take your credit score into consideration nor does it forget to pay the mortgage (unless there is absolutely no money coming in that month, in which case, you'd be facing bigger problems).
So after figuring out how much you have, you need to spend every dollar on paper and give it a purpose before it even makes it into your checking account. Your budget should go in the following order:
Food. When you have food in your belly, you live to fight another day.
Utilities. Should you keep the lights on? Make sure you're budgeting for electricity and water even as you work to perfect your credit score. "Utilities" also includes insurance payments (renters, homeowners, life insurance, etc.).
Housing (rent or mortgage). Watch that you don't fall behind on your mortgage.
Transportation costs (gas, car payment, car insurance). You can't get to work if the car's been repo'd.
Clothing. This is not an excuse to get the latest $400 pumps. The clothing budget — especially when you're trying to pay down debt — should only be for the essentials.
Health. Most of us have copay and deductibles to meet, so we need to anticipate those medical payments that are not covered by insurance.
After the necessities for living — food, utilities, shelter, transportation, clothing and health — are covered, anything left over is called "discretionary income". This can be used to get rid of debt (or at least those pesky monthly minimums), to invest for long term financial goals, or to spend at will.
3. Budget as a team! The Nerd vs. The Free Spirit
In every relationship, there's a nerd — someone who absolutely loves spreadsheets and budgets and numbers — and a free spirit — the one who absolutely chafes at the thought of being constrained by the dreaded "B" word.
Here's a suggested way for couples to work things out together: The Nerd can initiate the family's financial planning process. He (or she) should come up with a preliminary budget and submit this plan to the Free Spirit. It's easier for the Nerd to start things off as this person is in his comfort zone.
The Free Spirit should then take the time to review the budget and make changes as necessary (e.g. there shouldn't be a clothing budget of $20 for a family of five when it's back-to-school time). She (or he) should come up with a revised budget which she returns to her partner, and a compromise should be reached.
After both parties agree upon a budget, they should promise to stick to it (the hard part!). Here's more of Dave Ramsey discussing the nerd and the free spirit budgeting archetypes.
4. Make allowances in your budget and pace your spending.
It's very likely that your first budget will not work. To be realistic, consider allocating a little more to your budget categories. Unless you are literally living on Top Ramen, $100 for food will not work. Dave Ramsey recommends that until you get the hang of things, over-budget (or create a bigger budget than you think you'll need) for your first few monthly plans. Being realistic about what you can afford and pacing your spending well throughout the month should help you avoid dining on fast food and leftovers by month's end.
5. Budget for emergencies.
Cars break down, pipes wear out and break, and kids get sick. Don't forget to build an emergency fund to pay for these unexpected events. The emergency fund should be put into a savings account that can offer you a good return and which has check-writing or bill paying privileges (e.g. ING Direct) — something that's liquid, but not too liquid. And no, I don't consider "Gucci shoes are half off!" as an emergency.
6. Talk about your money.
If something changes in your budget, both you and your partner should conduct an emergency "budget committee" meeting, where everyone discusses how to address the issues at hand. It's ideal when both parties are able to sit down and discuss the possible budget changes that are afoot. Did you get an unexpected bonus? It's a good idea to decide on how to handle the money together. Did you get an unexpected cut in hours? Sit together and determine which budget category (or categories) will be impacted by your loss of income.
Copyright © 2009 The Digerati Life. All Rights Reserved.