Dave Ramsey has quickly become a popular icon to many who are taking part in the war on debt. He boasts radical ideas about "living like no one else, so you can live like no else" once you are debt free. And his plan is very simple, which is what makes it so appealing to many. Beginning with an emergency fund, Dave teaches that you must prepare for rainy days even when you are trying to get out of debt. He recommends saving at least $500 to $1,000 in a savings account prior to beginning your debt payoff process. And once you have completed the emergency fund, Dave instructs fellow debtors to begin what is called "The Debt Snowball."
How Does the Debt Snowball Work?
First, you want to get a piece of paper and list all of your debts from smallest to largest. Be sure to include the name of the debt, the balance, and the minimum payment. Make an extra spot next to each debt for your snowball payment or "new payment." Using Dave's Debt Snowball strategy, you begin by paying as much as possible towards the smallest debt in your debt list: essentially, taking baby steps towards financial success. Be sure you are still paying the minimums on everything else, while you are paying off the smallest debt. Basically, don't ignore your other debt. Making late payments (or no payments at all) to other debts will be harmful to you.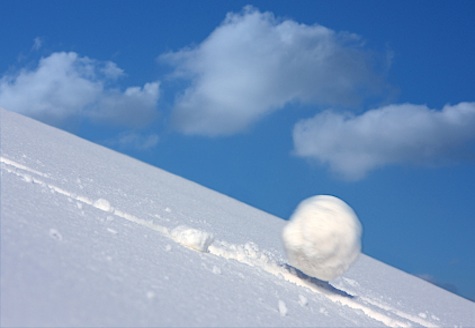 Once you pay off the first debt on your list, you take the payment that was going to that debt and add it to the minimum payment for the second debt. Continue to do this as you pay off each debt, which will create a metaphorical debt snowball (one debt payment building upon another). The basic key to Debt Snowball is to focus on one debt at a time while maintaining everything else. By the time you get to the last debt on your list, you will be applying a huge payment to that debt because it will be the cumulative payments of all the other debts that you have already paid off.
Check out these options for creating a personal budget to help you control your expenses:
Frequently Asked Debt Snowball Questions
1. Don't most experts recommend paying debts with the highest interest rate first?
Yes, that is correct. Most financial experts will tell you to pay debts with the highest interest rate first. However, many people — including Dave Ramsey — have come to realize that finances are not just about numbers, they are also about behavior and emotions. Your emotions do affect your behavior; therefore, Dave's Debt Snowball theory tells us that when you achieve small victories (such as paying off the first couple of small debts), then you will receive an emotional boost. This emotional boost will propel you to keep going and pay off even more of your debt. Many people who try to pay off the high interest debts first often end up losing momentum in the very beginning and giving up because the large debt may seem too intimidating.
2. How can you pay more towards a debt when you can barely afford minimum payments?
This is Dave Ramsey's mantra: "Live like no one else, so you can live like no one else." This may mean that you need to get a second or third job to pay your debts. It could mean giving up meat at the grocery store and eating beans and rice every night for dinner. Dave is into radical debt payoffs and doing whatever it takes to get the debt out of your life. This includes sacrificing many luxuries now, that are not necessarily "needs", in order to gain financial freedom so you can live like no one else later. This means having a significant amount of extra money each month after you are debt free! Once you get all your debts paid off, you can start building your savings with Dave Ramsey's Budgeting Tips for Successful Savers.
3. How can the debt snowball work for you?
This debt payoff strategy has worked so well for so many people that many financial gurus and experts have changed their tune when it comes to a debt payoff strategy. Many are now promoting the Debt Snowball because they see it working for so many individuals. Emotions truly do play a part in your finances because different feelings cause you to act differently. Moreover, how you act affects your money and how much of it you save or spend.
As you'd expect, I highly recommend the Debt Snowball strategy. I have been using this strategy for a while now, and it was a great boost to get three smalls debts out of the way. Now I am focusing on larger debts, and even though they are daunting, I have confidence that if I keep working and paying them down, they will soon enough be paid off just like the smaller ones!

Contributing Writer: Selena
Copyright © 2010 The Digerati Life. All Rights Reserved.