Many people are drowning in debt and don't know where to start. It's time to take the bull by the horns. If you're one of those folks who started the year by resolving to get your finances and debt under control, and feel that there's more you'd like to do for this cause, then do read on. You might want to check out Savvy Money, an online debt management tool that aims to give you transparency over your debt. SavvyMoney allows you to chip away at your debt by bringing you more visibility of your situation and by helping you make the most of your current resources. Following is our review of this online service.
Reviewing SavvyMoney Pro For Online Debt Management
SavvyMoney is a website that offers to help you understand and manage your debt. If you're feeling stuck wanting to reduce your credit card balance but are finding yourself only able to afford minimum monthly card payments, you'd probably welcome a way to get yourself debt-free faster. SavvyMoney offers a subscription service called SavvyMoney Pro for this purpose (along with other free tools and content). It's a good fit for those debtors who are still able to pay their loans on their own and who aren't yet too deep in debt to require intervention or assistance from debt professionals or debt settlement companies. If SavvyMoney determines that your situation may best be handled by a debt resolution expert, then they will inform you of this option. If you still decide to take things into your own hands and you'd like to be proactive about debt management, then this is one tool you can use. Here's a list of basic steps you'll take when you use this web application:
How SavvyMoney Pro Works
1. Get a big picture of your debt.
Find out where you stand so you truly understand your debt. The easy DebtPlan Wizard leads you through the process of entering your account information manually. The process only takes about 10 or 15 minutes and will show your savings instantly.
To manually input the amount of your individual debts, list the debts and loans you have, such as credit cards, car loans, personal loans, student loans, mortgages, and other types of credit. You'll need to know the account balance, annual percentage rate (APR), the minimum payment due, and the due date for each debt.
2. Aggregate your data by linking to online accounts.
If you don't want to list the debts manually, it's possible for you to link to your online accounts, allowing SavvyMoney to obtain your data automatically. Linking your online accounts to your SavvyMoney Pro account will consolidate your loan information in one place. This is helpful if you have creditors like Chase, Bank of America, Citibank and other widely-known lenders. You'll be asked to list the account you use for payments, too. However, you can skip that part if you want.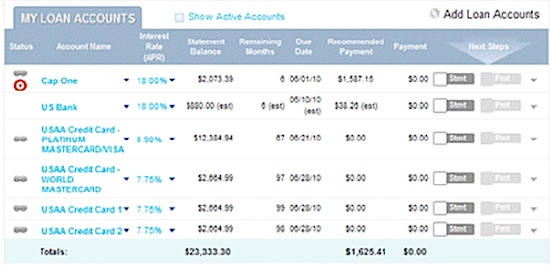 3. Create a debt reduction plan.
Then here's where it gets interesting. At this point, the DebtPlan Wizard can help you create a plan. The debt management plan shows your interest information, how much you'll need to pay for your Monthly Commitment and how long it will take to be debt free (you'll receive a target date for retiring your debt). You can customize a debt plan based on how much you can pay towards your debt: can you pay more than the minimum owed, only the minimum owed or less than the minimum for each debt?
Review your resources and select a payment strategy that fits into your monthly budget. There are three different strategies: Debt Stacking, Snowball and Custom Order. The strategy you select determines the account you pay off first, which is called the Target Account. Some people prefer to feel a sense of accomplishment by paying smaller bills off first. Others want to tackle the big ones right away. Your payment strategy is based on your preferences.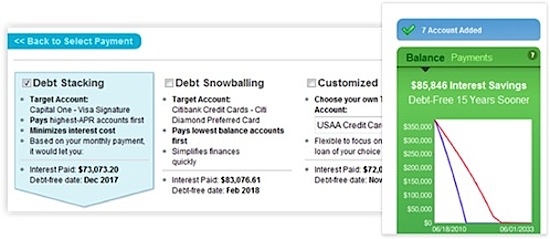 4. Track your progress.
Once you choose a payment plan, SavvyMoney Pro tells you how much to pay to stay on track. To carry out your payment plan, confirm your statement for the month and record your payment. You can override any entries if you need to adjust your payments. Your DebtPlan automatically reflects progress and changes as debts are paid down. Ultimately, you make the final decision and know exactly where your money is going.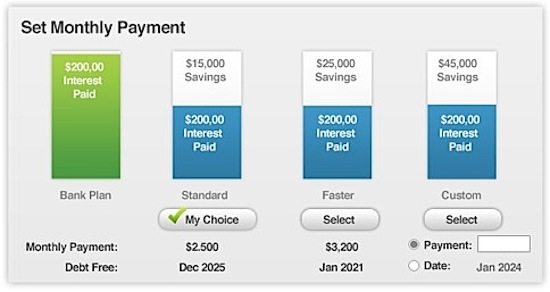 Track your progress as you continue to execute your plan, under the My DebtPlan tab. There's a lot of visibility here: you can see what your balances are, and you'll know if you're sticking to the plan or not, how much principal you've paid on your debts and the interest you've saved by staying on course with the plan. You can also edit or modify your plan by adding a loan, changing your Monthly Commitment, adding a payment account, and more. If you have extra cash, you can make a Bonus Payment. People who follow the plan usually pay off their credit cards in just 3 or 4 years. What's also great is that help is available through the user forum or a contact link to customer service.
Watching your progress gives you hope about becoming debt free (working with certain debt agents or counselors may not provide you this depth of information).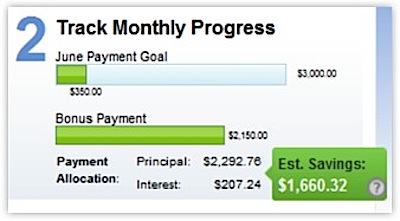 5. Pay off debt quickly.
To pay down your outstanding debt faster, explore Accelerator Actions. After your plan is set up, it shows you ways to find extra cash to apply to your loans and to help lower your interest rates. If taken, these Actions can help you reduce the amount of time you're in debt. Sample Actions include reducing insurance expenses, turning clutter into cash, and applying savings to debt.
If, at any time, you'd like to reduce your debt sooner or if your financial situation changes, you can use the Commitment Calculator to find out how you can change your plan or to see how increasing your payments will impact your plan. As you pay off your debts, the plan will adjust so you can make faster progress on the remaining loans.
Get A Free Trial
You can test out SavvyMoney Pro for free for 7 days. However, you'll need to provide a credit card number and your address when you sign up. You can cancel the membership while the trial's still on if you want to avoid being charged.
Special Offer:
The free trial is for 7 days. After that, the program will charge you a monthly fee. If you sign up through our site, you'll receive 20% off the monthly cost and will get a price of $11.95 per month (regular monthly subscription fee is $14.95).

As mentioned, you can cancel anytime. Even after canceling, you can still access many free tools at SavvyMoney.com to learn more about paying off debt.
A Little Background On SavvyMoney
Savvy Money was formerly known as DebtGoal. Originally founded in 2008, the company rebranded in November 2011 to better reflect their mission and philosophy. They've also revamped their application to make it more user-friendly. SavvyMoney was established to help people get out of debt on their own.
Here is their goal, in a nutshell: To get rid of debt, not only will you need a plan, but you'll also have to change your spending habits. SavvyMoney exists to provide people with a debt payoff solution and also aims to teach people how to be savvy with their money.
The site is visual so as to easily show people how they are managing their money and to give them ways to gauge their progress. The service has helped tens of thousands of people do away with over $1.5 billion in debt. Debts are typically eradicated in about 4 years rather than the 25+ years it takes to pay them off with minimum payments.
Keep in mind that SavvyMoney Pro won't make your debts vanish instantly. You're doing the work by paying your creditors month in and month out, and this program isn't the same as bankruptcy, debt consolidation, or debt settlement. It isn't credit counseling, either. But this debt planning tool is a way to organize your debt and your finances to get you on track towards debt freedom at a relatively low cost. Before you get in too deep and wind up considering bankruptcy, check out the resources at SavvyMoney to see what plan might work for you.
Created August 29, 2010. Updated January 17, 2012. Copyright © 2012 The Digerati Life. All Rights Reserved.