During the 00s, it became quite the financial fad to use leverage for a whole lot of crazy reasons. There are certainly many ways to borrow money to use it for leverage. We discussed credit card arbitrage before. Aggressive traders may use stock margin accounts to increase their investment returns. But I'd like to focus on a very common leveraging technique that many people attempted during the housing bubble. People got very comfortable using their credit line as a means to get cash, but what was even more disturbing was that people began to raid their asset base, all for the sake of getting ahead. By doing so, they took on a lot of unnecessary risk. One common approach was to tap into one's home equity in order to obtain the cash to use for other purposes. Why do people do this? Let's explore the reasons.
Why Tap Home Equity?
Using the equity you've built up in your home may be an appealing option. For those seeking liquidity, getting a secured loan such as a home equity loan or line of credit may be convenient, especially if you've got issues with your credit (although most loans these days require good credit). A lot of folks are tempted and think that the equity is there and can be accessed and harnessed, so they think: why not put it to some use? They feel that their equity is just sitting around doing nothing and may think that it is meant for bigger and better things, say to pay down existing, expensive debt elsewhere.
Home equity is often used as a flexible, low cost way to get cash at one's disposal. Homeowners utilize such loans for a variety of reasons:
| | |
| --- | --- |
| Reason For Loan | Good Idea? |
| Emergencies and unexpected bills and expenses | No, bad move. Create an emergency fund instead. |
| Debt consolidation to pay down higher interest rate loans | Yes, if managed well. |
| Investments such as home improvement projects to beautify the existing home; for capital to start a business, to buy into the stock market or to invest in real estate and buy additional properties. | Maybe. It depends. |
| Bankrolling someone's education | Maybe. It depends. |
| Major purchase such as a car or a vacation | Never |
The Argument For and Against Debt Leverage
Continuing on with our focus on home equity loans — I personally think it's a bad idea to risk the roof over your head this way. Anytime you put your house up as collateral, there's always that risk that things may not go as planned. By making this type of move, there is that chance that you can lose whatever it is you are borrowing against. The chance may be remote, but it's there nonetheless. The same thing holds true when people borrow against their retirement funds. Since I am quite conservative with debt, this is one strategy I don't care to pursue.
But not everyone will agree with me on this subject. There are a lot of folks who are and will be very comfortable about their prospects of taking out a home equity loan and paying that down over time. It may even make complete sense when you work out the details and see that you can get rid of your bad and costly debt so much faster by using your home's equity as the fix. There will also be people who have more aggressive risk profiles who can leverage their property in order to buy investments. That's fine and good — just as long as you are aware of both the good and the bad that can happen.
While this is my view of using home equity for a variety of things, I would like to introduce you to a whole different take on the matter. Mike from Green Panda Treehouse was kind enough to share with me his thoughts on dealing with student loans while juggling a home purchase at the same time. This ties into what we've discussed above.
Piling On The Debt: Should You Juggle Student Debt And A Mortgage?
Mike wrote the following article for us:
Many of us in our 20s are already saddled with debt by the time we start thinking about the future. Some people prefer to pay off all their student loans first before thinking about a mortgage or home ownership. I suggest an open-minded approach where you analyze your personal situation in-depth before deciding to take on a mortgage while having student loans; it may actually be to your advantage, having both at the same time. Permit me to explain.
How To Prepare For Big Loans
1. Check your overall financial situation. If you're young and finally earning an income, the very first step is to look at your financial situation. If you are drowning in debt, you probably want to get your head out of the water before contracting the biggest debt of your life (by securing a mortgage). However, if you can afford to continue your student loan payments while putting money aside, it may be a good thing to think about buying your first home.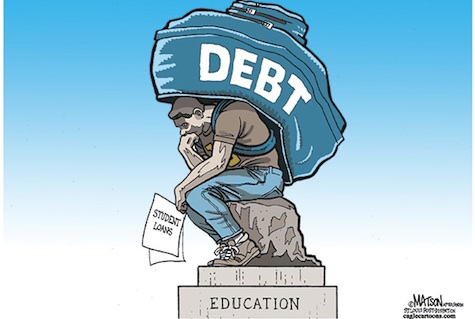 Image from caglecartoons.com
2. Review your loan interest rates and amortization. If you still have important student debts, you should take a look at their interest rates and amortization. You want to know how much you pay in interest and for how long you will be making those payments. If your student loans have special low interest rates and are not too costly, you can still pay a small monthly payment and try to buy your house sooner than later.
But you may be wondering: why take the risk of buying now while you still have student debts?

A key point will be the interest rate charged on your student debt. If it is low, there's a good chance that your future house will increase in price faster than you can put money aside. For example, if you are looking to buy a property at $200K today and decide to wait another 5 years to pay off your debt instead, the very same house could be worth $255K if its price has increased by 5% annually. So while you paid off $20K-$30K in debt, that house may end up appreciating an additional $55K more… making it even less out of reach. Of course, this assumes that real estate valuations do recover over time, and I look at this as a valid consideration.
3. Evaluate your risks. Let's go back to the question: can you pay off your student loans while carrying a mortgage? As mentioned, it depends on your particular circumstances, but buying a house while you have some existing debt can have its advantages. You can certainly explore the strategy of paying off your student loan faster, by getting a mortgage. This can work, but you'd have to evaluate your situation carefully and weigh the risks involved.
As a prerequisite, if you can't put money aside right now, then forget about buying a property. But if it's something you can manage, then taking the additional financial load (risk) may be worth it, because buying a house early in your 20s can help you pay off your student debts faster. How? By using the equity built in your property.
Suppose you have 10 years to go with your student loans and you buy your property tomorrow. There's a good chance that the equity that you will build in the next 5 years will be enough to pay off your student loan completely. But don't be fooled, while your student loan may be dealt with, you will still owe this money within your mortgage. However, with a mortgage, know that you can consolidate your student debts with a lower rate of interest secured by your home and this is how you can pay down your debt faster.
Finding Success As A Borrower: My Debt Management Lesson
I bought my first house at the age of 24 with minimal cash down. It's now 5 years later and I was able to use the equity built in my property to consolidate my debts and pay them off. I now have just 1 debt (my mortgage) at a very low rate. Personal finance management and debt elimination has become much easier as I just concentrate on making the biggest payments on my only debt.
I bought my house for $255K back then. Today, my house is worth about $325K. Therefore, waiting 5 years to buy my property while paying down my debt would have been more expensive, as I had about $25K in debt 5 years ago.
So while, I can appreciate the stress related to managing debt, I still think that buying a property at a young age is a very good financial move!

About the Author, Mike @ GreenPandaTreehouse.com: "I work in the financial industry specializing in personal finance. I enjoy earning cash in different ways aside from just waiting for my pay check every two weeks. I love to try different things and will be posting true stories about my experiences. I am currently building my own online business while working 4 days a week at my day job."
Created April 9, 2010. Updated April 3, 2012. Copyright © 2012 The Digerati Life. All Rights Reserved.