There are many of you that can't wait to file your taxes each year because you are expecting a decent refund. Unfortunately, it's only too often that families in need of some fast cash will not think through the consequences of getting a refund anticipation loan. And it is precisely that lack of patience which ends up costing people a lot of cash at a time they can't really afford to waste any money.
Have you heard of a refund anticipation loan? Many people haven't — and that's a good thing. In this case, ignorance would be bliss! Here's a quick definition: refund anticipation loans (or RALs) are short-term loans that tax payers can take against their refund amount. Taxpayers often request this option if they want access to their expected refund amount as quickly as possible, as soon as they've filed their returns. They want the money quickly since most regular tax refunds take 6 to 8 weeks to be accessible.
A Waste of Good Money?
In the past, RALs may have made a bit more sense than they do now; these days, we have technology and electronic direct deposits that have made it much easier to receive our refunds promptly and which have taken the place of paper checks in the mail. However, people in need often don't think past the fact that they need cash right now. They neglect to consider the true cost of what taking such a loan involves. Some lenders will charge anywhere from 30% to 200% in interest. Highway robbery! Taxpayers end up losing a big chunk of their money just to get cash a week or two faster than they would with direct deposit. I really doubt that people would fall for such loans if they truly understood what they are signing up for with RALs. Failing to read the entire contract of the loan is what leads to the costly loss of cash, and the reality only hits when the refund comes back smaller than anticipated.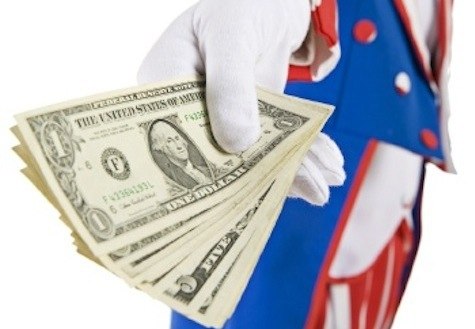 RAL loans are still popular but there is an increase in the negative press surrounding them. Consumers are being warned to read the fine print and the IRS is becoming more vigilant about how the loans are marketed to taxpayers. New guidelines are being sent to tax preparation services and companies that outline responsibility to their clients. It will still take some time for the government to stabilize the tax industry with regards to ethics, so consumers considering a refund anticipation loan need to take it upon themselves to ensure that they are not getting ripped off.
Alternative Choices
Taxpayers expecting a refund who are in need of fast cash do have other options outside of the loan arena. For instance, filing online through electronic forms will return a refund faster than traditional paper methods, especially if you do a direct deposit to your bank account. Also, in preparation for the next tax season, taxpayers who traditionally get a large refund back each year should amend their tax withholdings to get more money back through their regular paychecks instead of through a lump sum refund.
Know Your Tax Preparation Company
If your tax preparation company heavily pushes refund anticipation loans, you may want to rethink your plans. While not all companies are looking to take advantage of your need for cash, many new preparation services and agencies spring up around the nation to do just that. For those who are really in need, my suggestion is that you inquire about those different options for getting refunds faster that don't involve loans. If you do need to take a loan to access your refund quickly, you should first read your RAL contract thoroughly and be sure that you are clear on how much it actually costs you to rush a refund. A tax company representative should be willing to explain exactly what your contract states and should allow you time to decide if you can really afford the potential high cost of a refund anticipation loan. If you are looking for a new service to do your taxes, stick with reputable companies that have good reviews from the Better Business Bureau.
This guest post is by Arjun Rudra, who writes for InvestingThesis.com (Investing Thesis: Credits Towards Financial Freedom). .
Copyright © 2010 The Digerati Life. All Rights Reserved.