Before you lend money to family, look into some of our tips for handling the situation.
I had a couple of negative experiences that were related to doing business with or loaning money to friends and relatives. My advice, if you have not yet suffered from these consequences, is to just DON'T DO IT! Just give the money (as a gift) and forget about it.
But most of us are easy prey for those friends and relatives who beseech us to lend money, and who appeal to our sympathies to give them a discount and/or make them partners in a business. Whether or not you feel generous enough to help, here are a few pieces of advice on how to handle these requests:
Tips For Lending Money Wisely: Doing Business With Family and Friends
1. Refer a borrower to a peer to peer lending network.
Here's the easy way out. If you've got family wanting to borrow from you because you're an easy target, nowadays you have a way out. You can always refer them to a peer to peer lending network like Lending Club or Prosper, where people purposely provide funds to lend money to those who need it.
These peer to peer companies check on the credit ratings of borrowers who sign up, and assign a risk rating to each loan made; while willing lenders size up notes to find out which loans to fund. This way, you don't have to look at lending as an obligation you hope to avoid (especially if you think you won't get paid back!) but as an activity you can possibly earn some money from, through investments in debt notes.
To see how much you can make as a potential lender, check out this article on Lending Club investment performance and loan returns.
2. Put it in writing.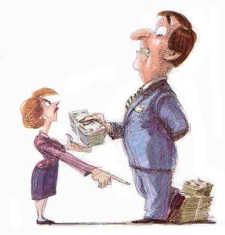 Make sure everything is in writing, even if the person you are helping doesn't like the idea. Stipulate all the details, including the timeline for repayment or doing some kind of work in exchange. Some people are reluctant to demand written commitments from those they like or who are related by blood. Nevertheless, do it. There is a saying in French that says "Les bons comptes font les bons amis" (good accounts make good friends). Those people who find themselves burned trusted their friends or family to honor a verbal contract. Unfortunately, a lot of details get lost in the translation and the only way you can prove your position is by having things written down (for the benefit of both parties).
3. Communicate with the borrower.
Do not fail to apply the screws if your borrowers don't pay on time. If they are really your friends, they will understand that coming clean is the best policy. If you're having trouble collecting on a loan you've extended to a family member (and there's always that black sheep), discuss the problem with your spouse and think of a plan to settle the problem.
4. Be flexible and get creative!
If you see that the person — friend or relative — is clearly unable to repay you, sit down with him/her and work out a new agreement (in writing, of course), and find an easier way for them to comply. You may even settle for work in exchange for repayment. I once had this happen when a relative admitted to me that he was unable to repay a personal loan that I had extended to him. Since he had some handyman skills, we worked out an agreement wherein he'd do a few important repairs to my house in lieu of debt repayment. It was a great resolution to a dicey problem! You know the saying: if there's a will…
5. Be upfront and transparent.
If you run a business, and you've got family and friends who come by as customers, you may want to keep track of the discounts and perks you "lend" out to them. Aunt Thelma got a 25% discount on a brand new sweater, and Aunt Emily received only 20% on a pair of gloves. Try to explain why one got a better price than the other, even if your reasons are valid.
6. Don't be a pushover.
Know when it's time to call on some tough love. You may be a generous person, but let your family and friends know that you also have limits. If there is anyone you know who keeps turning to you repeatedly for monetary help, you must be careful about how you manage this relationship. Stand your ground if this individual asks for too much, and ask yourself whether it's worth working out an agreement with this person. Like anything else in life, this may take some negotiation; or perhaps tough love is the answer!
7. Just give it away.
If you are a professional who charges by the hour — perhaps you're a lawyer, doctor or psychologist — don't even consider charging your loved ones for a piece of professional advice. It's pro bono (or discounted) for close friends and immediate family. For the rest of your clientele, tell them that you'll be happy to give them credit tomorrow, not today. Mixing business and friendship will always end up in a murky pond, unless you clearly define the parameters before starting.
Copyright © 2009 The Digerati Life. All Rights Reserved.