Should you invest via direct lending and become a Lending Club investor? Let's check out Lending Club's investment performance and loan returns, and review peer to peer lending as an investment strategy.
If you're looking for alternative investments with high returns, where else can we put our money to work? The stock market is still the way to go for the long term, but a lot of investors have been itching to find other opportunities, to seek some growth for their money and to hedge their investment portfolios.
So where to turn?
There's an intriguing option that can be an alternative place to invest your dollars. You may have heard of Lending Club and peer to peer lending as a viable way to earn returns on your money, so I took a closer look at how people made money this way. I reviewed Lending Club's Investment Analysis report (by Javelin Strategy & Research), and came across some interesting data, which we'll discuss further.
Lending Club Overview For Investors
This network allows you to invest in fixed income securities and is a less traditional way to put your money to work. The idea is to fund the loans of borrowers "directly" through the use of a "match making" network that brings borrowers and lenders (e.g. investors) together. It's a perfectly legitimate and effective way to borrow money and to get a personal loan without the use of a bank, and lowers the costs that are shouldered by lenders. If you are on the funding side, then you may be able to enjoy higher than average returns on notes that you take out on these loans. The risks involved in these investments are "graded" by Lending Club so you have a good idea how much risk you are taking on for the returns you are getting. The risk of default is fairly low: it's below 3% (a number taken since 2007). Even with the overall annualized default rate taken into consideration, you can earn an average of over 9% annually.
How To Get Started With Lending Club
Signing up with Lending Club is free. You can link your Lending Club account to your bank account pretty easily to begin investing. Investors may be able to receive occasional cash bonus incentives throughout the year. In fact, there's one such offer in place right now.
How To Invest With Lending Club
Lending Club is a network that allows you to lend money to people looking for unsecured loans ranging from $1000 to $25,000 in size. You can select specific loans to fund or use a "Lending Match" tool to help filter which loans to fund in part or in whole. The goal is to build a diversified loan portfolio, where you spread out your money across many loans. So this network matches lenders to loans in a "many to many relationship", with each lender usually funding several loans and holding several notes, while each borrower's loan receives funds from many lenders.
Average Statistics from Lending Club
| | |
| --- | --- |
| Total dollars lent | $23.6 million |
| Total number of loans | 2,890 |
| Total number of notes | 139,888 |
| Mean notes per loan | 48 |
| Number of lenders | 3,636 |
| Mean notes per lender | 37 |
| Mean note size | $169 |
| Mean loan size | $8,249 |
| Mean size of loan portfolio | $6,501 |
A note is what represents the obligation that a borrower has to a lender, and for the lender, it usually corresponds to the portion of the loan that he/she funds.
As a lender, how would you make money? Well, you'll collect money from borrowers — their loan payments plus any late payment fees, minus a 1% service charge to Lending Club. If you're a typical lender, you'd build a loan investment portfolio of $6,501 containing 37 notes, each note valued at $169.
What Are The Investment Risks?
Like any other investment, there's risk! With higher returns, you can also expect higher risk. Loans are unsecured, so borrowers can just default on you and stop paying up. Or they can retire their loans earlier than you expect. If anyone defaults, their account goes to collections, affecting their credit scores. Lending Club tries to mitigate this risk by allowing only borrowers with a 660 or higher credit score to participate in the network. But to give you some idea of the risks you're dealing with, here are some statistics describing the status of Lending Club notes in this environment.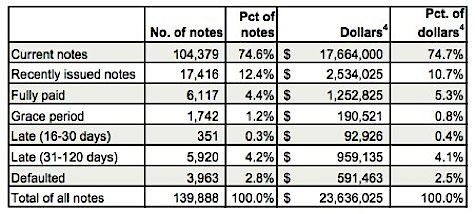 This breakdown gives me a basic idea of where the risk lies. The table shows how loans are broken down according to how they're being paid out. Fully paid notes are those prepaid loans that were paid off early, while those described as under "Grace Period" are those loans that are given some time before they're characterized as late (the grace period is 15 days at Lending Club).
The main risks lie in those notes that are fully paid ahead of schedule (due to interest rate risk), that are under the grace period, considered late and that go into default (resulting in actual investment loss).
Lending Club Investment Performance and Expected Loan Returns
So how much can you expect to earn? Well, Lending Club categorizes its loans according to rate and risk levels. On average, personal loan interest rates are quoted at 12.3%. But lenders actually earn around 9% on average after taking into consideration all the "things that don't go as planned". Take away the service charges, early retirement of loans and all those pesky defaults, and what you end up earning becomes lower than the quoted rate.
Given all these facts, let's see how peer to peer lending via Lending Club stacks up against other traditional forms of investments:
How Lending Club Compares To Other Investments
Of course, these figures will vary per year. But here's a snapshot of how an initial investment of $10,000 grew from June 2007 to November 2008, across various investments.
| Investment | Amount At End Of Period |
| --- | --- |
| Lending Club | $11,594 |
| One Year CD | $10,678 |
| Six Month Treasury Bills | $10,501 |
| Nasdaq Composite Index | $6,604 |
| Standard & Poor's 500 Index | $6,289 |
Based on relative performance, direct lending seems to have fared pretty well in the past, and may be a viable form of investing.
How Liquid Is Your Investment?
One more thing about investments — make sure you know just how liquid it is. Real estate is illiquid, while stocks are fairly liquid unless you find yourself underwater, in which case, your stake sure doesn't feel like something you'd like to liquidate anytime soon. But what about your loan portfolio? Well, Lending Club recently introduced a note trading platform called FOLIOfn that allows you to buy and sell notes to improve your liquidity and cash flow. It's still new, so just how effective this platform is, remains to be seen.
What's The Cost?
For all the work they do, Lending Club will take out a 1% service charge from any earnings you make. The effect on your annual returns is less than 1% because it's not an annual charge. Using the note trading platform will cost you 1% per trade.
Should You Invest Via Direct Lending?
So what do you think? Any chance you'd consider putting some of your money to work with Lending Club? I've said it before (in my Lending Club review) and will say it again — I feel that lending through Lending Club (or through some other peer to peer lending platform) as an investment activity seems to be worth trying out, if you treat your loan portfolio as a way to further diversify your core portfolio of stocks, bonds, real estate and other traditional asset classes.
You may decide that you'd like to try out peer to peer lending as a way to get higher returns. If you find this option compelling, here's where to go for more information.

Copyright © 2009 The Digerati Life. All Rights Reserved.