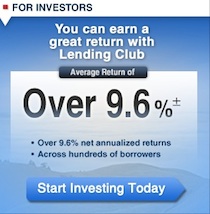 Getting started as an investor in the world of peer to peer lending can be overwhelming, given the number of loans and decisions you'll need to consider. But it's a lot easier to get started than you think. While you'll encounter loans with different amounts, interest rates, purposes, and projected returns, there are tools that make things a lot easier for a new investor. So if you're thinking of diversifying your investments into personal loan notes and debt securities, you can choose to be a member of a top peer to peer lending site such as Lending Club. As an investor, you'll regularly receive incentives to grow your investments (such as cash bonuses). Just make sure that you are eligible to become a lender in their network (e.g. you need to be a resident of one of these states: CA, CO, CT, DE, FL, GA, HI, ID, IL, KY, LA, ME, MN, MO, MS, MT, NH, NV, NY, RI, SC, SD, UT, VA, WA, WI, WV, or WY).

You'll receive regular financial incentives once you are approved as a member. Currently, new investors will receive a 2% cash bonus based on the amount they fund into a new account. They are set to enjoy an average annual rate of return of 9.6%.
Build A Loan Portfolio With Lending Club's Tools
Investing with the popular social lending site Lending Club is pretty straightforward, with the help of their investor tools. Here's a closer look at the investment tools they have at this time:
Choose A Predefined Lending Club Investment Strategy
The first tool is a Portfolio Builder that offers you a range of investment strategies: Conservative, Moderate, and Aggressive. Let's say you pick "Moderate" and enter an amount of $3,000 to be invested. The system will then display a chart of the types of notes that the tool selects for you, based on the conditions and filters you set.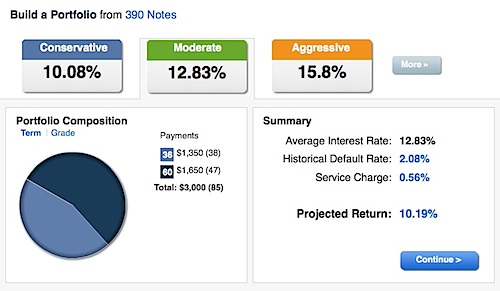 When evaluating the kind of loan portfolio to invest in, there's a lot you can review, including the loan grades, the average interest rate, the historical default rate, the service charge percentage, and the projected return of your recommended portfolio. When doing your set up, you can add filters for categories like interest rate, loan purpose, maximum debt-to-income ratio or credit score, among others. There's also the ability to choose your portfolio composition by selecting the loan grades and terms (a choice of 36 month to 60 month payment terms) for these notes. After this, review your order, then place it and you're done. Pretty simple!
Using a predefined investment strategy can be beneficial if you don't have a lot of time to spend on going over the individual loans and cherry-picking the best ones. If you take the time to go over the three different investment strategies, you're likely to find one that suits your needs.
Set Specific Interest Rates, Terms and Other Filters
As mentioned, there are a couple of major drivers and filters you can use to control your risks and investment returns. You can easily use the Lending Club Portfolio Builder to narrow your choices and pick the loans you want by their interest rate (via loan grades), term length (3 year or 5 year notes), and a bunch of other filters. By setting these filters, the target investment returns for each portfolio type (Conservative, Moderate or Aggressive) vary accordingly. For instance, if your investment strategy is more aggressive, it corresponds to a higher average interest rate for the notes that are picked. This should correspond to a higher rate of return.

You can fine tune your portfolio by playing around with these "controls". Also note that there's a slider tool you can use to set your portfolio's average interest rate: so if you want to look at notes in the 11.9% range, you can just slide the tab to your designated level — say, from Conservative to Moderate. The system will pick out the notes that match your interest rate.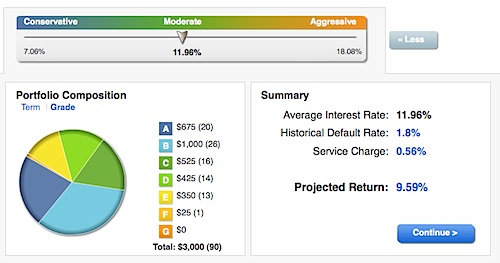 Note the historical default rate and the projected return before you approve the order, so you don't run into surprises later.
Select Notes Individually
Another way to build your portfolio is to pick the notes individually. When you take a look at the Browse Notes feature, you'll see the notes listed by rate and amount, term, title and purpose, funding, and time left.
If you want to add $200 to a home improvement loan, put the number in the Amount box, then click on "Add to Order". Keep making selections until you're done, then review your order and finish up.
This option can take a little more time, but if you prefer a more fine tuned approach to picking your notes, then this may be a more suitable way to build your loan portfolio. As always, you can rely on the more than two dozen filters available to help with narrowing down your selections. These filters include:
Reviewed by Lending Club
Max Debt-to-Income Ratio
Total Credit Lines
Home Ownership
Loan Purpose
Verified Income
Revolving Credit Balance
Credit Score
Max Open Credit Lines
Delinquencies
You can also decide to exclude the notes that other investors have already invested in. Using the filters can help you exclude borrowers with a less appealing credit history or allow you to seek out those with loan purposes you like. As an example, say you want to help an entrepreneur fund a small business. By choosing the "loan purpose" filter, you can zero in on the loans in your category.
The system's default amount to invest per note is $25, but you can always enter your own desired investment amount, if you prefer. Choose any number of notes for your portfolio, depending on how much you're willing to invest.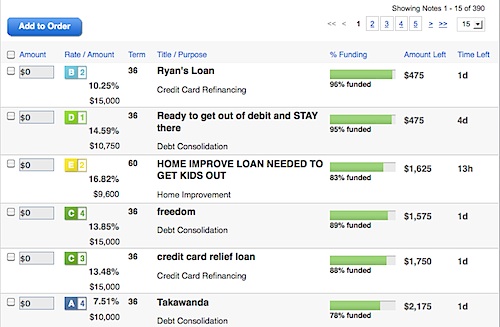 Social Lending As An Investment Approach
Social lending appeals to a lot of investors because of the attractive rates of return they can earn compared to some investments. If a borrower fails to make payments, then you can rely on Lending Club to follow up with collection notices. On the other hand, such sites afford a platform where borrowers can get more attractive personal loan interest rates, provided their credit rating and history are good.
As an investor, you'll need to register and supply some information so your identity can be verified for banking purposes. Expect to pay a service charge of 1% of each payment you receive from your borrowers and there may be collection fees if necessary; see Lending Club's Rates and Fees section for more details.
As with any investment, reading the prospectus can tell you a lot about how the company operates, its fees, and the risks of investing. Although lengthy, the Lending Club prospectus does cover important details such as the process of selecting and assessing borrowers.
Whether you're a novice or an expert investor, Lending Club's new investor tools can help guide you to the best notes for your portfolio. For more on why I like Lending Club as an investment option, check out our writeup Lending Club Return On Investment: Should You Invest Via Direct Lending?
Copyright © 2010 The Digerati Life. All Rights Reserved.