Many of us wish to become debt free. So what are some ways to break out of the debt cycle? If you know someone in debt, here are some ways to help them escape the rut.
Let's look at an interesting situation. So you may think that your kids are finally independent; they've graduated from college, found work, got some credit cards and maybe got married. Could it be time for you and your spouse to enjoy life without offspring concerns? It should finally be time to plan that Alaskan cruise you always wanted; time to take a trip to the Vatican and admire 2,000 years of accumulated art and splendor; time to finally buy that small fishing cabin that Dad has been dreaming about. Time to… wait a minute! You suddenly find out that your daughter just got laid off and has a mountain of debt; she is coming back home to live with her parents (that's you!) with her three kids. What can you do to help her? Or should you do anything?

"The First National Bank of Mom and Dad may get the creditors off her back, but unless the debt and responsibility lesson is learned, the cycle will continue," says Blankenship on CNN Money. He is talking about the vicious cycle of spending more than they can afford; many young people suffer the experience when they haven't learned how to budget their income. How should parents behave in these cases? Should they pay their child's debts, or at least pay enough to ease his or her immediate concerns? Or should they teach them a lesson and let them flounder in the muddy waters of excessive debt?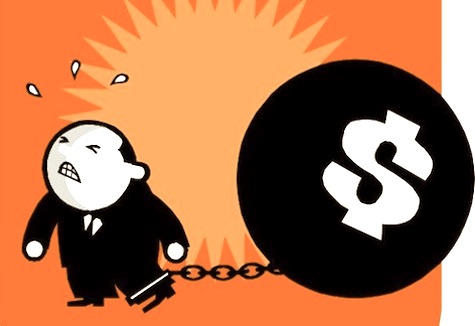 Debt Solutions To Break Out Of The Debt Cycle
Not all debts are created equal. If your daughter gets money from a local loan shark — let's say those payday loans — you'd better pay that debt immediately or else let her face the prospect of paying 500% interest (no kidding). So yes, help your child with that if you can. But if she owes a student loan, don't worry too much. There are ways to ask for an extension. On the other hand, if your daughter spent foolishly on expensive cars and/or baubles, let her face the consequences. She has to learn how to face the music because one day you won't be there to help out.
Establish Financial Priorities
What your daughter must learn first of all is to prioritize expenses, which essentially means setting up a budget. You may want to look into a budget application like YNAB, which we often mention on this site.
"We have to stop and prioritize. Food is first, then lights, then the house, then transportation. Until you do those things, you don't do anything. It's only after those things that the student loan and family loan get paid," advises Dave Ramsey. If you offer your daughter a permanent refuge, she'll pretty soon become a fixture in your home and in your wallet. Before asking her to leave, make sure she gets child support from the deadbeat she married.
Help Negotiate the Debt
Your first step as parents after establishing priorities is to sit down with your child and negotiate her debts… with her. She has to play a very important role in repaying creditors. Whatever amount you can give her must be defined as a loan or as a gift. If you have doubts, do not give her the cash, but pay the debt yourself. I know it sounds bad, but maybe your daughter needs to learn how to be responsible financially. You must also make clear that she has to show initiative in solving her economic problems. How much will she contribute? Will she look assiduously for a job? How long will she stay in your home?
Handling Financial Emotions
It is terribly difficult to say to a child that he or she must leave the home. I have a colleague (a lady) who still lives with her parents and she is 31 years old. I have asked her several times (indirectly and diplomatically) whether she was planning to move out and, every time, she would assure me that she was working on it. After 5 years, she still says that she will move out very soon. If nothing changes here, then how else is she going to learn to be independent? You can still protect your child in case of emergency, but if he or she doesn't learn how to fly, what will happen when you are no longer around?
If one puts their mind to it, controlling one's debt can be simple. There are no hidden secrets to reducing your burden — just a bunch of hard work and dedication. Do you know anyone who is in debt denial? Who fails to realize that they are digging a deep deep hole? How do we help these people? How do we get them to take ownership for their decisions? What triggered your wake up call?
Created January 7, 2010. Updated June 19, 2012. Copyright © 2012 The Digerati Life. All Rights Reserved.