This page is specifically maintained for Lending Club borrowers. Here, we'll be keeping track of the latest offers, initiatives and events that Lending Club has in store for borrowers who are looking to get the best financing rates for their personal loans. We'll list some of the cool promotions and updates that this peer to peer lending company has up its sleeve to get you going in the right direction if you're thinking of applying for a new consumer loan.
Lending Club Borrowers Get Lower Rates
Lending Club has announced lower personal loan interest rates for their loans in response to overall rate reductions in the economy. The government continues to control rates to encourage a borrowing climate and stimulate the economy. So at this time, the Lending Club rate of 7.93% has been lowered to 6.78%, which is around 15% lower than previous LC rates. If you've got great credit and you're pretty good with managing your credit cards, one way to pay less on interest is to consider moving your debt over to Lending Club to take advantage of lower rates. It will only work if you've got excellent credit though — a minimum 660 FICO credit score. If you decide to do a form of debt consolidation or a balance transfer, then note that the new loan you get from Lending Club has a 60 month term with rates starting at 6.63% APR (based on your credit history).
Lending Club Extends Their Services To Borrowers
When I covered Lending Club in the past, I had mentioned that certain states were unable to participate in the network. Recently, Lending Club has been able to open their network to borrowers from two new states: Kansas and North Carolina. Here is the map showing where borrowing is available through Lending Club: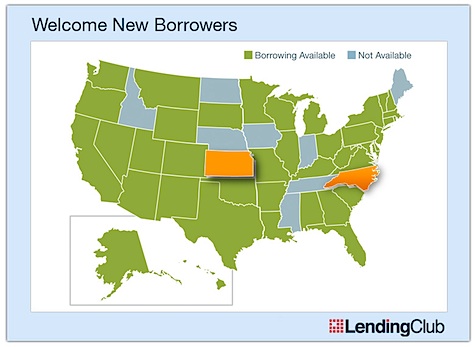 42 states can now borrow on LendingClub.com. However, there are still some borrowing restrictions through this peer to peer network. This service is still unavailable to residents of the following states: Idaho, North Dakota, Nebraska, Iowa, Indiana, Tennessee, Mississippi and Maine.
Further, eligibility requirements extend to lenders as well. And while most Americans can invest with Lending Club, those who reside in Texas, Ohio, Maryland, Oregon, Kansas, Vermont and North Carolina are still unable to participate. Lending Club aims to make their network available to all and are working with state regulators to achieve this goal.
Expired Deal: Get A Free $150 Amazon Gift Card
For the month of December 2009, Lending Club had a great holiday offer for prospective borrowers. They gave away a free $150 Amazon gift card to each borrower who applied for a loan through their network and who fully funded the loan by mid January 2010. The offer only lasted for that one month. I am sure that Lending Club will have similar great deals like this in the future.
Expired Event: The Lending Club DebtBuster Challenge
The event I am about to describe is no longer active, but I thought to share with you some of the fun ways this P2P lender gets the word out on their great services. In December, 2009, the company decided to hold a "DebtBuster Challenge", designed to encourage consumers to reduce their debt faster via debt consolidation loans. This Lending Club program shared the message that becoming debt free means making a commitment. The incentive they gave was modest; they gave away free gifts to get you started with a Lending Club low interest loan.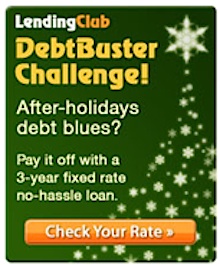 If you have good credit and wanting some cheaper loan alternatives, then networks like Lending Club may be able to offer you something better. Their DebtBuster Challenge proceeded as follows:
Commit to paying off your debt in 3 years or less.
Check your current balances and interest rates on your personal loans and credit cards.
Check out loan alternatives that may provide you with lower rates. Lending Club is one such option: take a look at this loan interest rates page from LC — are these better than the rates you see in step 2? If so, and if you qualify as a borrower, then getting a cheaper loan should help you make a dent on your existing debt.
Apply to the Lending Club network.
If you qualify for a Lending Club loan, you'll receive an LC care package with a t-shirt, backpack and pens.
Here's a look at the free gifts you'll receive as an added bonus if you take out a Lending Club loan: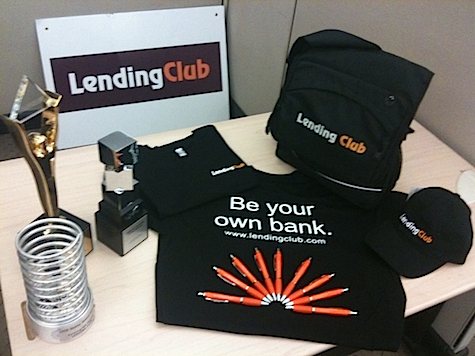 You can also get additional information on how to borrow money wisely by checking out our articles on the best debt consolidation loans, on personal loan interest rates at LC, on how to get a personal loan, and our Lending Club review.
While nothing beats reducing your expenses, cutting costs and living frugally, I've discovered that there are other debt-beating strategies out there that can also make a big difference. To minimize debt, not only should you cut down on your day to day expenses and manage to make the most out of every dollar you spend, you should also do what it takes to cut down on the costs of supporting any existing debt that you carry. I'm surprised that not more people actually do this.
Copyright © 2009 The Digerati Life. All Rights Reserved.