Don't get harassed by bill collectors. Here's how to deal with debt collection agencies.
While I don't have bad debt collectors breathing down my neck on a regular basis, I do continue to receive my share of telemarketing and annoying political campaign calls, so I can just imagine how much worse it can be if you happen to owe people money. However, I'm not the most organized person in the world, so sometimes, I fall short and end up with a couple of missed bills and a debt collection warning. But so far, I've managed to weasel my way out of any penalties or negative effects on my credit. I suppose some sweet-talking doesn't hurt, but in all seriousness, when I do get a debt collection notice, here's what I do:
Quick Ways To Get A Bill Collector Off Your Back

#1 I don't call the debt collection agency.

I call the creditors directly and make my inquiries to them.

#2 I admit my mistake.

To the company whom I owe money to, I let them know my bill is in collections, then I give a reasonable excuse for the oversight. They're usually pretty forgiving (even with the "dog ate my payment" excuse) because they really just want to resolve the situation and get paid pronto! It's the same approach I give a cop who is about to hand me a traffic ticket — I try to be as contrite as possible because honestly? I get better results when I'm non-confrontational.

#3 I offer to pay up immediately (over the phone, via credit card).

Then I ask them to retract my bill from collections. No questions asked. I pay the credit card bill in full afterward.
And I'm happy to say that this has worked out well for me on those few occasions I've had to do this. But what if you are perennially late with your bill payments or regularly miss or avoid paying your bills altogether? You may then have to face the wrath of a bill collector.
The FTC tells us that debt collectors are the number one complaint they receive from consumers. With consumer credit delinquencies on the rise, and actually matching the high levels of 1992, collection agencies are doing brisk business. Not exactly the kind of thing that would give you a cozy feeling.
How To Work With Debt Collection Agencies
So what should you do if you ever do find yourself unlucky enough to be harangued by collection notices and phone calls? As consumers, we are covered by the Fair Debt Collection Practices Act, which gives us some protection from distasteful encounters with debt hounds. Here are some pointers:
#1 Don't ignore a debt collector. Take heed of their notices.
Ignoring calls or letters from an agency will not solve the problem, but in fact, aggravate it. If there's been an error somewhere and you know that there's nothing you owe, then an honest discussion with the collector should help clear the situation. If you do have a balance you need to pay, then try to work out a reasonable payment plan with the collection agency and get this issue out of the way. You'll sleep better by doing so.
#2 Get proof of your debt.
Once you get a call from a representative, make sure that the inquiring agency is legitimate. Check which creditor they are representing and find out how and why your bill has turned up in collections. You also have the right to dispute the debt, request validation and proof of debt. I've no doubt that there are individuals who may use this as some sort of tactic to delay payment.
#3 Keep communication lines open.
Communication via written means will probably carry more weight than just phone conversations since you're creating a paper trail this way. You can always assert your right to privacy by requesting the debt collector to contact you only in writing.
#4 Keep records of payments you've already made.
It's always a good idea to have proof of payment on record with you. If you don't have the documents (receipts, canceled checks, statements) to show you've paid, you can always contact the original creditor and check with their billing department. Sometimes, there may be mix ups with a creditor's payment tracking process that you may need to straighten out.
#5 Keep track of correspondence with the debt collector.
Like with any other matter of conflict, it is always wise to keep track of your dealings with a collection agency. Things you should take note of: dates and times of any form of correspondence, the name of the representative you are in touch with, and notes of your dialogue.
#6 Know your rights as a consumer.
Be aware of your rights. Try to cooperate as best as you can, but don't let the collectors step all over you either. There are in fact, limits to what a collector can do when trying to pursue a debt payment. There are both approved and prohibited conduct by collectors that are actually outlined in the Fair Debt Collection Practices Act. Among other things:
Collectors cannot threaten nor harass you.
They cannot make your personal information known, except to credit bureaus.
They can only contact you by phone during certain hours: 8 AM to 9 PM local time.
They cannot bother you at work if you've told them so in writing.
They cannot contact you directly if you are represented by a lawyer.
If despite your best efforts you do find yourself getting unwanted or belligerent calls, then you have the prerogative to send the debt collector (and not the creditor) a written notice to stop communication about the debt. You can also write that you don't intend to pay the debt but this does not absolve you of your financial responsibility — if you still owe them money, you may be sued. So you will need to work out an amicable arrangement with them to resolve your payment issues. In short, if you're looking for relief from constant nagging from these people to get your thoughts together and devise a working plan to address your money problem, then make the written request: don't expect verbal requests to be heeded.
#7 Watch out for debt repair "specialists".
Whenever you're facing some kind of trouble, there's always some segment of the population who will want to capitalize on helping "solve" your problem. Be careful with whom you're dealing with, because not all of these helpful entities are on the up and up. There are those who may promise you a quick solution to your debt issues but may actually be preying on your vulnerability. How much are these people charging for their "services"?
#8 Fight back if you are being harassed.
Don't get intimidated: you can always refer to a consumer attorney for assistance, if need be. The web site for the National Association of Consumer Advocates or naca.net may be able to refer you to someone who can help. For more difficult cases, you can submit complaints to the Federal Trade Commission. Other places you can contact: the National Foundation for Consumer Credit, or the Consumer Credit Counseling Service, which are national organizations that may be able to put you in touch with a counselor from your community.
#9 Seek legal assistance if necessary.
If your case requires it, you may want to contact a consumer lawyer for further advice. For further details on this subject, check out this page on Debt Collection Practices.
Best advice on this matter though is to avoid collections in the first place by paying your bills on time and being more organized — nuggets of financial wisdom I should definitely take more to heart.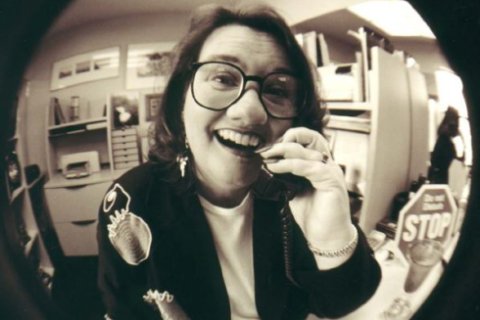 Facing Aggressive Debt Collectors: Harassment IS On The Rise!
If you've got debt, you may have started noticing that debt collectors are getting even more aggressive and tenacious! They want their money. According to CNN Money, the bad behavior is on the rise, with repeated calls up by over 150%. Unfortunately, the use of foul or obscene language and violence is creeping up as well. No surprise that this is happening as people just get mired deeper and deeper into debt. This pain is going to take a while to get through.
This chart shows just how nasty some of these collection agencies have been lately.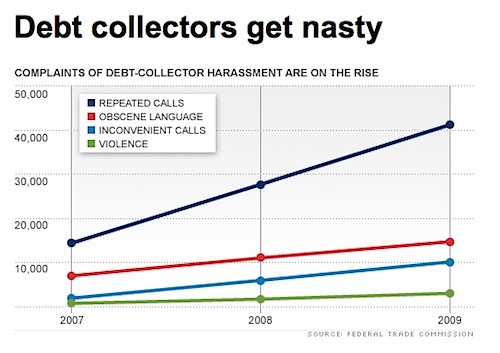 Image from CNN Money
So as it gets harder for people to pay down their debt, the collectors are turning meaner and more aggressive. They know it's "the squeaky wheel that gets the grease." So it seems to make sense that a debtor would want to get rid of the most aggressive people on their tail. The thing is, if you're a debt collector, you could possibly push too hard and get into trouble for your actions: remember that consumers DO have rights!
Created May 6, 2008. Updated October 25, 2011. Copyright © 2011 The Digerati Life. All Rights Reserved.