Check out You vs Debt, a 6 week online course that can help you develop habits and the mindset to control your debt & finances.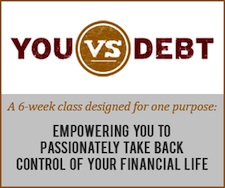 I'd like to introduce a new financial program that one top personal finance blogger has developed to help us improve our relationship with money. If you're not too happy with how you've been handling your finances, this course may be beneficial to you.
The offering is from Adam Baker of the blog ManvsDebt.com. He's a big advocate for taking control of your finances and has put together a DIY debt program called You vs Debt that runs the length of six (6) weeks. Adam has walked the path in and out of debt and with his success at conquering his own financial demons (we all have them), has decided to share his formula with everyone else via his blog and now this financial course.

What you'll get from Adam is a lot of transparency and honesty. He's got a special style for projecting his debt fighting ideas, and shares a lot of his own personal stories with heartfelt sincerity. I guess that's what distinguishes him from a lot of other bloggers, writers and financial advocates. For instance, I had not known that he was a former gambling addict. So he's walked the walk and figured out how to get his life back on track after hitting a low point. So when it comes to debt and clawing oneself out of it, he knows what he's talking about.
Details & Description of the You vs Debt Course
What is the You vs Debt course about? The goal is to help members build and maintain a positive view of their finances. It aims to provide members a better behavioral and mental framework for handling their finances. The focus here will be on your mindset, thoughts and built-in emotions toward your debt and money. Interestingly, there is a game element here, where you are awarded badges for completed tasks. The course is designed to be easily absorbed, so that it's something you can handle daily for a number of weeks. You can read more about this course below.
You vs Debt is a course that stretches 6 weeks and teaches material that focuses on how you view your money and debt. It is conducted through video and will also be available via MP3 and a text transcript. There are 32 separate videos that run for 3 to 9 minutes, and will be comprised of two major areas — the lesson and a daily challenge (which will be separated by a "quote of the day") that will take you around 5 to 30 minutes to achieve or work through. Daily worksheets are supplied and are related to the video lessons. You'll complete the worksheets as part of the challenge.
You'll receive videos each week day, from Monday to Friday. On Saturday, you'll take stock of the week's work and participate in an accountability survey and you get the day off on Sunday. The results of the accountability survey can earn you a badge, so this way, you can keep track of how you're doing. Incidentally, there are 3 types of badges (from small to deluxe level) that will be awarded:
one for your participation in the forums.
one for the number of challenges you're able to tackle and complete (there are 30 total).
one for the amount of debt you're able to eradicate.
How does the course work? The program is very results-oriented and is set up as follows: You'll watch a video lesson for a given day. Then you'll perform the associated challenge using a worksheet and finally, you'll share what you've done via the forums. The expectation here is that if you perform the recommended amount of work, you will be able to improve your approach to handling your finances.
If you sign up to the course, you become a member who can set up a public profile and get access to a group forum where assistance, discussions, questions and answers are provided.
Enrollment Dates: Sign ups run from September 19 to September 22, 2011. Last day for registration is Thursday, September 22.
Fee: $97 for lifetime use/access to You vs Debt. In addition, you'll get access to other products by Adam Baker. For instance, you may also purchase the "Sell Your Crap" products at a 50% discount, if you are interested. The "Sell Your Crap" series is available for $23.50.
Course Begins: September 26, 2011
Benefits and Features of the You vs Debt Course
You'll create a public customizable member profile for this course that is viewable by others who are participating in this program. For just 20 minutes of your day, you'll begin to develop habits and a new mindset for tackling your finances. 20 minutes is estimated to be the length of time you'll need to view the video and perform the accompanying daily challenge. Here's a taste of a daily lesson via this sample video (for Day 5). I find it to be pretty compelling and powerful.
Use the daily worksheets to monitor your progress and track your work. There are 30 worksheets tied to each lesson. Here is an example of a worksheet that you'll be asked to complete.
At the end of each week, you'll take stock of your progress through a survey and find out what public badges you've earned. These badges are handed out based on your participation in the forums, on tasks and challenges that are performed and on how much debt you're able to eliminate. Your member profile will showcase your badges.
You'll be able to find support, motivation and encouragement from everyone who is participating via the forums. This will be an active program that will be designed to bring up important points and topics that are triggered by the day's lesson or week's course.
You'll hear from planned guest experts who will provide extra material and insights on financial topics.
If you're interested in becoming a member, your $97 payment will entitle you to a lifetime membership to the You vs Debt program. You will be able to cover the course whenever it is made available (in fact, there are repeat course takers). You will also be able to participate in future updates or versions of the course and be able to access any new features that are developed. You vs Debt is planning to offer 3 classes each year (schedule is subject to change).
You vs Debt Course Outline
Before the class begins, start out with an introduction.
Welcome video with Course Expectations
Our Financial Turnaround
F.A.Q.'s and guided walkthrough of lessons, forums, and profiles
Initial survey
Public profile and forums
Week 1: Free Your Mind…
Day 1: Upside-Down Nation: Why Debt Doesn't Work
Day 2: Direct the Rider: Your Logical Mind
Day 3: Motivate the Elephant: Your Emotional Mind
Day 4: Shape the Path: Your Environment
Day 5: Rally Your Spouse and Loved Ones
Week 2: Less Excuses, More Action…
Day 8: Track Your Spending
Day 9: List Every Debt You Owe
Day 10: Pull You Credit Report
Day 11: Create Your Debt Tsunami
Day 12: Your Financial Network Map
Week 3: Suck It Up and Budget…
Day 15: Reject Credit Cards
Day 16: Cash vs. Debit vs. Credit
Day 17: Simple Budget Overview
Day 18: Detailed Budget Screencast
Day 19: Your 5-Step Financial Foundation
Week 4: Stop Buying "Crap"
Day 22: Needs Vs. Wants
Day 23: Slashing Expenses: Housing & Transportation
Day 24: Slashing Expenses: Insurance & Food
Day 25: Subscriptions, Contracts, & Routines
Day 26: How NOT to Suck at Negotiating
Week 5: You Should Be Making More Money
Day 29: Earning More Money Overview
Day 30: Sell Your Crap: Stuff vs. Crap
Day 31: Salary, Resumes, Job Hunting
Day 32: Escape from Cubicle Nation
Day 33: Get Your First Client or Sale
Week 6: Making it Stick
Day 36: You are Going to Fail
Day 37: Grow and Keep Momentum
Day 38: Analyze 30-Day Data
Day 39: Suggested Resources — What company, book or individual has influenced your financial life?
Day 40: Mexican Fisherman's Parable — Share your story and your journey with someone else.
The root of the most recent economic crisis is consumer debt. If you are in the thick of your own debt struggle, this You vs Debt course and community may help you conduct a turnaround.
Created November 6, 2009. Updated September 19, 2011. Copyright © 2011 The Digerati Life. All Rights Reserved.