How do you teach your children about money? Here are some great money lessons I want my kids to learn.
Since the birth of my son almost three years ago, I've realized a few things. The biggest and what should have been the most obvious lesson is that being a parent — especially a mom (yes I'm biased) — is the hardest job there is. While being a mom is exhausting, challenging and stressful, it has become the single most rewarding time in my life.
I know that I have a long road ahead of me as a parent and that it will likely get harder before it gets easier (or so I've been told) but my goal is to provide my son with all the tools needed to help him become a successful, productive, and most of all, happy adult.
While I am not naive enough to believe that he will take every word I say and apply it to his life, I hope that I will be able to teach him some important lessons about life. Some lessons I'd like to impart to him are those relating to good financial planning. Unfortunately, it seems that an entire generation has missed out on learning solid money management skills. If only these skills and lessons could be taught in schools. Alas, with school budget cuts around the nation, all this is but a pipe dream.
As a parent, my goal is to prevent my child from having to learn the hard way. Here are a few things that we must teach our children if we want them to achieve financial success.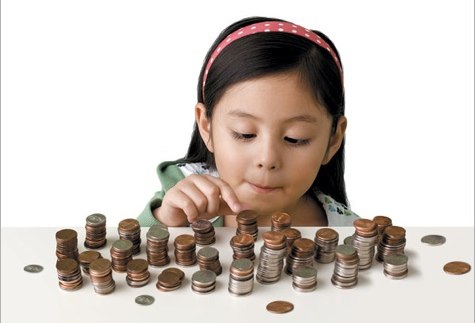 Image by Timeout Kids.
5 Important Money Lessons To Teach Your Children
1. Practice what you preach.
As parents, we need to have a good grasp on money management before we begin teaching this concept to our children. If you find yourself not knowledgeable enough about saving, budgeting or investing money, it would be best to first educate yourself on basic money management practices. The more comfortable you are about personal finance and the better you understand financial matters, the more successful you'll be at living a lifestyle that teaches your child through example.
2. Introduce your kids to money.
Our children observe us using money everyday. By the time your kids are in preschool or Kindergarten, certain money concepts can already be introduced. You can teach your young children some money and currency facts and other money basics such as the difference between pennies, nickels, dimes, quarters, and dollar bills. You can teach them the value of different monetary units and implement age appropriate math equations to help them understand how money is used in everyday life.
3. Let your kids handle money.
Not all people believe in giving an allowance to children, but for the purpose of having them learn how to handle money, it is my opinion that a modest allowance is the best start. Obviously you will determine what works best in your household — either a predetermined amount of money at specific intervals such as $5 per week or $20 per month, or perhaps you prefer paying out a certain amount of money per household chore.
By providing your child this access and this ability to handle money, it should be easier to teach them the financial basics. You'll be helping them apply what they learn to real life situations, rather than just leaving them to absorb pure theory. It's much easier to understand the mechanics of saving, budgeting or spending if you've got something to work with.
4. Teach your kids about credit.
At some point, your child will get older and will be ready for more complex lessons. You can start by sitting down with your child and showing him (or her) the basic elements of a credit report. In the aftermath of the current economic downturn, your credit score might very well become more important than your SAT score.
Showing your children how credit, credit history and responsible payment practices all factor into determining your credit score might be one of the most important lessons they learn: for instance, I'd teach my own kids that credit cards are not inherently evil. Credit cards are valuable tools for establishing credit history as long as they are used correctly. Helping your child understand why a mishandled credit card can get them in trouble is much more effective than simply telling them not to use any cards at all.
5. Teach them about debt.
One of the main reasons for the current economic crisis has been traced to how we, as a society, have been living beyond our means. Our nation has been overspending for quite a long time.
Our children must learn that debt — especially high interest debt — can strongly hinder us from achieving our financial goals. You simply cannot save, invest or build wealth if you need to apply all your income towards debt elimination. This is a lesson that cannot be stressed enough. Here's more on teaching our kids how to handle debt and credit.
We all know that being a good parent involves providing for our kids. Not only should we care for them as our dependents, but we should also ensure that we gear our children towards a future of financial self-sufficiency and personal success.

Trisha Wagner is a freelance writer for DestroyDebt.com, a community featuring debt forums. Trisha writes regularly about debt management and personal finance.
Copyright © 2009 The Digerati Life. All Rights Reserved.