What do you think of the claim that mom's work doesn't really cost or pay much? I read an article entitled: This Just In — Moms Aren't Worth $138,095 a Year. Say what?
Hmmmm, let's see.
That article strongly criticizes the original premise by MSN Money that mom's job should pay an annual 6 figures, with the assumption that it was written by a mom for good reason. It was also pointed out that the MSN article got a lot of flack, most likely from a bunch of guys who have it out for the value of domestic labor. Needless to say, Binary Dollar isn't happy about this imaginary inflated salary for mothers either.
For the sake of "balanced reporting", let me share with you Money Smart Life's thoughts on Why Your Mom Is The Engine Of Growth In The Global Economy, which I believe should convince you why a mother's job IS valued so highly, albeit quantified at a healthy 6 figures.
I'll just say that as a mom who also has a career, I find that the job at home as a parent, caretaker, household runner, chore doer and financial manager is quite tougher than my job as an engineer. I also encounter too many people (mostly men) at work who have outwardly expressed that their 9 to 5 job is so much easier than their job at home. In fact, some have rushed in to work during official holidays and other "off" periods in order to escape the helter skelter of their domestic lives. So yes, I know many dads who have admitted this.
What's important to note here though is that I don't find the value of the job tied to the sex of the person doing it. It matters not who does the work — whether it be mom or dad or both. To me, the job deserves that kind of pay.
It's true that before I had kids, I used to think — what's the big deal? That stay at home thing is so easy, that's what I wish I could be doing all day long. But I've changed my mind since then: my office job is WAY easier than my job at home, speaking from hard experience.

Just for fun, I checked the Mom's Salary Wizard for myself to see how much I should really be paid for all the hats I wear (or roles I play). My entries were these: I have two pre-school age children, and I am a working mother in Silicon Valley, CA.
Here are the national and local salary ranges for moms with my profile (where local is "Silicon Valley"):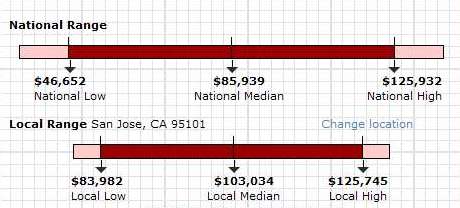 And here's my lovely check!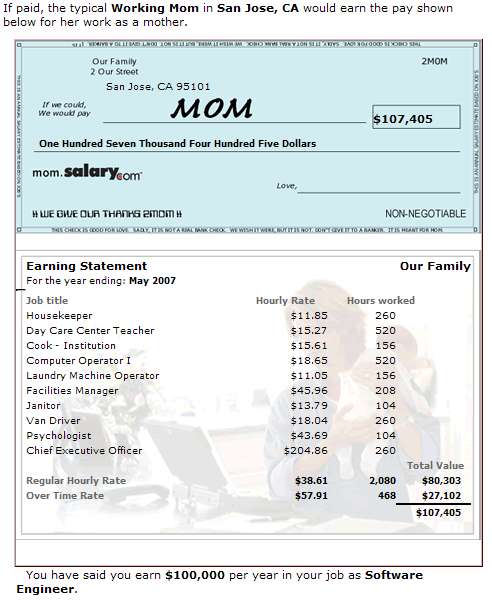 Looks like I'm worth around $107,000.
So what's your take on mom's salary? If you're more interested in dad, then here's where you can calculate his worth as well! For the record, my spouse is worth $130,000. Not bad!
Copyright © 2007 The Digerati Life. All Rights Reserved.