Here's a very interesting chart I picked up from Andrew Sullivan's The Daily Dish. Whom do you trust to help you manage the financial risks in your life? This chart represents the results of a survey taken early this year, involving 1,200 adults.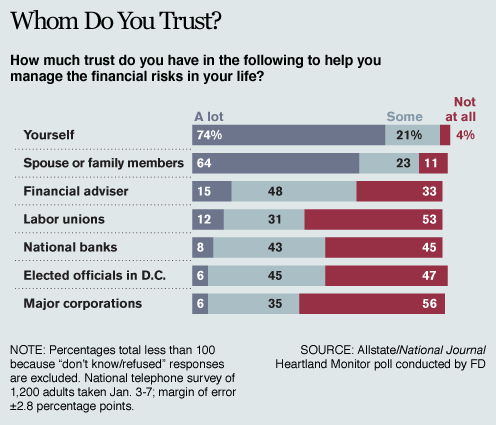 There's nothing that surprising about this chart, is there? You can only really trust yourself with the risks you face with your money. Those entities you don't have personal ties to take a backseat when it comes to how much faith you place in them: big corporations, government and big banks are all seen in a very similar light.
That's why I strongly advocate personal financial education. The more you know (yourself), the less reliance you have on others when it comes to money management. Here are some helpful posts in this regard:
Copyright © 2010 The Digerati Life. All Rights Reserved.