I picked up my first personal finance book as a college senior. As soon as I read it, I wanted to go around telling every other twenty-something how important it was to get their finances in order as young adults.
Unfortunately, my girlfriend rolled her eyes at me and my friends couldn't have cared less. Sometimes you have to do a bit of prying to show people how much easier life can be if you have your finances in order as a twenty-something before the real life trials and tribulations kick in.
How To Manage Your Money In Your Twenties
Let's take a look at the advantages that twenty-somethings have when it comes to matters of personal finance, and why there's no better time than today, to get your financial life in order. The earlier you start caring about your money, the better!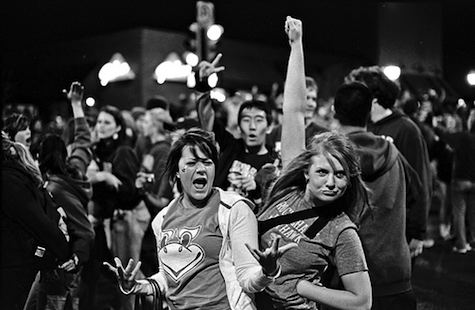 Image from MorphoMir
Let's Look At Compound Interest
There's a reason Albert Einstein said, "The most powerful force in the universe is compound interest". Coming from a man who studied physics, forces, and atoms for his entire life, that's saying a lot.
The most important factor in compound interest is TIME. As a twenty-something, you — hopefully — have plenty of years ahead of you. But don't waste these years because even a couple can set you back for the rest of your life.
Let's take a classic example that illustrates the power of compounding: Alice is a 25-year-old who starts investing $5,000 a year at 8%. She invests for 10 years and stops. Her money continues to gain interest until she is 65. Bob doesn't start investing until he is 35-years-old, but he invests $5,000 a year for 30 years at 8%.
So who has more money? Alice. Don't believe it? Check out the numbers.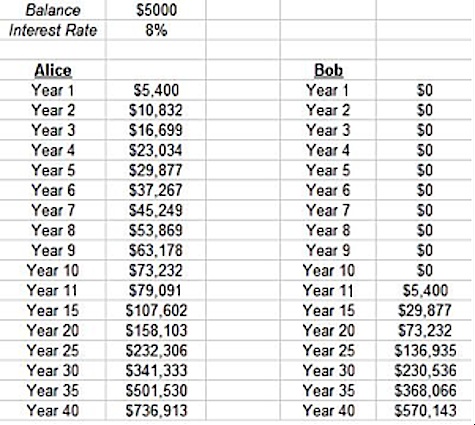 Because Alice's money sat in equities for 10 years before Bob even had a chance to invest, more of her interest and returns had a chance to accumulate and really kick in over time.
In total, she invested only $50,000 of her money, while Bob invested $150,000; yet Alice still came out ahead. Now imagine if Alice had kept investing $5,000 a year. She would have well over a million dollars by the time retirement rolled around and she would be financially set.
Tip: Take advantage of your young age and compound interest by setting up a Roth IRA. You can invest up to $5,000 a year and you don't have to pay taxes when you withdraw your money.
Time To Build Good Credit
I always thought it would be really helpful (though a bit awkward) if a girl or guy confessed on a first date if they had bad credit or not. I'm sure America's debt woes would quickly improve and wasted dates would be weeded out because, let's face it, bad credit is unattractive.
A lot of twenty-somethings don't think about their credit, but knowing the ins and outs of your FICO credit score can save you thousands of dollars throughout your life.
Want the simple and quick way to get good credit? Pick up a credit card or two. Start out with secured credit cards if you want to establish credit. Use them sparingly. Pay them off in full every month. Then ask for a credit increase every year or two. Done.
When you're in your twenties you have the opportunity and the time to build credit properly. With good credit you'll receive better interest rates for your car and house, and those savings will equal thousands of dollars over a lifetime. In fact, with good credit, you'll even qualify for better personal loan rates if you want to borrow money. You can also negotiate for better rates for those loans you already have. You can qualify for balance transfer cards and the harder-to-get 0% APR credit card offers that are reserved for reliable credit card customers. That's where the irony is — have great credit and you can obtain cheaper loans; have terrible credit and you pay through your nose.
Now let's take a specific example that shows good credit at work. When you decide to buy a house and you've got great credit, your interest rate will be pegged at a lower interest rate than if you have horrible credit. For purposes of illustration, let's say your good credit gets you a rate of around 5.5% (yes, interest rates have seen lower levels, but this is just an example). Those who have bad credit would typically qualify for higher rates, so in this example, they'd probably receive something along the lines of 6.5%. A few percentage points don't seem like a huge deal, but over the life of a thirty year mortgage, it's a GIGANTIC deal.
So say you buy a $300,000 house. If you have a 30-year mortgage of $250,000 at a 6.5% interest rate, the house will end up costing you $700,111. That's $333,548 just in interest! If you buy the same house with a loan sporting a 5.5% interest rate, the house will end up costing $642,260, with the interest totaling $276,322. A 1% change in the interest rate will cost you $57,226!
Tip: Don't let the late payments add up on your credit card. Start building good credit while you're young and save in a huge way.
It's Easier To Save When You Have No Kids
You often hear from twenty-somethings that saving at their age isn't a priority and they'll just do it later because they'll be making more money in the future. Yes, that's probably true. But you'll also have additional costs you didn't consider, like those expenses you incur once you have kids.
According to MSN Money, a child will cost an average American family approximately $249,000 from the time they are a new born until they're eighteen. $249,000 for one kid! That's about $14,000 a year!
Your income will probably be higher in ten years, but if you have two or three kids (as is the case with the average family), it's likely that you could end up with a net income that's similar to your low-level entry job today, after all your family expenses are accounted for.
I don't want you to swear off having kids. I just want to show you that you'll never have it easier financially than when you're a twenty-something with no children. Take advantage of the simplicity of your life, where you can go home after work and research a Roth IRA, instead of having to help your 8-year-old with their science project.
No House To Worry About…Yet
The American dream is alive. I'm in my twenties and I'm already envisioning my "dream home". Outdoor eating area, whirlpool, cavernous study. I want it all. A lot of people assume that being a home buyer is in their immediate future.
You may think that saving and getting your finances in order will be easier when you're older, but will it be, once you have the stress of a mortgage, house repairs, property taxes, and homeowners insurance to think about? You have time to prepare for this purchase, but it's going to be tricky if you don't have your finances and savings in order when you decide to buy your house.
For example, to get a lower interest rate on your mortgage, it's beneficial to pay 10%-20% as a down payment. That doesn't sound like much, but if you assume a house costs $300,000, you'll need to put down $30,000-$60,000 of your savings as a deposit.
You also have to factor in property taxes which, depending on where you live, can cost $3,000-$4,000 every year. There are also household repairs to think about. The general rule of thumb is to set aside the equivalent of 1% of your home's valuation for repairs and maintenance. Know that these hidden costs add up and will make a serious dent in your future income from month to month, so it's beneficial to prepare as early as you can for this eventuality.
Tip: A mortgage is a serious day-to-day concern for an adult, but if you start putting money aside when you're in your early twenties, you'll have no problem saving for your dream house.
As a twenty-something, you have extra money while you're renting or living at home that you won't have at other times in your life. Use that money to invest, save, and get ahead so you can be on top of your finances when you reach your thirties, forties, and later years. It turns out that we spend a lot of money over our lifetimes. But by taking action at a young age, we can adequately prepare for different financial milestones in our lives without having to face insurmountable issues.
This guest post is by Austin Morgan, from Foreigner's Finances. It's a great follow up to the other article I've published on goals to reach by the age of 30.
Created January 11, 2010. Updated June 4, 2012. Copyright © 2012 The Digerati Life. All Rights Reserved.