Here's why we should teach money management and personal finance in schools.
I don't think it's a stretch to say that most people would be happy to see personal finance being taught in schools. I've wondered if the bottom-line is ironically….money. Perhaps schools don't have enough money in their budget to teach it. I've noticed that even private schools don't offer it. Being a mom who's become aware of what goes on a little behind classroom (or school office) doors, I'm offering a few reasons why this could be the case:
Why Don't Schools Teach Personal Finance?
#1 School budgets are already limited. In California, the issue of public school budgets is as sticky as they come. Parents, teachers and school administrators alike have all their eyes on our governor to quickly pass his mandates for school funding; any delays throw huge monkey wrenches in our schools' planning and budgeting processes. If many existing, standard classes (such as art, music, P.E. or even science(!)) sometimes get axed because of limited resources, then wouldn't it be much harder for unconventional subjects like personal finance to make headway in school curriculums?
#2 Money management or personal finance topics may already have some coverage in schools, just not in the way you'd expect. The topic of money is often threaded into other subjects: for instance — currency may be discussed in history or the social sciences, or money problems introduced with mathematics. The subject of finance doesn't get its own focused class, but may be taught in bits and pieces across various subjects.
#3 Schools don't have personal finance advocates on board. Who knows what goes on within a school's chambers? Our schools have many other things to worry about (*cough*politics*cough*) such that the issue of accommodating a new subject may be too much trouble or may just not get enough priority. Unfortunately, inertia rules.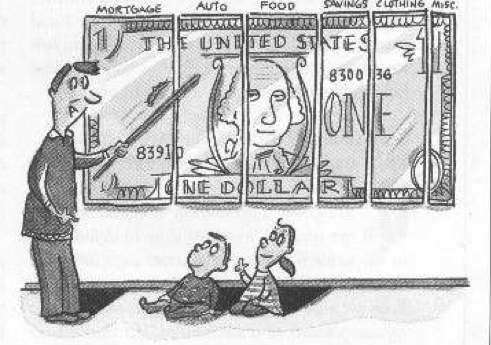 Yes it could be all about politics or money. Just like everything else in the world, we're not getting lessons in money management in schools because there's not enough support for it, or because we can't afford it.
Well, with nobody but ourselves to teach our families about finance, here's what a survey from Schwab reveals about the public's report cards on the subject of money. The results aren't too bad but they aren't excellent either, and there are definitely huge gaps in the average family's lesson plan on finance.
Personal Finance Report Cards
The Schwab survey participants included people from the following age groups:
The Silent Generation, retired people (ages 63 to 83);
Baby Boomers, the next generation of retirees (ages 44 to 62);
Generation X (ages 32 to 43); and
Generation Y (ages 21 to 31).
These participants were then asked how they would grade themselves as personal finance teachers to their own children and how well they were taught at home about money.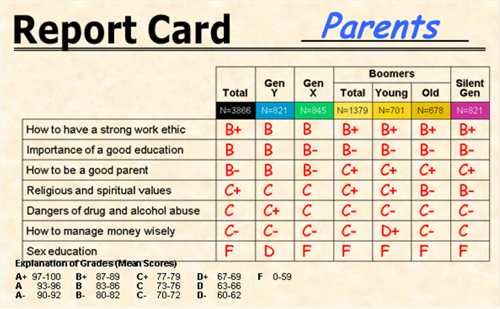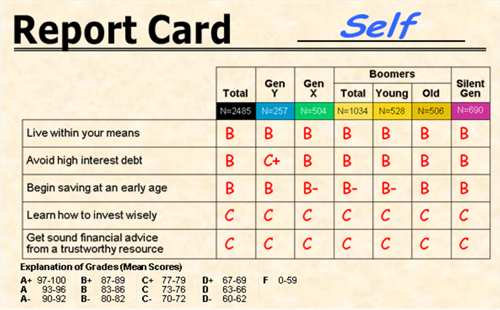 Money Management Survey Findings, Across The Generations
• Parents were given poor grades for talking to their kids about money. The subject of money management ranks only 2nd to sex and drugs as the least discussed matters in the home.

• Parents across generations are instilling decent lessons in children when it comes to the principles of living within one's means, avoiding high interest debt and beginning to save early. But parents haven't supplied as much guidance on how to invest wisely.

• Only 4% think they have a high level of expertise around money management and personal finance matters. While almost half (49%) say they know "a little" about these topics.

• Most respondents (78%) acquired their financial management skills on their own.

• Survey respondents gave their parents high grades (B+) for teaching them to have a strong work ethic, but a "C-" for teaching them to manage money wisely.

• The older generations emphasize different matters of finance than do younger generations:

The Silent Generation said the most important lessons parents could teach their children about saving and investing are: (1) live within your means (74%) and (2) begin saving at an early age (64%).
Generation Y believes more than any other generation that learning to invest wisely is the most important lesson and, indeed, is more likely to believe that investing wisely will be extremely important to achieving financial security in their retirement. The Silent Generation believes this the least.

• More than half of parents surveyed (57%) don't teach their children about saving and investing because they don't believe they have enough knowledge to do so.

• A majority of people (78%) say their parents don't know enough about saving and investing to teach them. 61% said the biggest barrier to teaching children about saving and investing is that children have no interest in learning about the topic from them.

• 95% of those surveyed believe financial management should be taught in school.
Some great insights can be picked up from these results. They may hint at why the average person in the U.S. carries so much debt, why our national debt is currently where it stands and why most investors don't make money in the stock market. It may explain some of the reasons for the subprime mortgage crisis, why so many are going into foreclosure and are working past retirement. Could it be that we're spending ourselves to oblivion, not only because we can't help it but also because we just don't realize we're compromising our financial futures by doing so? The lack of awareness and education in the area of money is what's keeping many of us broke. What should we blame for the subprime lending crisis and the dreams turned American nightmares? Our lack of knowledge in money matters. If we can't get these basic lessons taught in our schools, then we'll have to step up and fill that vacuum at home, even if we have to take the crash course on money ourselves!
Copyright © 2008 The Digerati Life. All Rights Reserved.