April is Financial Literacy month. So before the month elapses, allow me to highlight some thoughts on financial literary from Todd S. CFP. The question we ask: how do you get a financial education?
Financial Literacy: Learn About Money, Boost Your Finances
Personal savings rates are dismally low (not to mention the savings account rates from financial institutions), debt is uncommonly high, retirement savings and preparedness are nearly nonexistent, and most people are either uninsured or grossly underinsured. And, the list goes on. My contention has always been that financial education should be a requirement for high school and college students; that money management skills should be taught in schools.

In my belief, much of the problems people face could easily be circumvented if we give people the correct tools and knowledge before they skip out into the big bad world. Let's face it, most of our parents mismanaged their money or did a pretty crappy job of teaching us how to navigate the complex financial landscape. If you are one of the few who had helpful parents who had the foresight to expose you to personal finance while you were younger, then consider yourself fortunate. For many of us, this is unfortunately not the case, and thus, it's pretty common for this cycle to permeate through the generations.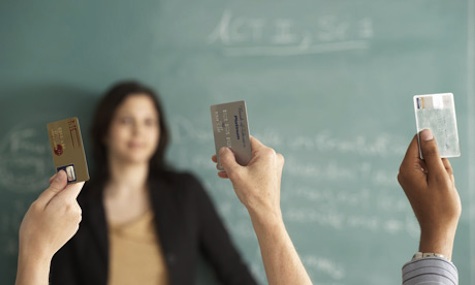 Once More, The Mortgage Crisis
Let's look at the mortgage crisis, for instance. We've asked here before: who's to blame for the subprime mortgage mess? Sure, there were inappropriate and unethical business actions occurring, but who signed the paperwork for the mortgage? The consumer. Who decided to buy a house and secure a mortgage in attempts to hop on the housing market craze? We did. Who had to own a home even when it may not have made perfect financial sense at the time? Again, that would be us — regular folks who continually seek better fortunes for ourselves and our families.
Ok, so this may be a little harsh, but my point is this: if people had the basic, necessary financial literacy to read a contract, know the difference between a variable and fixed rate, or if people knew how to make a budget and apply it better, don't you think that the housing and mortgage crisis would have been far less damaging and widespread? In general, I also think that if people were better versed on economic cycles and business cycles, perhaps the tech bubble of the late 90s and the housing bubble of the 00s could have been minimized or even averted. I suspect that with more financially astute individuals in our midst, we'd probably reduce the likelihood of the masses chasing the flavor of the day and creating artificial bubbles.
However, my idealistic vision of financial education is dissipating at a fairly rapid pace. In my experience, participants have to be dragged nearly kicking and screaming to FREE financial literacy events hosted through work, after work, online, wherever. Understandably, schools are disinclined to schedule financial education classes because they have so many competing agendas.
We Need More Than Just A Financial Education
More importantly though, education alone will not solve the problem. Most people need accountability and coaching to change their behavior, in order to learn and to make smarter decisions with their money. We can talk to people all we want, but who's to say what they will or won't do when they walk out the door? Again, from my experience, the best bet is to supplement financial education with ongoing coaching, which has had a good success rate. This is something I'd advocate, but there have been a couple of obstacles to implementing this type of plan — organizations may not be interested in funding such a program, or even if they do, people may not be all that eager to participate in it. Unfortunately, not everyone looks upon personal finance as a high enough priority.
Why do we continue to struggle financially, as a nation, despite the availability of free financial material you'll find online in hundreds of thousands of websites and blogs? What about the thousands of financial firms, libraries and book stores that offer educational resources in finance?
I think I am starting to think like Lauren Willis, a professor at Loyola Law School who suggests that we should just give up on financial literacy. She contends that it is merely a waste of time and money because financial products change rapidly, education does not improve behavior (like my aforementioned experiences) and may give people the illusion that they can manage their own finances when they cannot. This sounds pretty consistent with my personal experiences as a budding financial educator and trainer.
But, I refuse to agree with Ms. Willis wholeheartedly and do believe that greater knowledge does breed greater control and better decisions. And something of note: she does suggest that some of us may benefit from having experts help us with our finances. What do experts, advisors, coaches bring to the table? They provide an avenue for accountability that can encourage changes in counterproductive behaviors we cannot always spot and fix on our own (while personal finance bloggers will tell you that they use their blogs as a way to be self-accountable with regards to money).
So please follow the old adage and don't look a gift horse in the mouth — if your employer, another organization or some solid opportunity comes by to offer financial education, then attend! Do your due diligence if you are unfamiliar with the service or offering, and if there's no catch, then go for it! And if you feel it's necessary, then seek outside counsel and create your own financial dream team. If we all place priority in getting a financial education and taking action on what we know, then we'll be taking great strides in improving financial literacy in our nation.

Created: April 7, 2010; Updated: April 21, 2011
Copyright © 2011 The Digerati Life. All Rights Reserved.