Who's to blame for the worst economic crisis since the Great Depression?
Warning… long rant ahead.
Have you heard the latest bad joke around? It's the one on how we're socializing our financial markets by making the taxpayers bail out all our financial institutions. As someone put it, "this is a form of wealth distribution alright, the government robbing from the poor to give to the rich….".
So when will this nightmare of a crisis end? Sure we're shoring up our failing banks and institutions right now, and even possibly certain vital industries that are the heart and pulse of our nation. But, I also see the flip-side, which is the fact that we (and our kids, and maybe even our grandkids) will be paying off for this till kingdom come, with the whole thing financed by our debt to foreign interests (e.g. Chinese).
This soap opera can't be without its sorry cast of characters.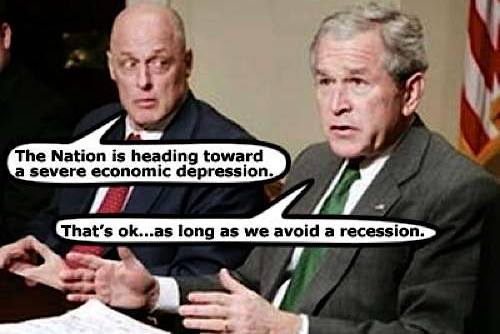 Golden Sach's Bailout Man: Henry Paulson and George W. Bush, by Buckfush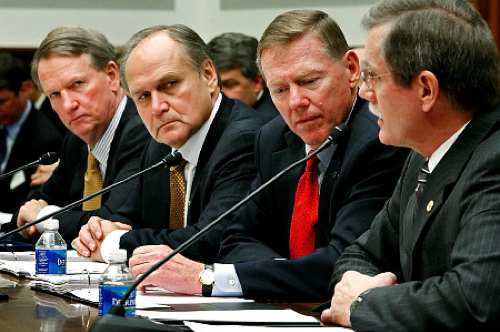 Big 3 take private jets to grovel for cash, by Daily News
Capitalism Gone Awry
I wonder: how naive have I been? I am big on capitalism and believe wholeheartedly in rewarding anyone for the work they've done and value they've produced. I've always been of the mind that, if a CEO does well by his company and makes me happy as a stockholder, I have no qualms in approving a commensurate pay package for the geezer.
I've always been a proponent of self-regulation and a laissez faire economy, but this very thing has led to the disasters we're seeing today. Now with the government sweeping in to save "the big guys" from themselves and their gross mistakes, I see that apparently, self-accountability is optional in this free market. Very interesting what this blog has to say:
Now consider: finance is a necessary function, but is represents a tax, a drain on the productive economy, just as defense and lawyers do. It is ironic that free market fundamentalists have so vociferously argued for unfettered markets, without understanding (or perhaps understanding all too well) that the house always wins.
The whole crisis has caused a very large swing from one extreme to another, the moving pendulum leaving behind much collateral damage: credit's gone from very loose to extremely tight overnight.
Some people who had access to a lot of credit will correctly have a lot less, and that on dearer terms. But there are also perfectly worthwhile businesses and individuals who are also caught in the meat grinder of indiscriminate reduction of loan balances. Times are bad, and any efforts to extract more revenues from customers, even if it is blood from a turnip, or worse, even if it puts a viable business under, is warranted.
Silly me to have been so gullible, as I now stand confused about what should be done and how the economy should be run. It doesn't help that I keep reading stuff like this to feed my migraines and sour stomach bouts.
How This Economic Crisis Is Breaking Financial Rules
What stance do I take now, as a die-hard pro-business supporter? I had placed my faith in the "powers that be" and didn't think I'd ever see these levels of corruption, unchecked greed and blatant mismanagement in a first world country on this grand a scale (yes, I say this as someone who's no stranger to the machinations of the third world, where corrupt ineptitude is rampant). This stuff happens, sure enough, but it happens in another world, and under the covers.
But there's no hiding the ugly anymore. All I can see now is just how the ruling class has done a number on the working masses. And for the millions of people who followed the financial rule book throughout their lives to meet a horrible end to their futures because of the incompetent, morally degenerate few — well, I can say I'm beyond disappointed, and have crossed the line to feeling outrage and disgust.
Yes, this crisis is breaking all sorts of rules, including those I'd consider as long-standing successful personal financial tenets. Responsible approaches to personal finance don't have a chance against a crisis of tsunamic proportions:
So let's see — doing the right thing by scrimping, saving, investing, diversifying, doing proper asset allocation, avoiding market timing, indexing, and hedging against inflation through equities, even doing your job well will no longer guarantee you a splendid, worry-free financial future. Not when a "once in a century financial event" can just come by and rob you off the stuff you worked so hard for; not when someone "up there" can change the rules for you, just like that.
I didn't necessarily see it coming, but some of my readers here have: I see just how observant readers have been, as they've shared their insights on the causes and consequences of the subprime mortgage financial crisis, the pros and cons of financial bailouts, and the relevance of market timing during a stock market bear and the current investment climate.
The Economic Crisis Calls For Faith: Do You Have Any To Spare?
Perhaps I've placed far too much faith in the integrity of our political and business leaders and trends in modern history to believe that our financial system was strong enough (and people were smart and honest enough) to absorb any shakeups, shocks and imbalances that happen. I still have hope, but recent events continually call to question my position in this matter.
Not long ago, I had asked: who's to blame for the subprime mortgage mess? I said then that everyone here had a hand in this (from the mortgage lenders to the developers to the Fed to ignorant homeowners), but in reality, I'm now seeing where the bulk of that blame should go. It should be clear by now who should bear the brunt of your harsh judgment: follow the money.
Sure we (as the little people) can't really do much about this (except whine, rant and call the villains out), but with more discussion, we can spread awareness of these ridiculous affairs. What I got out of this is that there's little out there we can count on and few people we can trust when it comes to our finances. A sobering thought. Do you think there are really any lessons and takeaways here for the future? Do we even have much of a future the way it's been mortgaged?
I welcome your thoughts on this matter. Fire away!
Copyright © 2008 The Digerati Life. All Rights Reserved.