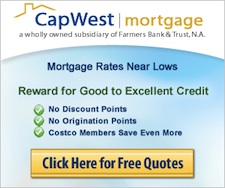 Finding the right mortgage can potentially save you both time and a substantial amount of money. If you'd like to finance your next home or if you'd like to explore a refinance, then CapWest Mortgage may have some services that can help.
CapWest Mortgage is part of Farmers Bank & Trust, N.A., which is based in Kansas. This bank has been providing services for over a century. Even if there isn't a local branch near you, people across the country are able to have their mortgages originated by CapWest Mortgage — you can reach them online or via phone.

There are several types of loans available. These include conventional, VA and FHA loans. Also, the company is a Fannie Mae direct lender and attempts to provide its loans at low rates. Let's check on some of this family-owned bank's available services.
Getting A Quote From CapWest Mortgage
To get started on a quote, you can just fill out a form on the home page. To start off, you'll be asked whether your loan is for a purchase, refinance, or cashout refinance. You'll also need to disclose how much you'd like to borrow, as well as the value of the property. The company will need to know if this is a primary residence, a secondary one, or if it's an investment property. You'll be asked to rate your credit as well.
How do the rates compare? Given that the recent national average rate for a 30 year fixed mortgage is lingering at lower levels, there's been a lot of ongoing financing activity with people taking advantage of the rates. CapWest Mortgage shows rates that are fairly in line with the national average, even with a 45-day rate lock. Its competitor, Quicken Loans, offers the same rates with a 30-day rate lock. There may be a lot of variance here, but in the examples I reviewed, I found slightly lower APRs from CapWest's products as compared to similar loans from Quicken Loans. These loan rates were for credit scores in the range of 700 to 719 and with 20% down. Of course, rates vary by region, the type and term of the loan, and other factors, so prepare to do a bit of research.
The Costco Connection
If you're a Costco member, you might already be aware that CapWest Mortgage is one of the partners that offer mortgage services through the warehouse store. In fact, Costco members are encouraged to inquire about discounts.
According to Costco, it has fee caps in place for its lending partners when you apply for a mortgage through its own website. These caps are $750 for Business and Goldstar members, while the cap for Executive members is set at $600. You may find that the fees vary if you apply for a mortgage directly from CapWest Mortgage, though. So if you're a Costco member who's interested in pursuing a loan through CapWest Mortgage, then it would behoove you to check if you'd get a better deal through your Costco membership when applying for a loan.
The HomePath Program Through CapWest Mortgage
If you're interested in buying foreclosures, CapWest Mortgage can assist you with the HomePath program by Fannie Mae. This program lets you search for Fannie Mae-owned foreclosed properties. You can take part in the program whether you're interested in an investment property or if you'd like to find a new residence.
The HomePath program gives you access to foreclosed properties that are available in a wide variety of cities and states. You can search by the minimum and maximum amounts you'd like to pay, the number of bedrooms and/or bathrooms, or by zip codes. You can even set up alerts so you know right away when a listing goes up for a particular zip code.
Participants can potentially receive flexible mortgage terms and low down payments; plus, no appraisal is required. One good thing is that the program remains available to those who may not have the best credit. And there's additional leeway here: some of the loans offered don't require you to have mortgage insurance. There's also the possibility of financing up to 97% of a home's value (although it's something I wouldn't recommend).
If you're visiting HomePath, stop by the Special Offers section. They're currently offering closing cost assistance of a few percentage points for a limited amount of time.
In Closing
Since your mortgage is a major expense, you should cast a wide net until you find the best one for your needs. CapWest Mortgage has a range of services and you can get a quote without a lot of waiting around. And if you're a Costco member, you'll have the privilege of receiving special discounts. So if you're looking for your next mortgage or want to refinance soon, this bank is one place you can start your search.
Copyright © 2011 The Digerati Life. All Rights Reserved.