Do you want to improve your shopping habits? Find out how to get over a huge impulse buy.
How many times have you been suddenly compelled to make a purchase you didn't plan? If you're like me, the answer makes you shudder. It's not that we're weak willed, it's just that the entire system has been set up to make us constantly consume. Whenever you walk through a department store, for example, you can be pretty sure that everything you see has been placed where it is with the sole intention of getting you to want to buy it. Signs are intriguing and persuasive. Registers are inviting. Merchandise is appealing.
In other words, nothing is where it is by mistake. Someone was paid very well to figure out where everything should go and how things should be presented just to make sure that you open your wallet. Do you know the old saying that every time a bell rings, an angel gets its wings? In a similar fashion, every time you make a huge impulse buy, a marketing executive does a silly little happy dance.
Impulse buys happen. One day you suddenly decide that it's time to trade in your old car and get a new one. While walking through the mall, you come to the conclusion that a new home theater system is a great idea. You're shopping for a rug when you get talked into signing up for a complete redecoration project for your kitchen. C'est la vie.

These things happen, and although it's best to avoid situations like these altogether, here are the things you should do to take stock of a sudden unplanned purchase: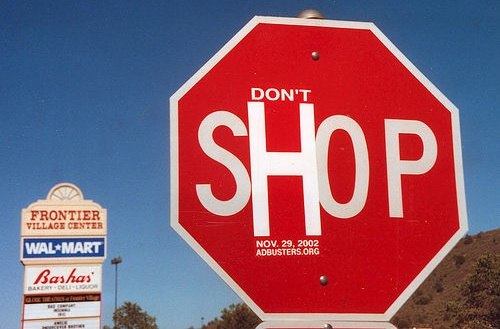 Photo by Brave New Films
Tactics To Recover From A Huge Impulse Buy
#1 Take it back.
While there are some items that you won't have much luck returning, some things can indeed go back. Even some car dealerships allow buyers a couple of days to change their minds and return their newly purchased cars. If you find yourself really suffering from buyer's remorse, check the paperwork that came along with your item and see if you can undo the purchase.
#2 Pay it off ASAP.
If your impulse purchase was made with instant credit, there is a good chance that you will pay a really high interest rate unless there was a promotional interest rate attached to the buy. What's worse than buying an expensive item on impulse? Paying 23% interest on the impulse buy for the next few years. Pay off the purchase as soon as possible, or transfer the balance to a more forgiving credit card.
#3 Sell the item.
If you find that the item you purchase on impulse puts you into a financial bind, then you may want to consider selling it to relieve the burden. Ebay or Craigslist may be your salvation, though you might have to take a loss on the sale. Depending on how thinly stretched your budget is, this might be the only option. Consider yourself lucky if you're able to recover your full purchase price for the item when you sell it.
#4 Learn from your mistake.
Whether you wind up keeping the item or getting rid of it, consider the whole situation as a learning experience. Figure out what prompted you to make the purchase in the first place and then avoid situations like that in the future. The fact that you eventually recognized that the buy was on impulse and probably not a good idea is a great sign that you might be able to avoid similar mistakes in the future.
If you wind up keeping the item because you can afford to, then enjoy it. Don't let the new stereo or car or whatever it is become an annoyance because it reminds you of a weak shopping moment — even the best of us get suckered in once in a while. Ultimately, however, you should never forget that you were manipulated into making that purchase, and use the whole snafu as an important lesson. Don't get fooled again! Next time, you may not be able to forgive yourself so easily!
I am pleased to present this guest article by Jonathan, from Master Your Card, a blog that focuses on one of the most ubiquitous yet misunderstood financial tools we own: the credit card. If you like his guest post please check out his website and consider subscribing to his rss feed. Thank you Jonathan!
Copyright © 2008 The Digerati Life. All Rights Reserved.