I'm one of those people who hates to spend money. It's not that I don't like stuff — it's the "having to pay for it" that makes me a little queasy, especially if the price tag is "up there". So I've been practicing frugality for some time now, and it's been a good lifestyle to have.
It all started back when my husband and I decided to take the plunge and get married. Since this was Mark's second marriage (and he's painfully shy), the last thing he wanted was a lot of fanfare, but I'd been a bridesmaid in too many weddings to be satisfied with a shotgun wedding in front of the justice of the peace, complete with a witness I've never met.
However, after a few weeks of careful planning, it became readily apparent that I could not afford a traditional wedding.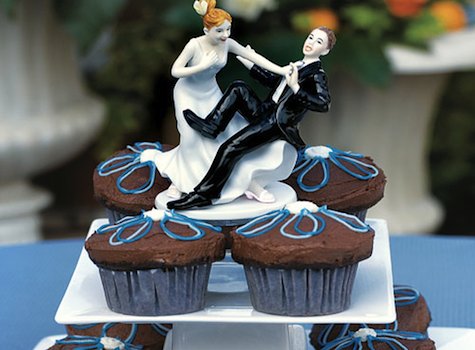 How much you'll spend on your wedding is dictated by a few things: your expectations on how "grand" it's going to be and the number of people you plan to invite to it.
Setting The Wedding Budget
The reality is that not everyone is going to have a cheap wedding, unfortunately. The wedding industry is notorious for charging you a premium on services. So the biggest tips to save money? Try DIY, negotiation and bartering. What I mean is, do things your way as much as you are able. Be resourceful. Tap your network of friends and family (if they are available) — maybe they can gift you with their services, and the use of their skills and talent instead of something material.

Bartering and negotiating for discounts with service providers may also work: is there something you can offer them in return for services rendered? Who knows — they may oblige, so it doesn't hurt to ask. And how about going with something borrowed (or gently used)? There are a lot of areas and opportunities where you can cut costs if you really have to.
One more reality: whoever holds the purse strings usually controls the wedding preparations. It makes sense that whoever is paying for the wedding ends up taking control of it. So those with generous parents — watch out! If someone else is footing the bill, you're pretty fortunate if you can have your say on how your wedding will be like.
Here's more on how to plan a wedding without getting too stressed.
Cheap Wedding Ideas On A $700 Budget
In our case, Mark and I agreed to a compromise. We would get married, but on our terms. That meant that I got to say my vows, wear my dress, and even get pictures, but we would only spend $700 on the "wedding". That was "the budget". And while we didn't have to do this, I'd suggest using budget management software if you've got a complicated budget to work with.
Believe it or not, I was actually able to come up with a mutually satisfactory solution that not only stayed in budget, but actually left us a few dollars in the bank so that we could have our honeymoon. It started out with writing down the things that we absolutely needed to have vs stuff we could skip. The list:
Will Have: wedding dress, rings, cake, chapel, honeymoon
Won't Have: food, invitations, flowers, DJ, limo, etc. (we did away with the big party: more on that later!)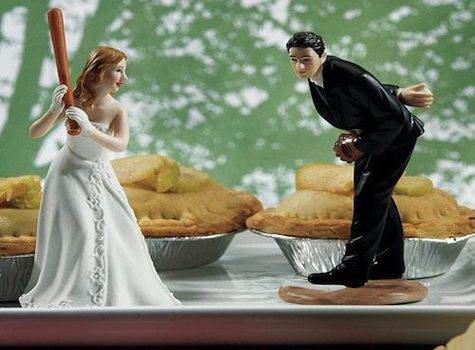 Here's how we made it work:
Paying For A Wedding Dress
First of all, some of the biggest expenses for any wedding are the dress and the rings. Now we're talking about a dress here (and not a car). Scale back and buy a wedding gown from last year's rack. Most likely, these are the ones that are going to be on clearance and buying one will save you a boatload of cash. Not only are these dresses drastically reduced, but you can save even more by putting your negotiating skills to work. Often, you can negotiate an even lower price for the dress beyond the already marked down price by simply dickering a little. These dresses are just as beautiful this year as they were last year AND are still eligible for all the same tailoring that come with the new ones. I bought my dream wedding gown (the Cinderella type, complete with a ten foot train and TONS of beading) for $200.
As for rings? You can choose to hold back or spend a lot on this. I've seen some people fashion wedding rings out of family heirlooms they already have. We covered this expense for a couple of hundred dollars.
Searching For A Great Wedding Cake
For most people, the menu and the cake also take a bite out of the budget. You can trim your expenses on this front by adjusting the menu and food choices (particularly the drinks!) or reducing your guest list. In my case, I opted to focus on the cake and skipped the dining experience.
So I sought a cake that was cheap and tasty. You'll save quite a bit by opting to call on a friend, family member, fellow churchgoer, or anyone else you can scare up that can cook and bake, if this is something you can't do yourself. Some folks I know have even gotten family members to volunteer their services in lieu of offering wedding gifts! You can get a great looking and tasting cake for little or nothing this way. Our cake was free.
Here's a look at some fun and affordable wedding cakes.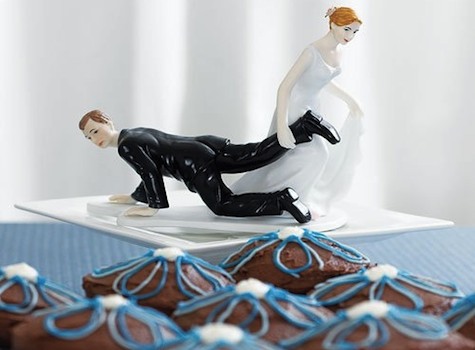 Booking The Venue
Okay, so now you're ready to book the venue. This one's also going to cost you. Mark and I opted for a "wedding chapel" wedding. Since we live in a tourist-y area, there are TONS of wedding chapels around us with a variety of wedding options we could choose from. Of course, we picked the cheapest service they offered and ponied up $150.00 for the service. You may even do one better by holding your wedding on private property: know someone who has a large enough yard or garden to accommodate the event?
Picking Up The Marriage License
Last but not least, the marriage license. Unfortunately, marriage licenses cost money, thanks to the local government's obsessive need to dip into our pockets at each and every opportunity. Since I live in the great state of Tennessee, a blood test is not required, so the marriage license that Mark and I got cost just $13 and we actually walked away from the county clerk's office with license in hand.
While this may be just the tip of the iceberg for typical wedding costs today (on average, costs can reach $30,000 these days!), I've shared my example to show you that you can get married on any budget you choose to set.
And here's our final tally: as you can see, I managed to spend $563 of my allotted budget, so now for the good part. We eloped, got married, booked a Jacuzzi suite in town and blew the rest of our budget on our honeymoon. We ate well, drank even better and spent several nights playing Galaga and Centipede in the arcade next door. Not very romantic, but we always have a great story to tell!
This wedding was the beginning of a beautiful (and hilarious) happy thirteen years of marriage complete with 2 kids and 2 dogs. Would I trade my wedding story for a $30,000 lavish wedding? Not in a minute.

Image Credit: mydreamwedding.ca, bridaloccasion.com
Copyright © 2010 The Digerati Life. All Rights Reserved.