In sunny California and during barbecue season, we do a lot of grilling of hot dogs, hamburgers, chicken, tomatoes and buns.
But let's depart from tradition for a moment: I thought it would be a good idea to find out how many meals we could squeeze out of one of those staples. When you want to be frugal, it helps to be somewhat creative. So how far can a chicken go? I was amazed by the answer to that question. Do you realize just how many meals you can get out of one bird? I used to get the smallest chicken I could for a roast dinner. But now I go for a larger one and get plenty more from it as a result.
5 Great Chicken Dishes You Can Make Out of One Chicken
Here are my five tips for meals you can get from a single chicken:
1. Roast dinner. Roast the bird to begin with and serve sliced breast meat with potatoes and steamed vegetables. I usually find I don't need too much meat because of the range of other things I have with it.
2. Strip the bird and reserve the wings. With one drumstick added –- the end section of the leg as opposed to the whole thing –- this makes a nice meal eaten cold with salad the next day. New potatoes are great with this too: I either have them warm or cook them in advance and serve them cold, chopped up with some sliced spring onions and a dash of mayo.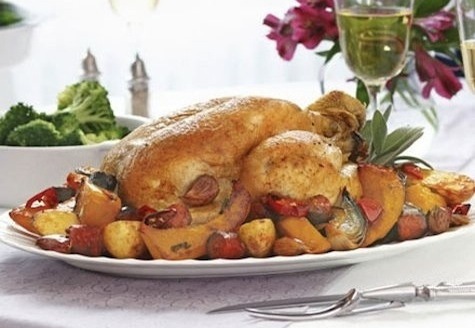 Image from BBC Good Food
3. Chop up some of the chicken meat and throw it into a stew. I bulk it up with plenty of vegetables; try grabbing whatever you can find that is in season. I also sometimes add potatoes to make a one pot meal, or even make my own dumplings with suet mix. The point is that there are plenty of different things you can do here.
4. Make a chicken pie. Once again, I take some of the leftover chicken meat (you can strip the legs as well) and mix it in with some mushrooms. Sage and onion stuffing works well too. I then add gravy and put a top on the pie –- I usually do just a pastry top so it keeps down the amount of pastry I am eating. There are lots of ways I vary what is in the pie, so it's never the same twice!
5. Finally, the piece de resistance…. Chicken soup. And again, I have never turned out the same soup twice. When I strip all the meat off the carcass of the chicken, I throw the bones in a saucepan and cover them with water to boil and then simmer. Around an hour should suffice for this, although I have found a bit longer does it no harm at all. Seasonal vegetables are the best things to throw in with it, and I would encourage you to try different things to see what you like the best when you do this. If I have some actual chicken left over I shred some of that to put in as well, but it isn't necessary. The great thing is that you can freeze it as well.
And if that wasn't enough, I've got another tip for you as well. When I roast my chicken initially, I make sure I drain off all the fat from the roasting tray into a glass jug. I leave it to sit until the fat separates. I get rid of the fat and keep the rest of the juices to use as stock. I have tried freezing this in ice cube trays so I get separate home made stock cubes.
So you see, there is a lot you can do with a chicken to save money and get more meals out of it than you might think.
Here are a few more frugal dishes you can try out:
Copyright © 2010 The Digerati Life. All Rights Reserved.