Do you know how much you need to save for your children's college education? Here are some simple tools to help.
How much have we thought about our children's future? To be honest, we're not sure where our own kids will be going yet; it may be way too early for that. Of course, we all wish they'll be eligible for the Ivy Leagues, but that won't become apparent until they're much older. And even if they have a shot at attending such universities (and that's a BIG IF, based on parameters such as how competitive the admissions landscape will be by the time they apply for college and our children's "credentials" at that point), the question arises: can we afford a high-end university education?
Basic Strategies To Save For College
There are many ways to save for a kid's education. Here are a couple of scenarios:
Pay up now, and cross your fingers. Many people spend their funds on the best private elementary schools money can buy early on, in order to prepare their kids for possible entry into top-notch schools later. Once their kids are ready for college, they hope that their kids qualify for financial aid.
Save now and pay up later. Others scrimp and save to meet the longer term goal of funding a college education for their child, while having their kids attend public schools at the lower grade levels. They make the sacrifices today to afford the costs of a high quality education at a prominent university later on.
For now, we've chosen the road from "public/semi-private school to top-rated college" (the latter route), although how much money we save will have an impact on the type of college or university our children will be attending.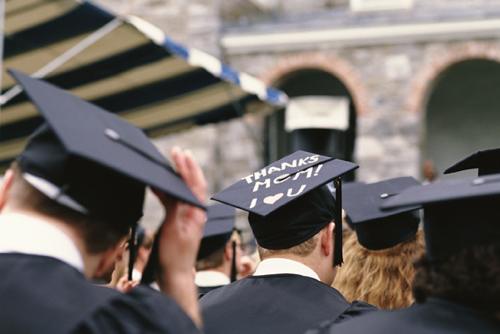 Tools To Help You Save For College
To help us see just how "on target" we are about these financial goals, I've referred to a few college savings calculators for answers. Here's one that supplies a lot of details, while this one is the "world's simplest college cost calculator".
Of course, a lot of the results you'll get from these calculators will depend on certain parameters you enter as well as the assumptions you make. For instance:
How much are college costs projected to increase each year? They're projected to go up by twice the inflation rate, which has resulted in historical rate increases of 5% to 8% annually.
How much do you expect to earn after taxes each year? A 6% return after taxes may be a reasonable estimate.
How much is a college education today and how much would you need to save for this goal? Here are a few sample recommendations for savings plans based on your child's age:
Monthly Savings Goal* Through Final Month of College
Type of school
Public
Private
Ivy
Current annual costs**
$15,000
$35,000
$45,000
Child's Age
Newborn

$405

$994

$1,214

Four

$456

$1,064

$1,369

Eight

$542

$1,265

$1,626

Twelve

$708

$1,653

$2,125

Sixteen

$1,148

$2,678

$3,443
* Assumes 6% annual college cost increase and 6% annual investment return.
** Current annual costs are approximated based on College Board data and include tuition, fees, room, board, and books.

Well, these numbers add some truth to the statement "reality hurts". But there are ways to alleviate it: by investing in the right savings vehicles, like a tax-advantaged 529 plan, you'll nudge those savings up faster. Also, I'm a fan of Upromise
and have been a member since 2001, if you can believe it. We've saved several thousand dollars through Upromise already (just by virtue of our spending activities throughout the years) and it's all done invisibly, automatically and most of all, painlessly. We don't notice a thing.
College Savings Tip: You can apply for a Bank of America Upromise World card, which is a rewards card that allows you to build up savings when you use your card. This card can be linked to a 529 savings account.
Finally, I also want to mention that Upromise often regularly holds promotions for its members. They've had summer promotions in the past and have been giving away scholarships on occasion. Check here for the latest promotion
at Upromise. If you're already a Upromise member, you're automatically entered. If you aren't yet, then you can enter and take part in any giveaway by joining the Upromise savings program through this link
.
So how are you doing with your college savings plan and goals to fund your kids' education? Are you satisfied with your progress so far?
This article is part of The Money Writers' Back To School and College Savings group project. Check out these great entries that are part of this series:
Copyright © 2008 The Digerati Life. All Rights Reserved.