Saving for your child's college education is slipping in priority, according to a Upromise survey.
Saving for college is one of our bigger long-term savings and investment goals, second only to funding our retirement. Given that I was born and raised outside of the United States, the biggest gifts my parents have granted me and my siblings were the opportunities to study abroad — in particular, we received the chance to pursue our higher education in the United States as foreign students. Unlike the way things are structured and handled in the U.S., my parents saved for our college education the old-fashioned way and did not have the benefit of using 529 plans or UTMAs to shelter those savings.
That need to save for college is universal.
Lately though, parents everywhere are feeling the pressure from this current economic climate, and many are putting the financial goal of saving for college lower in their priority list. We're seeing some indication of this through a survey that Upromise
just put together, which showed some concerning results:
Out of 1,000 parents who were involved in the survey,
80% didn't believe they were saving enough for college.
58% attributed their lack of savings to escalating gas prices, groceries and utilites.
Greater than 75% thought that the government should do more to make college more affordable.
67% admitted that this issue (and the positions of our presidential candidates on this matter) will influence the way the survey participants will vote this November.
82% are concerned with the growing cost of college.
88% believe that a college education is needed to compete in a global economy.
79% think that the U.S. is falling behind other countries in terms of quality of education.
67% think that the U.S. is falling behind in terms of access to education.
And more telling points — check out the following table that demonstrates the comparison between financial situations faced by parents in 2007 vs 2008. Survey takers were asked a few questions:
| Economic Scenario / Question | 2007 | 2008 |
| --- | --- | --- |
| What would you do with a $10,000 windfall? | 41% said they would apply the windfall to a college savings fund. | 14% said they would apply the windfall to a college savings fund. |
| How much does the average family spend on back-to-school expenses? | $563.49 | $594.24 |
Interestingly, back-to-school purchases have increased over the last year, for the average family. So people aren't necessarily cutting back on spending for the near term, they're just not saving as much for the long term.

In addition, this Upromise survey graphic shows just how parents intended to save a windfall for various financial goals. A quick look at how the typical savings plan (for new savings) has evolved over the last year reveals a shift in financial resources from longer term financial goals (like retirement and college savings programs) towards shorter term financial goals and obligations such as bill payments and saving for vacations. That is, if people received a boost in their savings, the charts below show how they planned to use it.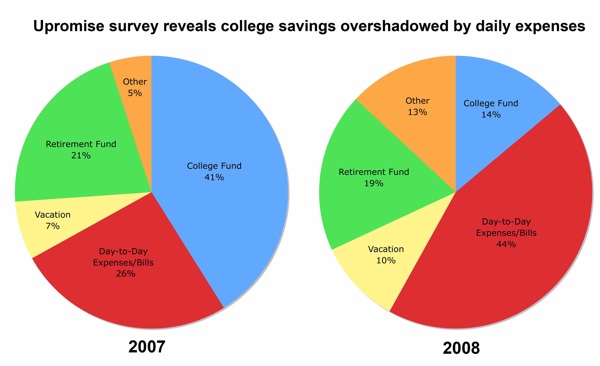 These changes may be a response to our present economic conditions rather than a true shift in priorities. But what do you think? Do you think the economy is to blame for why Americans are saving less for college and retirement? I see the economy being the usual scapegoat for all the negative financial stresses and events that people are experiencing today. But are people just making excuses to justify the drop in their household savings rate?
Copyright © 2008 The Digerati Life. All Rights Reserved.