It's time for a vacation! Here's a solid list of travel resources for anyone who's preparing for a trip.
Since I have some vacation time coming up, it seems like a good idea to see what resources are out there for cheap travel.  From flights and hotels to car trips and attractions the whole family can share, there's bound to be something for every budget traveler. These days, it may actually be an opportune time to travel — I've noticed smaller crowds at entertainment venues, what with the recession causing such anemic turnouts. So how about we take a tour of the travel sites that are aching for your business?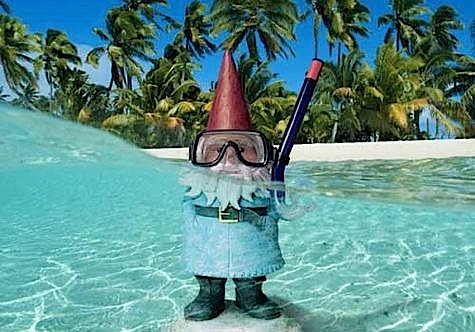 Image by Room Candy
Best Travel Sites for Cheap Vacation Deals
Priceline. One of the bigger, more recognizable travel sites out there is Priceline, well known for their Name Your Price feature. You can snare a good vacation deal through bidding, if you're willing to make tradeoffs on certain aspects of your trip. Check our review of Name Your Price to find out exactly how it works and what kind of parameters you'll need to work with to receive the best prices.

Expedia. Here's another top site when it comes to offering travel deals. If you need ideas on where to go, you can browse through Expedia's Travel Deals.  Here, you'll find bargains on flights, hotels, car rentals, cruises, vacation packages, and even last-minute deals.  Their coverage is comprehensive — their site covers practically any location in the world.

 To save even more and enjoy a wider selection, you might prefer to book early for popular destinations like the Caribbean, Hawaii, Florida, and Mexico.

Travelocity. Another contender in the travel world is Travelocity, which you'll probably be pretty familiar with thanks to its mascot, the travel gnome (I know them for being such an integrated sponsor of one of my favorite reality shows, The Amazing Race). You can book almost anything through this site, including airfare, cars, cruises, hotels, vacation packages and so on; they give you a lot of flexibility to perform your searches. Travelocity functions a lot like its major competitor, Expedia, and does a good job with providing you a lot of extra resources to help you develop your itinerary.

Hotwire is another source for discounts on airfare, hotel rooms, and other travel choices. Its Trip Watcher has the same objectives as Priceline's Name That Price feature — it can help you snag the best deals if you can be flexible with your travel dates, destinations, and the airports you'd use if you're planning to fly.
So how do these travel sites work? Many have similar features and functionality, although their presentation may be different. Log on to one of these sites and enter your departing and arriving cities and dates of travel. Up pops a variety of airlines, with different times of travel, and the lowest prices listed first. Just scroll down until you see a price you can afford, with the corresponding time of day you want to fly and the number of flight connections. Next step is to choose your return flight. Then, click and buy!
Budget Travel Guides
Budget Travel has a lot of resources for those of us who are looking to spend less.  The Trip Ideas section covers areas of interest such as adventures, road trips, long weekends, wine trips, and more.  The How-to Handbook discusses strategies and secrets for airfares, cruises, car rentals, and dining.

 You can stop by the Real Deals section for discounted airfares, hotels, and tours throughout the U.S. and international destinations.


Let's Go offers travel guides for a variety of destinations such as the U.S., Europe and parts of Asia.  Written by students, these resources can guide you to great experiences without the luxury prices.  Also of interest are the stories written by various editors based around the world, so you can get an insider's perspective of your destination of choice. 
Road Trips!

One way to save on travel is to plan a road trip.  If you're a member of AAA, you can access maps and travel directions, take advantage of travel deals, and find assistance if you happen to need emergency road service. 

 Now to find cheaper gas during your road trip, don't forget to visit GasBuddy.com or GasPriceWatch.com! 




Campgrounds & National Parks
National Parks. 
For many, cheap travel means camping.  KOA can help you find locations for tent or RV camping. 

Also, the National Park Service has a Find a Park locator.  Clicking on a park location will give you information on fees and reservations, tour fees, and the interagency pass program, in case you want to visit other national parks.
Camping Equipment. For equipment, you can browse through the offerings at Dick's Sporting Goods or try your luck at eBay or Craigslist.  Buying discounted tents, cooking gear, and other items throughout the year will make upcoming trips become less of a one-time expense too!  And why not tap anyone in your local network of campers with equipment you can borrow? If you've got other families and friends you can share equipment with (along with its cost), why not?
Local Attractions for Less

A state or city's travel or visitors' bureau can be a guide to local deals.  For example, a state's tourism site can contain information for seasonal activities, in addition to city and regional adventures.  And here's something I do — when I stay at hotels, I check the lobby for coupons, brochures and the local paper for events like plays, concerts and restaurant reviews.

 I also like the idea of becoming a member of a museum, zoo, or other attraction in my hometown, because then I can ask about reciprocal membership or discounted admission to attractions in other cities.  For example, if you're a member of the Zoological Society of Milwaukee, the 2009 Reciprocal Zoo list shows that you can enjoy free or discounted admission to various zoos across the country.  Plus you can also get a discount at some zoo gift shops!
So how are you planning your vacation? As for me, all I have to do is figure out where I'm going next…
Copyright © 2009 The Digerati Life. All Rights Reserved.