For all you budget travelers: as a follow up to my article on best travel sites for cheap vacation deals, I present the following post.
The travel industry is really good at making you think that travel is costly. Hotels, airfare, luxury cruises, fancy dinners — it all adds up, especially if you are traveling with your family. Or so they want you to think! If you think this way, you'll spend this way — more money for them, less money for you. But travel can be inexpensive if you just look hard enough. I've been traveling around for three years and if I did it the way they make travel out to be, I'd have gone bankrupt a long time ago. Check out the following ideas to save money on the road:
Budget Travel Tips For The Frugal Traveler
1. Avoid hotels.
Accommodation can be very expensive, especially hotels. Two good alternatives are hostels and apartment rentals. People think hostels are only for young backpackers and think of these as places where you'd have to share bathrooms. Well that's not really true. Hostels offer private rooms with their own bathroom, wireless, and towels — all the amenities you'll find in any hotel but at half the price. They have a wide range of rooms to suit all types of travelers so don't overlook them!
On the other hand, apartment rentals are another option. Why not stay in fully furnished apartments while you are on vacation? Apartments are especially great for traveling families. They come with all the normal apartment amenities — kitchen, laundry room, and TV. If you plan to spend five or more days in a city, these are great cost effective alternatives to hotels.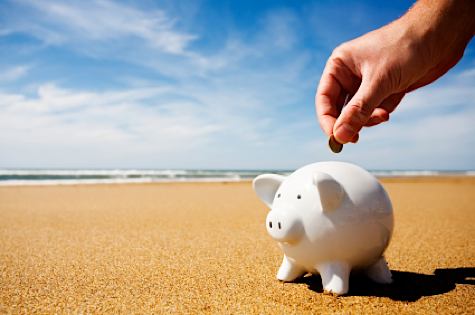 The ubiquitous piggy bank on a cheap vacation.
2. Negotiate.
Times are tough for the tourist industry. It's a buyer's market. Use this to your advantage by asking for free upgrades or negotiating lower rates. Nothing was ever lost by simply asking and you may be surprised by how amenable any travel and tourist based outfit can be to helping you. Just by inquiring, I received two free dinners at a hotel in Florida!
3. Use travel credit cards (maybe).
Should you use travel credit cards? I'm going to say, it depends. If you are a frequent traveler and are comfortable with carrying credit cards, specialty cards that help you earn free miles or allow you to secure free or very cheap lodging at otherwise higher priced hotels may be worth owning. You'd have to determine if such cards are going to be a better deal for you than those that offer regular credit card rewards programs or those that give you cash back rewards.
4. Book flights 6 to 8 weeks in advance.
Airlines are always the most expensive part of a trip. Booking 6 to 8 weeks before you leave will ensure the best price. The airline pricing system penalizes last minute tickets as well as more advanced bookings (airlines need to hedge against any rise in costs). Moreover, always book round trip: you'll get a better deal that way too. You may want to consider using Priceline's Name Your Price feature to score your tickets at great prices.
5. Always visit the tourist office.
These offices have their finger on the pulse of a city and can help you discover all the latest deals and discounts as well as free events happening in their city.
6. Get a City Pass.
City passes give you full access to city attractions for mere dollars. If you are the type of traveler who likes to see museums or visit historic sites, then entrance fees can add up pretty quickly. It is much cheaper to get a city pass which will usually give you free entry into the majority of a city's attractions.
7. Eat out for lunch.
Everyone wants to have fancy dinners while they are traveling but dinners can add a lot to your travel tab. It's much better and relatively cheaper to have a fancy lunch. Lunch specials at restaurants offer better value for your money than a dinner. It might not seem as fancy but it will certainly be more affordable.
8. Stay connected for free.
Hooked on the internet? I am too. I always need to be twittering or checking email. These days, you can get free internet in libraries and free wi-fi in most cafes or at places like Barnes and Nobles. Moreover, many cities have wi-fi zones where you can plug in for free. You can find free wi-fi in parts of Chicago, in Bryant Park, and in the city of Cambridge, MA. As you can see, it's a growing trend.
There are a variety of ways to save money when you go on vacation. It takes simple frugality and thinking outside of the box. Forget what they tell you in Conde Nast or on the Expedia advertisements. There are plenty of simple and easy ways to save money so that when you take a vacation, it's not the only one you'll be able to afford all year.
Copyright © 2009 The Digerati Life. All Rights Reserved.