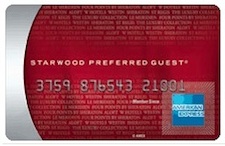 If you expect to travel quite a bit throughout the year, a hotel rewards card might make sense for you. The Starwood Preferred Guest Credit Card from American Express as well as its business card counterpart can provide you a lot of benefits if you're a frequent traveler. These are sought after cards, given that they've been granted the 2011 SmarterTravel Award for Best Travel Rewards Card. Just a short while ago, we had an awesome family vacation where we stayed at the Westin. Right there and then, they asked us if we had the Starwood card, which would get us some extra benefits. I'm sure this question is repeated often at many hotels; small wonder this card brand is a favorite among travelers.
A Review of the Starwood Preferred Guest Credit Card from AmEx
With either the business or personal version of this card, you become a member of the Starwood Preferred Guest rewards program. Here are some of the goodies you'll get from being a cardholder:
You can accumulate Starpoints in various ways. To start you off, your first purchase can earn you 10,000 bonus Starpoints, as long as you make that purchase in your first year of membership. Get another 15,000 bonus Starpoints when you spend $15,000 in 6 months. These 25,000 bonus points can net you a nice visit at a selection of hotels for up to six free nights, based on the category of the hotels that interest you (usually category 1 or 2). These points should show up on your statement about two to three months after your initial purchase.
You can accumulate up to 5 points at Starwood's various hotels and resorts (SPG sites). The breakdown here is: 2 points per $1 spent, another 2 points for being a rewards member, and 1 additional point if you're a special platinum or gold member. If you're planning a stay at a Starwood property (hotel or resort), check with customer service to see if your visit is eligible for multiple points.
Using the card on other types of purchases can bring you 1 Starwood point per $1 you spend.
Receive 500 Starpoints if you organize a travel package that includes airfare, car use and local events.
Starwood Preferred Guest Program Details
This card is associated with the Starwood Preferred Guest Program (also known as SPG), whose headlining benefit is cleverly described by the catchy phrase "Get Free Nights or Free Flights" with your rewards. Let's look at this more closely:
1. Free Night Awards: You can use your Starpoints to earn free nights or upgrades at more than 1,000 Starwood hotels and properties in over ninety countries. When you're ready to redeem your points, you can opt for hotel visits at these worldwide venues. Starwood properties include Sheraton, Westin, and W hotels around the world, so you're going to encounter some rather nice hotel rooms on the list. What more, you'll get a third night free at participating Sheraton properties when you pay for 2 nights in a row. Check out destination favorites like Florida, Hawaii, and New York as well as cities near you. Also, there aren't any blackout dates for your stays.
2. Free Flights: It's also possible for you to use your points for flights on more than 350 airlines. If you prefer, you can also transfer your Starpoints to the frequent flyer programs of over thirty major airlines. In fact, you'll be granted 5K more Starpoints for performing a 20K point transfer. For many of the airlines, the points will transfer on a 1:1 basis. Before you try to book a flight, just be aware that you'll still have to pay for taxes and fees on your own.
This is just scratching the surface. You should visit StarWoodHotels.com or SPG.com if you want to get a better feel for this program.
Starwood Card Terms & Conditions
The Starwood Preferred Guest credit card (business or personal) has no introductory APR at this time, but it can be used as a balance transfer credit card, so if you're interested in moving your balance over, you'll receive the regular APR. To qualify, you'll have to request the transfer within 30 days of opening your account.
There's no annual fee for the first year; but after that, you'll pay $65 per year. You won't have to pay extra if you need additional cards. And as with any other credit card, if you are able to avoid cash advances, late penalties or return payments, you'll avoid hefty charges and rate increases.
One more thing — this is NOT considered an American Express charge card, which expects you to pay off your balance completely during each billing cycle. The Starwood card actually allows you some flexibility on how you manage your payments (just like a regular credit card), making it a bit more convenient to own.
Miscellaneous Benefits: From Fraud Protection To Assured Reservations
There's more you can expect from this card.
1. Warranties and Fraud Protection
There are, of course, the standard benefits such as protection from fraudulent or unauthorized charges with a Fraud Protection Guarantee; a one year extended warranty on your purchases for covered products; purchase protection, in case your eligible purchase is stolen or lost; and ninety days of return protection.
2. Access to Special Events
Since this is an AmEx card, you'll get the advantage of the American Express Selects program. This service gives you access to savings, special offers, events, and more.
3. Travel Benefits
You can also opt for additional coverage when you travel. If you want AmEx to help you with your traveling requirements, you can use American Express Online Travel to find good rates for your next trip. This service can help you out with air, hotel and car rentals. Emergency Check-In can allow you to book a hotel room even if you lose your credit card. Thanks to Assured Reservations, you won't lose your room if you're running behind schedule. And you'll be protected by up to $100,000 in travel accident insurance. Travel discounts and promos also abound when you optimize your membership with SPG.com: for instance, you may receive 20% to 40% off when you book by a certain day to specific areas.
4. Emergency Assistance
Another useful feature is the prospect of Emergency Card Replacement. If you happen to lose your card, you might be able to secure a replacement as soon as the next twenty-four hours. When your travels take you more than 100 miles from home, then you can turn to the Global Assist Hotline if you need emergency assistance. This can really be useful if you're out of the country and need a doctor or if you lose your luggage.
This is just a glimpse of what this card can do for you. Given that this is an AmEx product, you can expect a lot of fabulous support just for being one of their card users.

Disclaimer: This content is not provided or commissioned by American Express. Opinions expressed here are author's alone, not those of AmEx. This site may be compensated through American Express Affiliate Program.
Created February 16, 2010. Updated July 31, 2011. Copyright © 2011 The Digerati Life. All Rights Reserved.