There was a time when we didn't have kids, a time when we never bothered with Christmas lights, decor, trees and so forth. But when you have children and your entire street lights up like noone's business, then you end up wanting to join the town light parade to some degree so that you're "imbibing the Christmas spirit" and spreading holiday cheer. But even as your neighbors raise their bubbly Claus inflatables and sic their snowflake spotlights on the neighborhood, you may want to find balance between wanting to impress the town, and conserving energy and money.
I'm sure you've heard of all those people out there who really take their lights seriously. Each year, I watch those HGTV specials depicting the efforts of some families or neighborhoods to bedeck their homes completely with lights. And I'm always awed. In the end, their work looks like this:
If you're a feed subscriber, check this out for the light show.
And I think to myself: it's really cool, but something we'll never be able to attempt for obvious reasons. Who has the time, inclination, money and energy to do this? And yet, it happens. So I can only be impressed when someone else pulls it off.

At any rate, here are some thoughts about Christmas displays and how you may be able to save more than just your money this time of year:
Save Money, Energy and More During The Holidays
#1 Opt not to decorate (or even celebrate).
I was firmly in this camp when I had no children. When you're not in your "nesting phase", doing holiday trims don't seem like the top thing in your mind when parties and all night frolicking are beckoning you. During that time of my life, my holidays consisted of simple gift exchanges with my childless family members. A decade or so later, things are different and our families are celebrating the holidays more colorfully. The point here is, you don't have to decorate if you don't see a need. Or you can do so minimally.
#2 Attend someone else's parties, watch other people's displays.
It follows that if you're not decorating on your own and not hosting parties, then you're spending less — a good thing! If you still want to celebrate, be a guest. Attend office parties! Though it's now a far cry from the dot-com era when the parties were out of this world and FREE (think: corporate excess).
[An aside: Reminiscing about the past, I recall holiday office parties here in Silicon Valley's tech zone presenting with ornate themes. One such office party had people on stilts and roving magicians, ladies in costumes serving fancy hors d'ouvres, multi-flavored cheesecake and sushi. Another office event saw the San Francisco Zoo roped off for one early December evening. Guests (i.e. employees) were herded in an enclosure that had a dance pad in the middle of what seemed like a glass enclosure for lions, tigers and other wild cats. Great, attendees danced wildly with that flashing disco ball on the ceiling wondering whether it aggravated the animals. That was the way it was before any form of belt-tightening and the big tech bust.]
These days, corporate parties may no longer be free (we're charged $25 a head to attend mine), so I skip those that charge and attend those that don't, such as my spouse's.
One other thing we do is we drive around neighborhoods around where we live that are known to put up extensive and grand light displays. There are streets around that are famous for their Christmas set up. I can just imagine what it's like to buy a house on such a street — the pressure to participate must be enormous!
#3 Prepare and lay out your decorations yourself.
You don't have to buy the decor — they can become fun craft projects if you're handy. In our case, it's customary for our family to go out, fetch a tree from a tree farm, put up lights in the yard and ornaments on the tree. If everyone in the family participates, it can be quite an enjoyable time.
#4 Use the most energy efficient materials.
It's been heavily advised that we start using the new light technology available for the holidays. LED lights (for "Light Emitting Diode") have a lot of advantages, mainly:
They save more power to the tune of 3.33% less (according to Gizmodo) than incandescents. They use 10 times less energy than other lights.
They are more durable, reliable and last much longer than older lights. They last 20 times longer than mini-lights.
They are cooler, so they lower the risk of fires (Christmas tree fires occur more commonly than you think).
Replacing large bulbs with LED lights will save the amount of electricity required to power 200,000 homes for one year.
Less energy used = less power plants built
Here's a price comparison chart: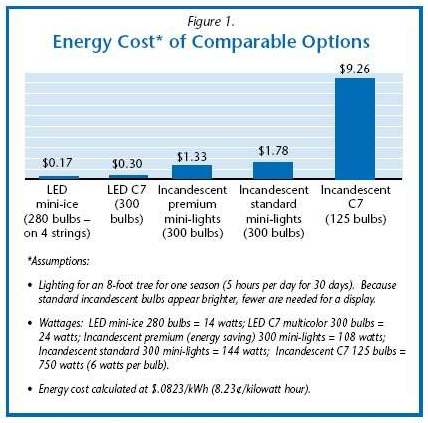 To find out how much you're spending on your decor, you can try this calculator, or this one.
The downside here is that LEDs cost more money initially while you save on the energy use; the cost is typically twice that of mini-lights. But for the goal of energy conservation to "save the planet", buying LEDs would be worth the investment, even if it means that you break even after 13 years.
#5 Go with less.
So I already mentioned you can do things more minimally. If you'd like a tree, instead of that 8 ft ceiling scraper, go for the 5 ft one. Or the kind you can put up on a table somewhere (those are pretty cute). Instead of a dazzling light circus on your yard, go with less lighting. I guess the idea is to moderate oneself and not be tempted to outdo the guy next door.
#6 Finally, stay safe!
I'm sure you've heard those horror stories that illustrate just how easy it is to lose your life's savings and more from a mere slip up. Well, the holiday season can actually pose its own hazards. To stay safe, try these great tips republished from the California Energy Commission and Alliance to Save Energy:

Make sure all lights you purchase contain the Underwriters Laboratories (UL) label, which means they meet UL safety requirements.
While you're reading labels, be sure you're buying the right set–for indoor use, outdoor use, or both.
Before installation, check for frayed wires, damaged sockets, or cracked insulation. If you find any defects, replace the entire set.
All outdoor cords, plugs and sockets must be weatherproof. Keep electrical connections off the ground.
Don't overload your electrical circuits.
Remember that hot bulbs can ignite dry tree branches. To avoid disaster, keep trees well watered and keep extension cords and light strings away from the water.
Light your tree only when you are at home and awake to enjoy it.
Keep a fire extinguisher handy, and be sure your home's smoke detectors have new batteries and that they're working properly.
Turn Christmas lights off during the day or when you are away or when you are asleep. Timers are a simple way to do this. Always unplug your lights before going to bed or leaving home.
Protect little fingers: Make sure there's a bulb in each socket. If a bulb is burned out, leave it in until you have a replacement.
To prevent electrical shock, never use electric decorations on artificial trees with metallic needles, leaves, or branches.
Make sure artificial trees are flame retardant.
Take the lights down after the holidays! No need to light up the night until spring!
-ooOoo-
Yes, holidays have a cost — the decor is pricey, gifts entail a bite out of your budget, and these next two months will make you shake your head after you see your bills. But it's fun. And tradition. And when you have kids, it becomes a bigger deal. I always find it a great accomplishment if I can manage to save money and/or energy during this time of year since whatever we do save, we use to beef up our charitable giving efforts for the year. Somehow, it works out pretty well in the end.
Other Resources:
Cost of Holiday Lighting and Inflatable Lawn Decorations
Copyright © 2007 The Digerati Life. All Rights Reserved.