Some innovative ideas for your bathroom remodel.
I'm happy to present this guest article by Handy Man, author of Handymanfixhomerepair.com.
In most houses, the smallest room is usually the bathroom and it can be pretty frustrating to find ways to make it look new. Your space is so limited that the newer tubs may not fit and it's very hard to get inspired when you're dealing with what amounts to a small closet with a toilet. However, there are a few tricks that will make your whole bathroom look like new, and increase the amount of overall space.
1. Install a pedestal sink.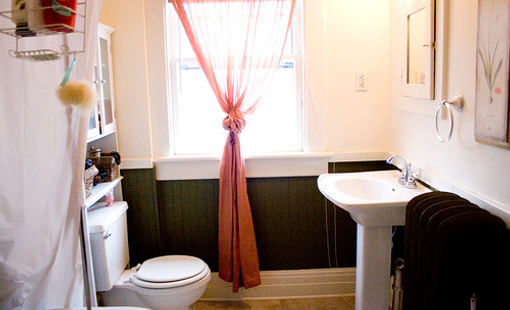 Our cabinets take up way too much space and usually end up a cluttered mess. You can dramatically open up the bathroom by ripping out those cabinets and installing a pedestal sink. They are quite economical and today's pedestals come in a wide variety of designs and colors. You'll be saving feet of space and your bathroom won't feel so cramped. To address the issue of the lost storage space, you can install shelving and use baskets, or work with a linen closet to find new ways to store your stuff. Chances are, you don't use half the stuff that was stowed away in your cabinets, so this is a great way to break through the clutter.
2. Put in a light colored floor.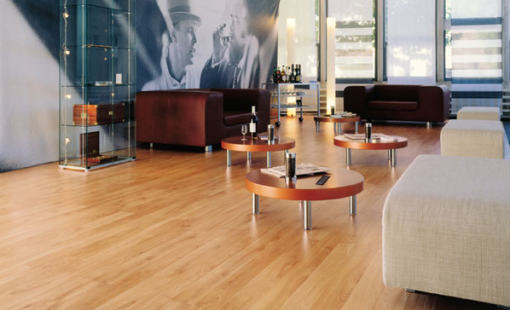 If you've got carpet in your bathroom, it's something you'll need to change out (for good reason!), but even if you're dealing with a tile or linoleum floor, it's time to get an update. There are many new flooring materials out there that can really make your bathroom feel much more luxurious. If you're short on skills and budget, go for peel and stick tile in a light color. This will really open up the space and make it feel much larger. If you're going for a zen feel, look for laminate flooring in a maple or light finish. This is also very easy to install and will wear pretty well in the bathroom. Just remember to make use of floor rugs to avoid slipping while coming out of the shower or tub.
3. Look for a corner tub.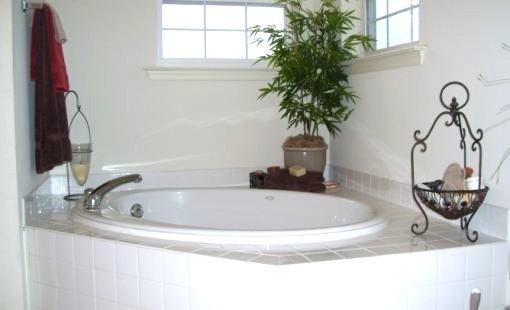 Most of us would love to have a garden tub, but when you're dealing with a limited amount of space, your options are also pretty limited. However, there are some new models that are designed to fit into the corner of your bathroom, and even small bathrooms can usually accommodate this type of model. Instead of using up a lot of lateral space, you'll be taking up a corner which isn't used much anyway. The main drawback of these tubs is that they are usually deeper than longer, but they are a nice switch from the standard tub of yesterday. If this isn't an option, rip out that old standard tub and replace it with a clawfoot. Again, they'll be a bit deeper than they are long, but they do take up less space. Whenever you're redoing your bathroom, remember that even though the space is small, there is a lot you can do with it. Focus on light colors, adding light and working within the space to make it seem a lot bigger and more inviting.
What's also great about reworking your bathroom is that by giving it a modern or new feel, you'll likely get a pretty good return on your investment, since a bathroom remodel is considered one of the top ways to increase the value of your home.
So anyone in the mood for a DIY project this summer? 😉

Image Credit: EastFlooring.com, NotInADay.com
Copyright © 2008 The Digerati Life. All Rights Reserved.