It is already quite clear that consumers will spend less this coming holiday season: "Evidence of a recession piled ever higher Friday, with new figures showing Americans are spending less.." according to a recent Yahoo Finance page. What should small businesses do to avoid becoming extinct? Here are a few thoughts I had on this matter:
Tips For Small Businesses To Weather A Slow Holiday Season
1. Bank enough savings.
It may seem fairly obvious, but just like regular consumers, businesses should keep enough savings to help tide them over slow periods. If the company has been in business for more than 5 years — the typical cut-off point that determines whether it will survive — it should not have to worry too much, unless it belongs to a niche that is heavily dependent on retail shopping holidays, where it may receive more than 50% of total annual revenues through holiday sales. A savvy business owner will have made provisions for a rainy day and will have sufficient reserves to weather the recession storm (usually 1 to 2 years at the most). Of course, certain expenses will have to be cut to avoid falling into the red zone.
2. Emphasize good customer service.
" With economists predicting one of the weakest Decembers since 1991, merchants must put their best foot forward for top customers." ~~BusinessWeek, Sept 2008
Any business should capitalize on their strengths and advantages. In the case of small businesses, it's their ability to attend to their customers in more personal ways or to have the flexibility to provide special treatment to their clientele.
For small businesses, it is necessary — no, imperative — to exploit the only advantage they have over big chains: a personal relationship with their customers. Many repeating clients want that close contact, just like the barfly uses the bartender as surrogate shrink. At local shopping areas, customers have a chance to socialize at the same time they shop for the family.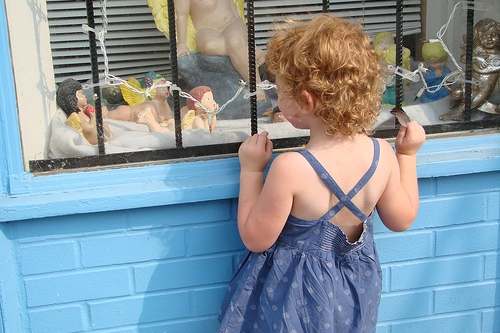 Photo by mollypop
3. Strategize on attracting the deeper pockets?
"With shoppers squeezed, the National Retail Federation expects year-over-year sales to rise just 2.2% for November and December, half the average rate of the last decade." ~~BusinessWeek
As you can see from recent economic and retail forecasts, business experts are predicting (often, inaccurately) an increase in sales over last year. But I personally foresee a flat spending season for my family. With many other consumers thinking the same way I do, it could be spell bad news for business owners. Thus, independent retailers must be prepared, as most low-middle class shoppers will certainly focus on price more than on quality. The inescapable conclusion for them is to attract wealthier clients who don't seem affected by the recession.
4. Look to web and online opportunities.
If at all possible, consider opening a "store" online to accompany your brick-and-mortar business. You may garner a few more customers that way who will be attracted by your well presented website. In any case, it will give you some cheap publicity that will encourage more visitors to your physical facility. With more customers, don't forget to emphasize friendliness and personal attention, something big stores may be less inclined to match (see #2).
5. Watch your inventory.
Large stock inventories mean large amounts of cash wasted. Try to find providers that deliver their products within a few days, so you can plan your orders with enough time to avoid stockpiling mountains of unsold items. Large retailers have the clout to reduce their inventory to near zero, through an automatic reorder process to the factory. So see if you can find a way to come close to that ideal process.
6. Try out affordable advertising and beef up promotions.
When things are slow, businesses usually cut their marketing budgets accordingly. But this is precisely when you can easily get a leg up over your competitors by simply focusing on a better advertising strategy. Give out pamphlets to high school students if that's your market. Try to ally yourself with complementary businesses (you sell tools, they sell lumber) to advertise together and share the costs. Trim your workforce and make use of cheap labor (college students or interns) during the holidays. With a slower economy, you may be able to secure lower fees and rates for the services you need. There's no better time to be creative and aggressive: sitting behind the counter won't bring any customers.
Copyright © 2008 The Digerati Life. All Rights Reserved.