Gift cards? Particularly helpful as a last minute gift idea.
The shopping season will soon be alighting upon us and the question is — how much are you going to be spending (or saving?) during your shopping trips? This is the season when you'll probably do most of your spending for the year, if you subscribe to holiday traditions that involve festive celebrations, gift giving and decorating that make this time of year the peak season for the retail industry.
Where To Buy Discount Gift Cards and Online Gift Certificates
I'm probably going to have some percentage of my shopping budget dedicated to gift cards this year. While not everyone is a fan of such cards, I won't debate their usefulness here (yes, they are easy and convenient but watch out for those expiration dates!), but rather, will just provide you with some suggestions for where to find them online. Some of these online resources will be able to offer these cards and certificates to you for less (as is often the case when you shop on the web):
1. Credit Card Shopping Networks
Here's one way to get gift cards (or other gifts) without having to dip into your savings: if you already carry a rewards credit card (especially the kind with points), now may be a good time to cash in on those points. Some of these reward points expire, so I would be inclined to use them up now, where I can get more "bang for the buck" by applying these points where they get the most mileage: at the shopping sites and portals established by card companies that offer rewards programs.
Tip:
Here's a list of the
best credit cards
that have points reward programs in place.

2. Ebates
If you're a fan of cash back rewards, then I'd strongly recommend checking out a shopping portal like Ebates, which gives you deals via a cash back system. You simply go through their site to visit other online retail sites you're already familiar with, and you'll receive cash back of up to 12% in some cases. Plus, depending on the seasons (e.g. the holidays), you can get double the cash back you'll normally earn here. For more details about how this site works, check out my Ebates review. They have gift cards listed as one of their categories, so you can earn cash back by purchasing gift cards at a site you visit via Ebates. Here's how to become a member (membership is free).
3. Plastic Jungle
This is a site that allows you to buy and sell gift cards, and it looks like a great place to recycle your unused cards. If you're selling, you can receive up to 85% of the value of your gift card, and if you're buying, you can save up to 35% on the most discounted gift cards. This could be a great idea, provided that your gift recipients don't mind the idea of dealing with used cards (that is, if they find out). For more details, visit PlasticJungle.com.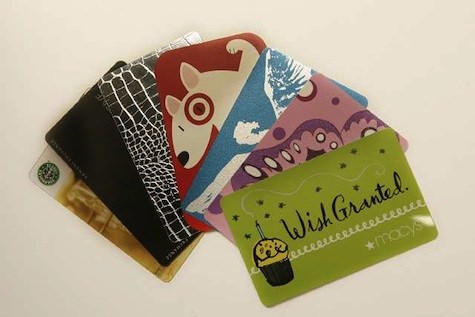 Image from latimes.com
4. Amazon
Amazon's gift cards are something I use often since I am a huge Amazon shopper (so much so that I even have Amazon Prime). There are no fees and expiration dates for these cards, which can be delivered to anyone via email or snail mail (with a free personalized greeting card), plus they're also printable.
5. GiftCards.com
Here's the one stop shop for gift cards of all types with absolutely no fees. You can pick up their virtual gift card, where you do away with the physical card and just send out an email notification with a link to activate the "virtual gift". They've also got discounted cards and a way to cash in on your unwanted gift cards.
6. GiftCertificates.com
Here's a site that caters to both consumers and businesses by offering gift cards and certificates for various occasions. They've got the gift card boutique, again with e-Gift cards, as well as "SuperCertificates", their version of gift certificates. They've also got a "Business Solution" section for those companies that want to reward and provide incentives to their employees, customers and partners. As their mission states: they reward relationships. Visit GiftCertificates.com.
7. MyPoints and MemoLink
We've previously covered online shopping sites that offer point rewards for their online customers. MyPoints and MemoLink are sites that are geared to allow users to build up points by shopping online, playing games, booking travel, participating in surveys and reading email. Once you get the points, you can redeem them for gift cards and gift certificates to use as you wish. Be sure to check out MyPoint's "Holiday Bonus" section for gift card ideas.
8. American Express Gift Cards
Nice to know that American Express is joining the rest of the retail industry by eliminating any fees from their gift cards. AmEx gift cards have a variety of holiday designs to choose from. More on these gift cards here. If promotional codes exist, they are already applied to the links we've provided.
9. Restaurant.com Gift Certificates
For the token foodie in your life, I'd recommend gift certificates from Restaurant.com. I believe they're a pretty good deal if you can find good restaurants that are featured as part of Restaurant.com's network. Basically, you can buy certificates for cheap which you can use at restaurants of your choice that are listed on their web site. For more information, you can check out our article on restaurant discounts and dining coupons. Here's where to check out Restaurant.com.
With online shopping becoming more and more popular, you can just imagine all the deals, shopping resources and gimmicks you'll encounter these days. There's a lot out there to wade through, but try not to get too carried away. Have a shopping budget set before you start exploring your options to keep spending under control.
Copyright © 2009 The Digerati Life. All Rights Reserved.