I would like to share with you this interesting fact I picked up from a particular report. There was an online survey taken by 1,000 adults and conducted by Synovate/Marketing Daily that suggests that there are more women bloggers than men. Apparently, the survey shares that more women than men are bloggers, and of those Americans who visit blogs, 20% of women own and run their own while only 14% of men do.
Say what? This was news to me.
I'm not quite sure how much of this that I'd buy, since that's not the impression I've had all the time I've been reading blogs and maintaining one. But then I realized that I blog in a "male dominated" part of the blogosphere, where the subjects of personal finance, money, debt and especially stocks, investments, business and even high finance are talked about with the gusto of a political blogger letting loose on their next rant. But more and more, new blogs are popping up that are authored by women, even in the financial blogosphere, and this I am pretty excited about :). It's just nice to have a balance of perspectives, topics and styles out there fueling a very nice diversity in our realm of money.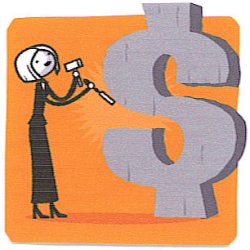 On this note, Don't Mess With Taxes and Nina from Queer Cents opened up some discussion on female bloggers in the PF blogosphere and wondered out loud about the representation of women in some recent pf blog lists. Though it's true that we are disproportionately represented in this part of the blogoshpere, if you look closely, there are a few more lurking women in there than you may first notice. ;). Of course, writing anonymously and in a gender neutral tone doesn't help to clarify one's gender either. And to add to the confusion, any writing analysis tool I've played with has pegged my writing style as male. You can check out such a tool here. Nevertheless, I've noticed that newer pf sites have a lot of female writers behind them (as I carefully check under each blog's hood), so it may not be too long before we see more females in a new top 100 list!
Spotlighting Female Personal Finance Bloggers
I also appreciate the fact that there have been great efforts by larger, more popular sites to help promote women bloggers in finance. Take for instance Lynn and the folks over at WiseBread.com, who spearheaded a neat event which spotlighted women money bloggers. This came about because there was one year when Lynn and the Wisebreaders attended the BlogHer convention, and noticed the virtual no-show of women PF bloggers at the event.
Well, what Lynn saw at BlogHer may echo reality a bit — women PF bloggers aren't as visible as female bloggers from other niches OR male bloggers in the PF niche. In fact, this appeared to be the case when I attended a personal finance blog conference in the city, which was sponsored by a financial software group. Out of over 20 attendees, I was the only female at the event!
At any rate, Wise Bread then decided to take the initiative to bring personal finance women bloggers to the forefront and thereby opened their forums with some interesting threads focusing on personal finance, women and blogging. Furthermore, I was extremely honored that Will, Lynn, Greg and the gang at Wise Bread had invited me to their financial Q & A at their forums. It was a wonderful opportunity to connect with a lot of folks who wanted to talk about finance and small business.
So if you have a moment, you may want to check out the forums and engage in some elbow rubbing 😉 .
Know Any Women Money Bloggers?
I wanted to close by sharing just a few of the PF blogs I actively follow that are by women: Almost Frugal, Girls Just Wanna Have Funds, Blogging Away Debt, My Open Wallet, Boston Gal's Open Wallet, Frugal For Life, QueerCents, Don't Mess With Taxes, Frugal Duchess, Grad Money Matters, Paid Twice, Plonkee Money, Chief Family Officer, Money and Values, Tired But Happy, Millionaire Mommy Next Door.
So let's hear it for a few of these bloggers. I always wanted to put together a few favorite articles from some great blogs by women! I know there are many more such blogs, and I apologize for whom I've missed, but I hope to be able to write about them next time. Here's what I had the pleasure to read.
Tricia @ Blogging Away Debt melted my heart with her story, It's Worth A Whole Lot More. Can anything be any more heartwarming?
Sharon @ The Frugal Duchess shares with us My Cash-Only Status Changes: New Credit Card; New Rules? She has great tips on watching the use of her credit card.
Madame X @ My Open Wallet talks about something I found very intriguing Is LASIK worth it? I'd love to have LASIK done to me, but I can't. First, I'm technically legally blind, which means without my spectacles or lenses, I will be completely unable to function. Second, I am so incredibly myopic that my corneas won't be able to handle the "lasering" needed to get me to 20/20. Ugggh! So frustrating.
This just barely scratches the surface of the female pf blogging circle. I know for a fact that there are many wonderful finance-based blogs out there that are run by the ladies. If you'd like to contribute to this conversation, drop us a comment!
Copyright © 2007 The Digerati Life. All Rights Reserved.