Check out our list of lists! Here are a number of personal finance blog rankings.
A lot of newcomers to the financial space may wonder: where do all the financial bloggers convene? Where are some places to find like-minded folks who are interested in the world of finance? Well, we hope to provide you some answers. We've had some blog rankings and lists done by various finance bloggers as a way of taking the pulse of the blogosphere and discovering who else makes up the financial community space. It's a handy way for the general reading audience to find out about the personal finance blogs out there and I've enjoyed going through these lists to discover quality blogs I may not have come across before.

For instance, I've just found out that the Money Crashers team has come up with a really great new rankings page for personal finance bloggers. I actually met up with the MC folks some weeks back when they came over to visit the Bay Area. And well, they are very cool folks. Now I like their rankings because aside from seeing where you are in the "space", you can discover new bloggers that you may want to get to know better. 🙂
Top Personal Finance Blog Rankings: A Bunch Of Lists
There are of course, many other such lists floating around. The ones I am enumerating below are some of the more popular ones. In some instances, the information is also updated dynamically so the ranks change based on several criteria.
You can visit these lists to see where your favorite financial blogger ranks. 😉 If you know of any other lists of this sort (or those that are current), let me know! It's a great way to map out the personal financial web.
Where In The World Are The Finance Bloggers?
Another way to map out the financial blogosphere is with PT Money's World of Personal Finance Bloggers. This neat tool offers a view of where money bloggers are based. If you blog about finance, you should get yourself on the map asap!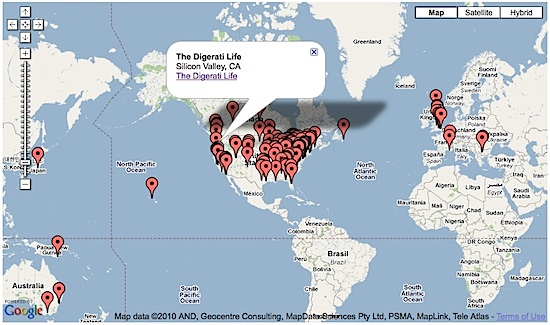 Growth In The Financial Blogosphere
I applaud the efforts of those who've spearheaded the creation of these resources. Thanks to all of you who've done the legwork. I can just imagine how time-consuming it can be. Plus, this stuff always invites a lot of feedback as people wonder what considerations were given to the endeavor. If you're a blogger and a stats fan, it can certainly be a fun thing to delve into. It may not be as fun if you've been left out (as I've been on various occasions, but it's all cool!), which could be for many reasons such as technical issues (no domain, stat tracker not publicly displayed, etc), or arbitrary rules that list-makers come up with, or your blog may be too new to be considered.
Be aware that these rankings are a work in progress. The traffic or statistics gathering process may be evolving and may be imperfect. But it tells us "who's out there". Of course, I also do such discovery by checking out pfblogs.org religiously.
At any rate, if you own a personal finance blog not in this list and feel you were missed, you can make your presence heard to the list creator. Otherwise, by joining in the pf community and making enough noise, you'll soon find yourself in some other listing. Or you can also do as others have done and make your own! Keep up the great work and I'm sure I'll find you in the next mondo ranking project. And if you're a reader, I'm sure you'll find a few favorites from these lists.
If you want to sound off on these points, you can leave me a comment!
Copyright © 2010 The Digerati Life. All Rights Reserved.