Update: Giveaway is now over, thank you! But you can order WiseBread's book "10,001 Ways To Live Large On A Small Budget" right below!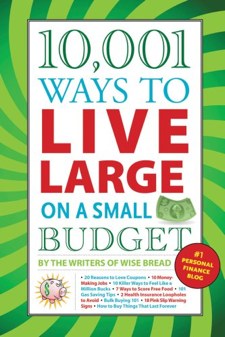 I'd like to make you aware of a great new money saving book called 10,001 Ways To Live Large On A Small Budget, which is a project put together by the Wise Bread team. I'd also like to disclose that along with several bloggers and writers, I had the chance to contribute to this book, and needless to say, I've been pretty excited about it!
When I first received the book, I was immediately struck by how well put together it is. It's nicely packaged and illustrated, and as many have said, it has a magazine feel. That's because the articles you'll find in it are shared as a series of tips and ideas covering various topics in personal finance and frugal living. I look at this book as a collection of informative "how to" articles that can serve as a great resource for those who are watchful of their finances.
Here's a summary of chapters you'll find here:
Frugal Living: Food & Drink, Travel, Health & Beauty, Fun & Entertainment, Shopping & Bargain Hunting, Green Living, Education & Self-Improvement
Personal Finance: Financial Planning & Budgeting, Credit Cards & Debt, Investing Your Money, Housing & Home Improvement, Career & Money-Making Ideas
Here's what else I like about it: if you believe in the saying "many heads are better than one", then you may appreciate the fact that this book is a group effort that was authored by several writers and bloggers in the finance and productivity space. You're probably already quite familiar with many of them; and for those so inclined, you can find out more about this in Wise Bread's money saving book page. What more, there's a Resources section in the book that lists helpful tools, resources, web sites and blogs spanning a variety of areas. That alone is something I find of great value!
This book is largely based on the material you'll find in Wise Bread's site, but it's been well edited to become presentable and palatable in book format.
Giveaways Galore!
Hopefully what I've described to you has piqued your interest enough so that you consider joining us in a few activities:
1. Book Giveaway: I'm giving away 3 books to those of you who decide to leave a comment on this post letting us know your best money saving idea. Winners will be selected at random. How to be eligible? Just leave me a comment below with a frugal tip!
2. Flip Cam Giveaway: For those who buy the book, you have a chance to win a Flip Mino Series Camcorder. Wise Bread is giving away 5 of these! This is only good for those who buy the book today (May 18)! For details on how this works, please check here.
3. Ebates $15 Bonus: One more perk for those who buy the book through Amazon — you'll get a $15 bonus for joining Ebates. For details on how this works, check this page.
Congratulations to Wise Bread for this great book effort!
Copyright © 2009 The Digerati Life. All Rights Reserved.